You may work with credit card stipulation for entry of judgment effortlessly with our online PDF editor. FormsPal expert team is constantly endeavoring to improve the editor and help it become much faster for clients with its multiple functions. Take advantage of present-day progressive opportunities, and discover a heap of new experiences! This is what you'll want to do to get going:
Step 1: Press the "Get Form" button above on this page to open our tool.
Step 2: Using our handy PDF editor, you can do more than just fill in blanks. Express yourself and make your docs appear faultless with customized textual content added, or modify the original input to excellence - all comes with an ability to add stunning graphics and sign the file off.
Completing this form requires attentiveness. Make sure that all mandatory areas are filled out accurately.
1. It is important to fill out the credit card stipulation for entry of judgment correctly, so take care while filling out the sections that contain all of these blanks: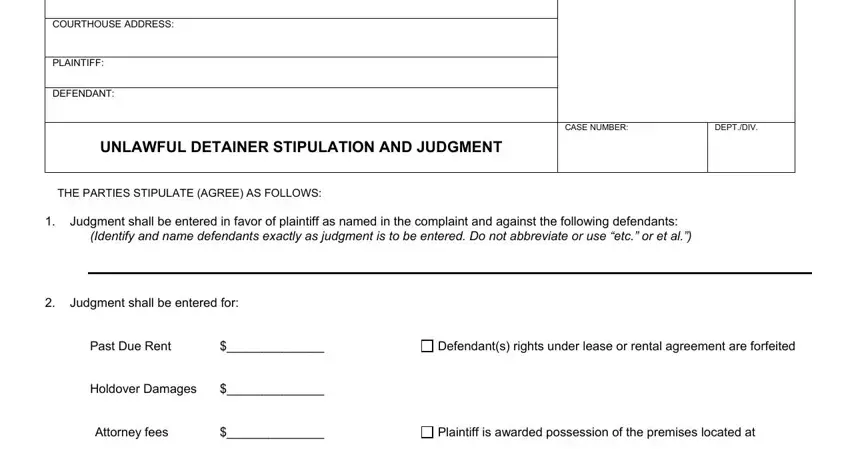 2. Just after performing the last part, go to the subsequent step and complete the essential particulars in all these blank fields - Costs, TOTAL, Defendants security deposit if any, including apartment number if, shall be returned or accounted for, shall be retained by the plaintiff, Judgment shall be entered, now, now and stay enforcement of, date, only upon default by defendants in, and Defendants agrees to vacate the.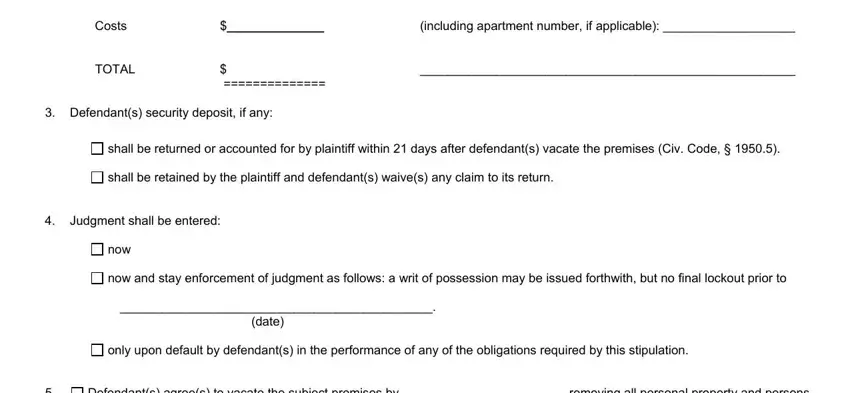 Regarding TOTAL and date, be certain you don't make any errors here. Both of these are certainly the most important fields in this form.
3. This third step will be straightforward - fill out all the blanks in Plaintiff and defendants further, Defendants agrees to pay the, and payment a writ of execution may be to conclude the current step.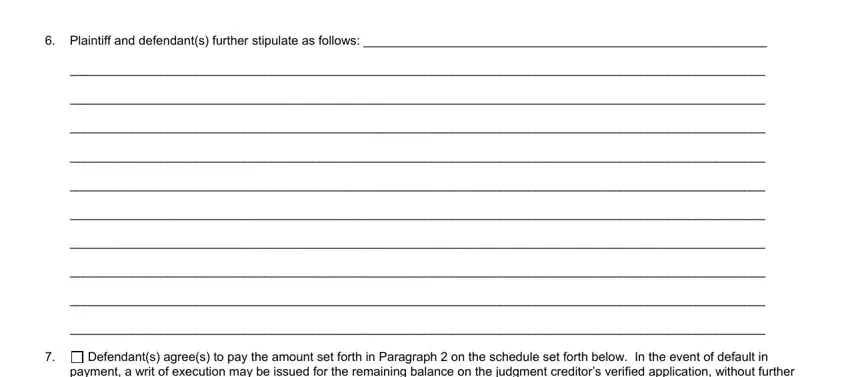 4. This next section requires some additional information. Ensure you complete all the necessary fields - payment a writ of execution may be, WAIVER OF RIGHTS We the, attorney of our own choice at our, acknowledges receiving assistance, language interpreter in the, names, Date, TYPE OR PRINT NAME, SIGNATURE OF DEFENDANT OR ATTORNEY, The Court hereby orders the above, Proof having been made to the, Code Civ Proc, Date, Date, and Date - to proceed further in your process!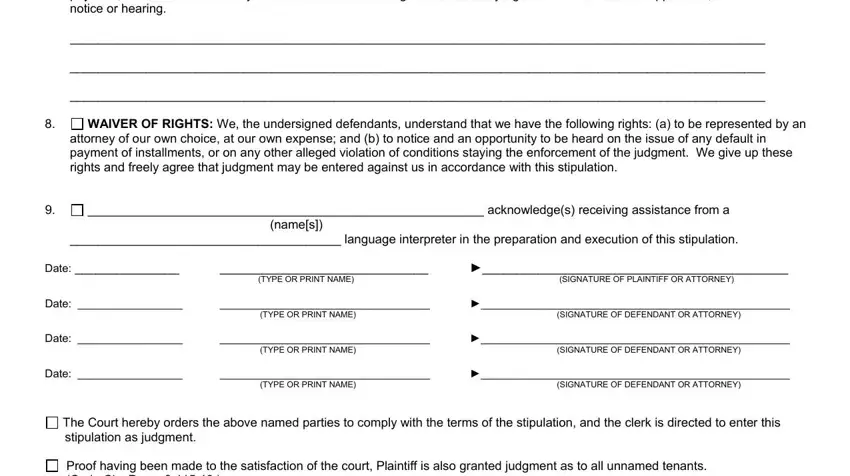 5. While you reach the conclusion of this form, you'll notice a couple extra points to complete. Specifically, Code Civ Proc, The above named parties agree to, JUDICIAL OFFICER, DATED, LACIV Rev LASC Approved, UNLAWFUL DETAINER STIPULATION AND, Code Civ Proc, Civ Code, and Page of should be filled out.

Step 3: Right after double-checking your filled in blanks, hit "Done" and you are good to go! Get hold of the credit card stipulation for entry of judgment after you register online for a free trial. Instantly view the form in your personal account page, together with any edits and adjustments all saved! FormsPal guarantees your information confidentiality via a secure system that never saves or distributes any kind of sensitive information used in the PDF. You can relax knowing your paperwork are kept confidential each time you work with our tools!