Using PDF documents online is actually easy with this PDF tool. Anyone can fill out satisfaction of judgement letter template here effortlessly. Our team is committed to providing you with the best possible experience with our editor by regularly presenting new features and improvements. With these improvements, working with our tool becomes easier than ever! It merely requires just a few easy steps:
Step 1: First of all, access the editor by clicking the "Get Form Button" in the top section of this page.
Step 2: The editor provides you with the ability to modify PDF forms in various ways. Modify it by adding customized text, correct existing content, and add a signature - all readily available!
This form will need some specific information; in order to ensure consistency, please make sure to pay attention to the following guidelines:
1. You need to fill out the satisfaction of judgement letter template accurately, therefore be careful while working with the areas including these fields: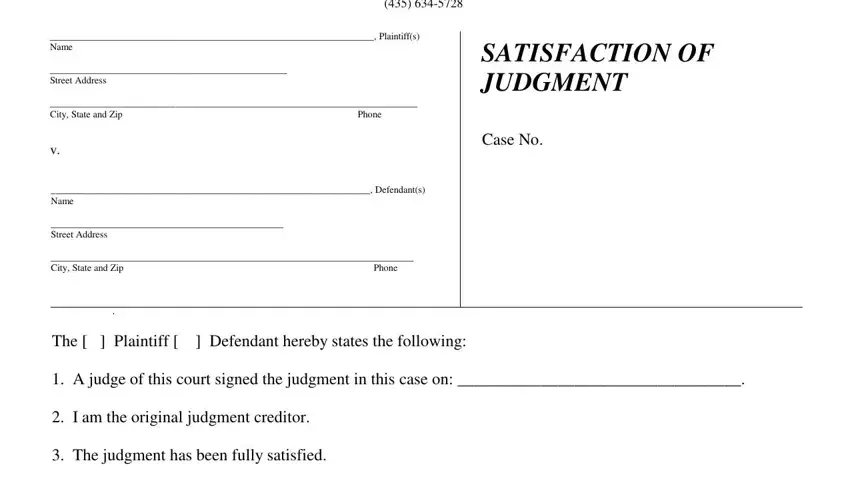 2. After filling in this section, go on to the subsequent step and fill out the necessary particulars in these blanks - I declare under penalty of Utah, Dated Judgment Creditors, Clerk or Notary, CERTIFICATION OF SERVICE, I certify that I mailed a copy of, Judgment Creditors Signature, and Rev.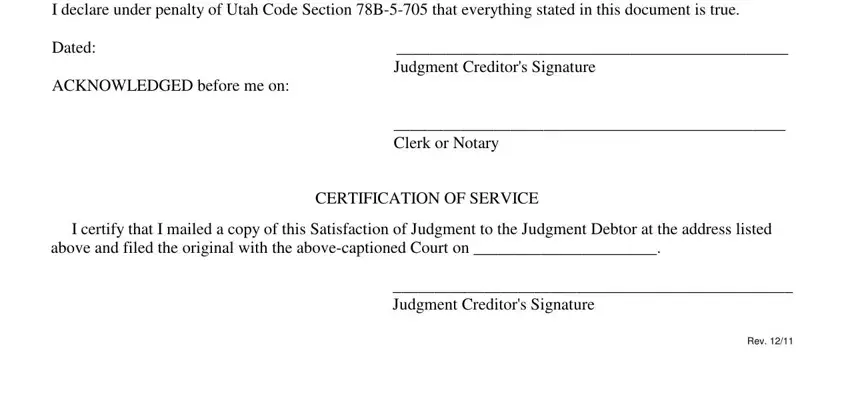 Always be extremely careful when filling in CERTIFICATION OF SERVICE and Rev, as this is where many people make errors.
Step 3: Proofread what you have typed into the form fields and click on the "Done" button. Join us today and immediately gain access to satisfaction of judgement letter template, ready for download. All changes you make are preserved , which enables you to change the document at a later time if needed. Here at FormsPal.com, we do everything we can to be sure that all your details are stored private.