Should you desire to fill out kindercare medical form, you won't need to install any sort of applications - just use our PDF tool. To have our editor on the leading edge of practicality, we strive to put into operation user-oriented features and enhancements on a regular basis. We are routinely looking for feedback - join us in remolding the way you work with PDF documents. By taking some simple steps, you may begin your PDF journey:
Step 1: First, open the editor by clicking the "Get Form Button" in the top section of this site.
Step 2: The tool provides the capability to change your PDF form in a range of ways. Improve it by writing your own text, correct what's originally in the PDF, and place in a signature - all at your convenience!
This PDF doc will need you to provide some specific information; to ensure correctness, take the time to heed the suggestions directly below:
1. The kindercare medical form usually requires particular information to be inserted. Make certain the next blank fields are complete: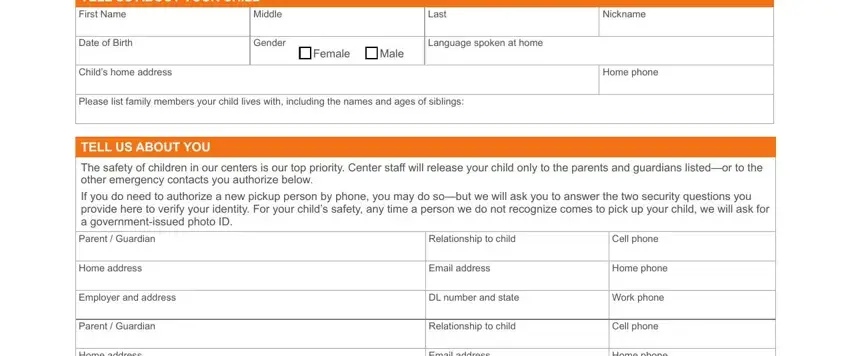 2. After finishing this step, go on to the next stage and fill out all required particulars in all these fields - Home address, Employer and address, Email address, Home phone, Work phone, Security Questions, Question, Required, Question, Answer, Answer, WHO ARE EMERGENCY CONTACTS, Authorized Emergency Contact, Name, and Relationship.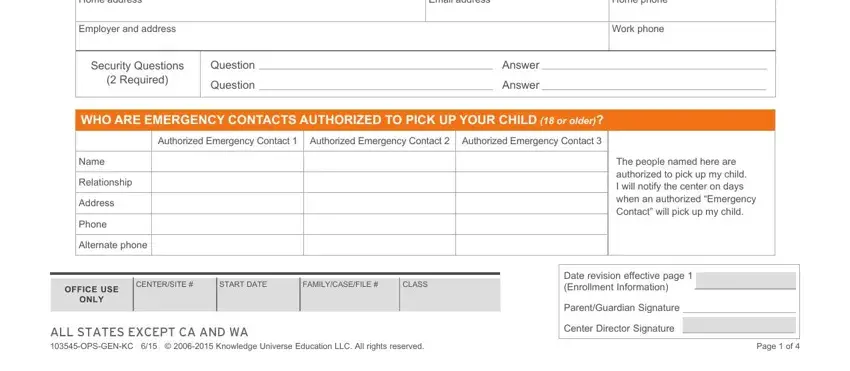 A lot of people generally make some mistakes while filling in Email address in this area. You should definitely revise everything you type in right here.
3. This next step will be hassle-free - fill in every one of the form fields in Care Information, Childs Name, Height, Weight, Hair color, Eye color, Our goal is to provide your child, Physical therapy Speech therapy, Mobility device Communication, Would you like your childs, Is there anything else we need to, MY CHILDS MEDICAL CARE PROVIDER, Medical Care Provider name, Practice Clinic name, and Provider address to conclude this segment.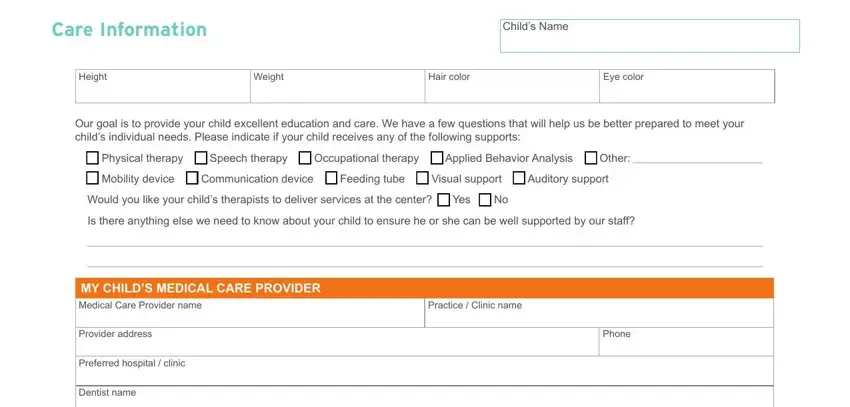 4. Completing Address, Health Insurance Provider and, MY CHILDS ALLERGIES, Medications, Food, Respiratory, Bee sting, Other, Phone, Reaction, Reaction, Reaction, Reaction, Reaction, and Are any of the allergies severe or is key in the next step - ensure to devote some time and be mindful with every single blank!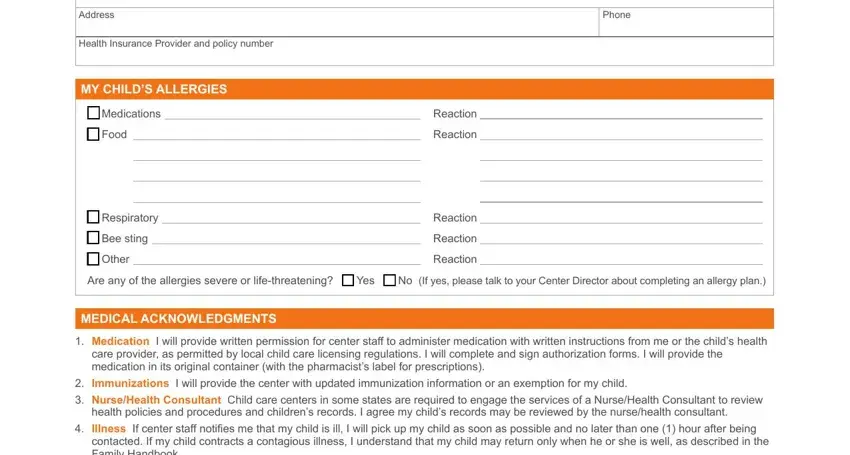 5. The very last section to finalize this PDF form is critical. Be sure you fill in the displayed blanks, like Consult the physician or dentist, hospital or other urgent care, Obtain any emergency medical, by medical authorities, Transport my child to a local, evacuation of the center, Date revision effective page Care, ParentGuardian Signature, Center Director Signature, OPSGENKC Knowledge Universe, and Page of, prior to finalizing. Or else, it could end up in an incomplete and potentially invalid paper!

Step 3: Look through everything you have inserted in the blank fields and then click on the "Done" button. After creating afree trial account at FormsPal, you will be able to download kindercare medical form or email it without delay. The document will also be available via your personal account page with all your changes. We do not share any information that you type in whenever filling out documents at FormsPal.