Using the online PDF tool by FormsPal, you may complete or alter Anadarko Deposit Enrollment Form here and now. To have our tool on the cutting edge of efficiency, we aim to adopt user-driven features and enhancements regularly. We're always pleased to get suggestions - join us in reshaping PDF editing. Here is what you will want to do to begin:
Step 1: Click the "Get Form" button at the top of this webpage to open our PDF tool.
Step 2: When you launch the tool, you will find the document made ready to be filled out. Apart from filling in different blanks, you may also perform other sorts of things with the file, specifically writing your own words, modifying the original text, inserting graphics, affixing your signature to the document, and more.
This form will need specific information to be filled out, therefore ensure you take some time to fill in what is requested:
1. While filling out the Anadarko Deposit Enrollment Form, ensure to include all of the essential blanks within its relevant form section. This will help to expedite the process, which allows your information to be handled promptly and accurately.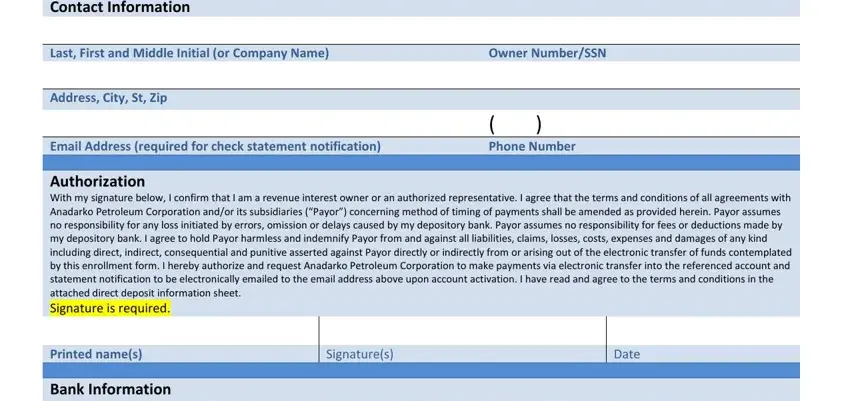 2. After the last array of fields is done, you're ready to add the essential specifics in Contact Information Last First and, Note Anadarko Petroleum, and Account Number so you can move forward further.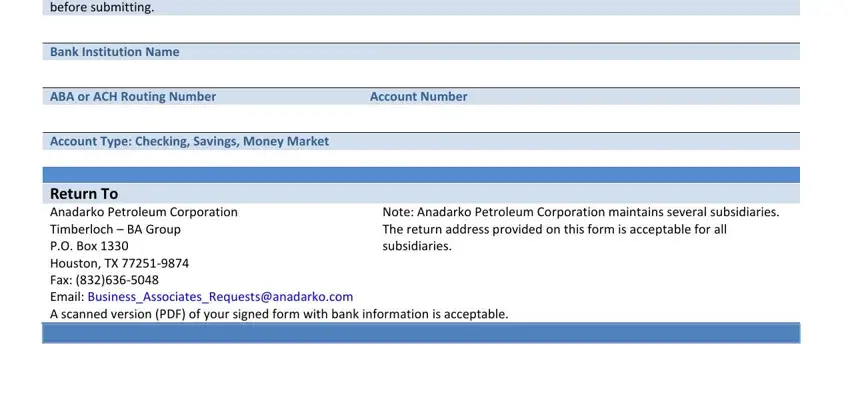 In terms of Note Anadarko Petroleum and Contact Information Last First and, ensure you review things here. These two could be the key ones in this form.
3. This third step is considered pretty simple, cost through the secure Anadarko, Website at, last six digits of your Social, for online viewing at the time of, when a new statement is available, How do I elect to receive the, If you do not want to login to, this option first login to the, Number and password Your initial, the My Profile tab click on Change, to provide a password for the data, Can I direct funds to more than, Deposits can only be sent to one, What type of accounts can be used, and Any account that accepts ACH - all of these form fields has to be filled out here.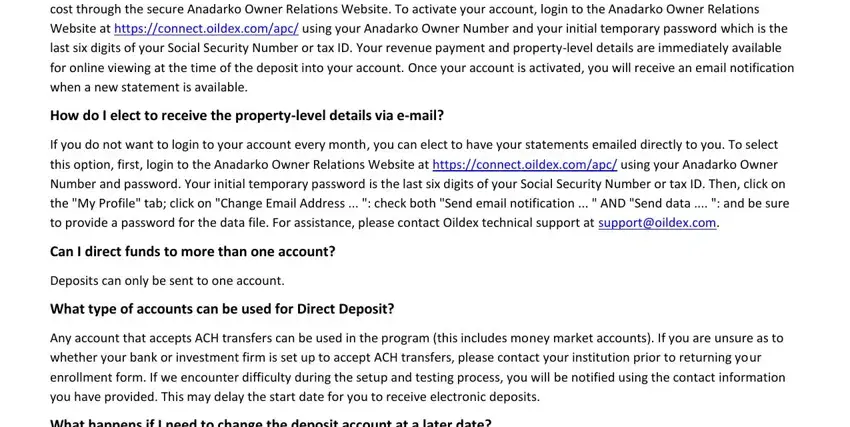 4. The subsequent subsection needs your details in the subsequent areas: There will be no change in yearend, available via the Anadarko Owner, Who is my contact for questions, For further information please, and OwnerRelationsAnadarkocom. Always fill out all of the requested information to go forward.

Step 3: Right after you've looked over the information in the blanks, press "Done" to conclude your form at FormsPal. Sign up with FormsPal right now and easily use Anadarko Deposit Enrollment Form, available for downloading. Each and every change made is handily kept , letting you edit the file at a later stage when required. FormsPal guarantees protected document editor with no personal information recording or distributing. Be assured that your information is safe with us!