We were making our PDF editor having the idea of allowing it to be as easy to work with as it can be. Therefore the process of creating the lifesecure papers for doctors to sign and fill out will be effortless perform the following steps:
Step 1: To begin with, click the orange "Get form now" button.
Step 2: You are now equipped to enhance lifesecure papers for doctors to sign and fill out. You have plenty of options with our multifunctional toolbar - you can add, delete, or modify the content, highlight the specified components, and carry out other sorts of commands.
Prepare the lifesecure papers for doctors to sign and fill out PDF and provide the material for every single segment: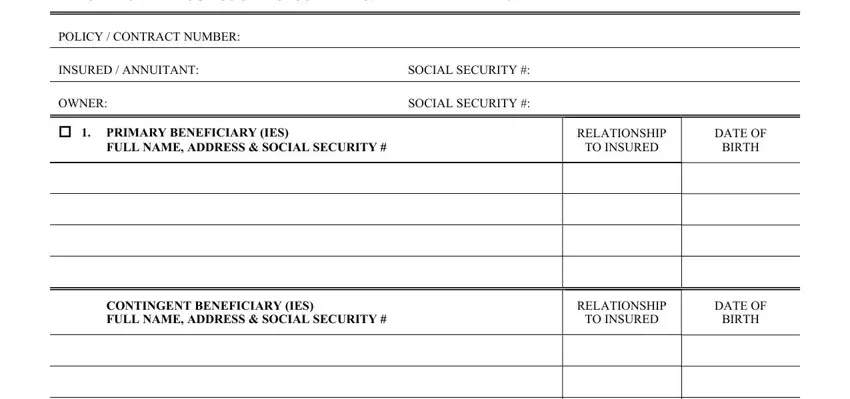 Complete the UNLESS OTHERWISE DIRECTED PROCEEDS, TRUST AS PRIMARY BENEFICIARY, NAME OF TRUST, TRUST TAX ID NUMBER CURRENT TRUSTEE, OR ANY SUCCESSOR OR SUCCESSORS IN, PLEASE PROVIDE A COPY OF THE FIRST, EITHER ONE OR BOTH OF THE, B PER STIRPES IF A BENEFICIARY, and THE SHARE SUCH DECEASED space using the particulars requested by the platform.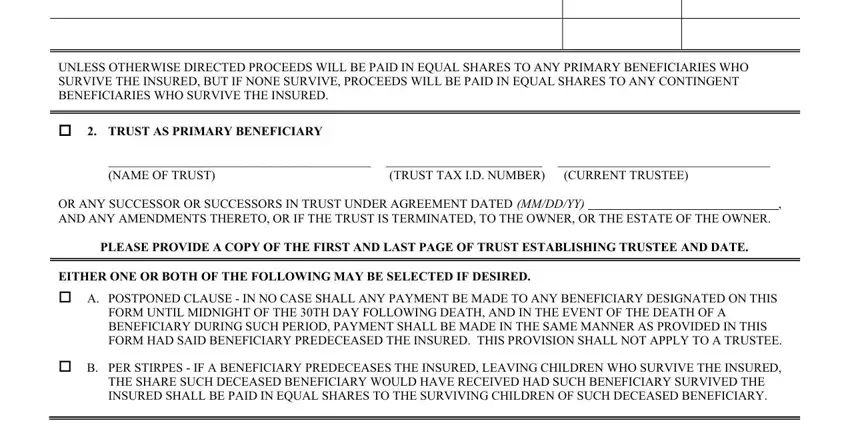 Provide the crucial data in the I DIRECT THAT ANY ENDORSEMENT OF, DATED AT THIS DAY OF, WITNESS PLEASE SEE BELOW, SIGNATURE OF POLICYCONTRACT OWNER, THE UNDERSIGNED AGREES TO THE, SIGNATURE OF ASSIGNEE INCLUDE, SIGNATURE OF IRREVOCABLE, FOR ADMINISTRATIVE OFFICE USE ONLY, ACKNOWLEDGMENT OF REQUEST FOR, DATED AT GREENVILLE SOUTH CAROLINA, and BE SURE TO HAVE THE POLICYOWNERS part.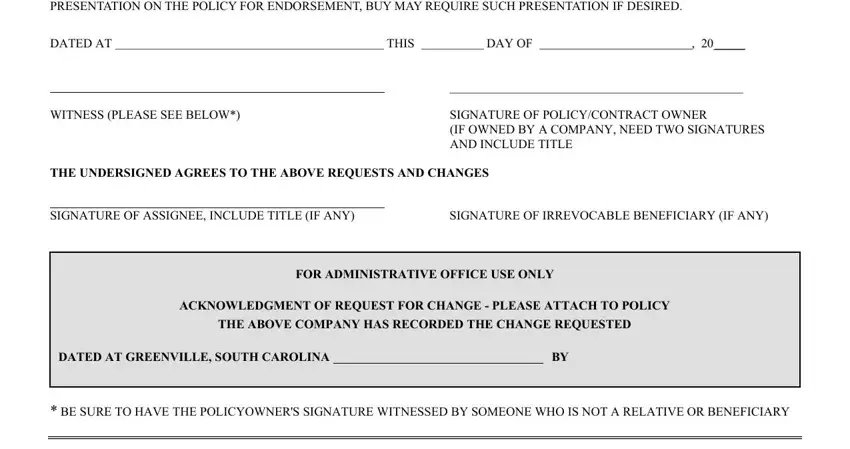 Step 3: Choose the "Done" button. Now it's possible to export your PDF file to your gadget. Besides, it is possible to forward it through electronic mail.
Step 4: In order to prevent any headaches in the future, you should get up to several copies of the document.