Filling out lvn license renewal ca is a breeze. We made our PDF tool to make it convenient and assist you to prepare any form online. Here are a few steps you'll want to stick to:
Step 1: Press the orange "Get Form Now" button on the following web page.
Step 2: Once you've accessed your lvn license renewal ca edit page, you will notice all options you may take regarding your document within the upper menu.
Provide the details required by the application to prepare the document.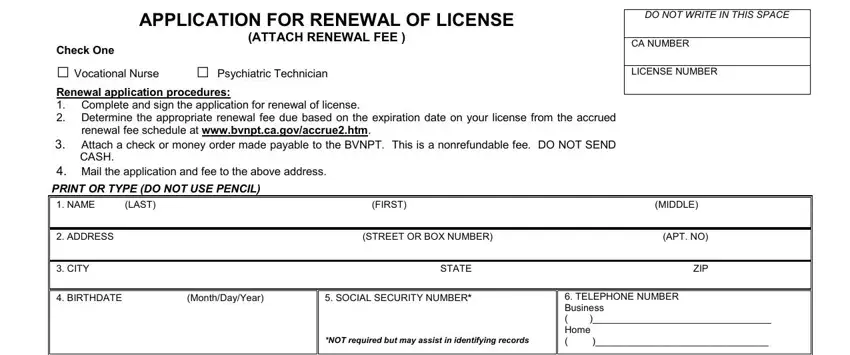 In the LICENSE NUMBER LICENSE, IS THIS A NAME CHANGE YES NO IS, Note Name changes must be, certificate, I WISH TO APPLY FOR THE FOLLOWING, Active Complete the continuing, CONTINUING EDUCATION CE, This is my first renewal CE is, Course Name of Contact Hours, Completion Date Course Provider, SINCE YOUR LAST RENEWAL HAVE YOU, YES NO If YES please attach, HAVE YOU COMPLIED WITH THE, anyone licensed prior to January, and YES Check the yes box if either box, put down your information.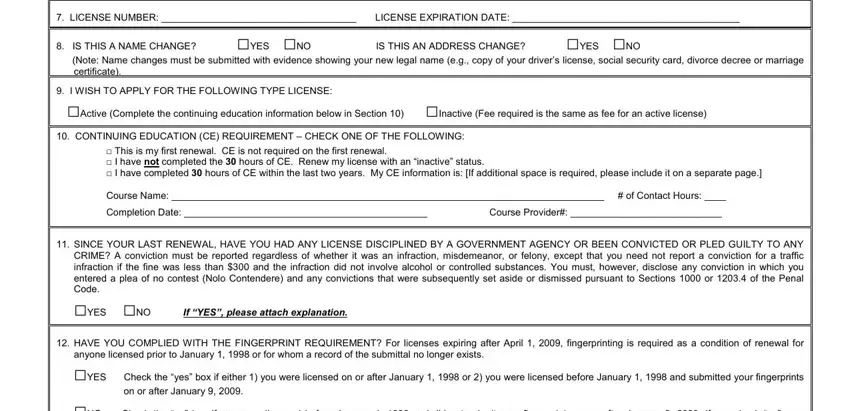 Put down the demanded information while you're within the NO Check the no box if you were, licensewill not be renewed until, NA Check the na not applicable box, PLEASE READ CAREFULLY BEFORE, and including revocation, I declare under penalty of perjury, and SIGNATURE DATE field.

Step 3: Select the Done button to save your file. Now it is offered for export to your device.
Step 4: In order to prevent any issues in the long run, try to prepare as much as two or three duplicates of your form.