The process of completing the bill of lading moving contract is actually straightforward. We ensured our software is not hard to understand and can help fill in any kind of PDF within minutes. Have a look at several steps you will have to take:
Step 1: Look for the button "Get Form Here" on this site and next, click it.
Step 2: Now, you can start editing the bill of lading moving contract. The multifunctional toolbar is at your disposal - insert, remove, change, highlight, and undertake other commands with the content material in the document.
Enter the information required by the program to get the form.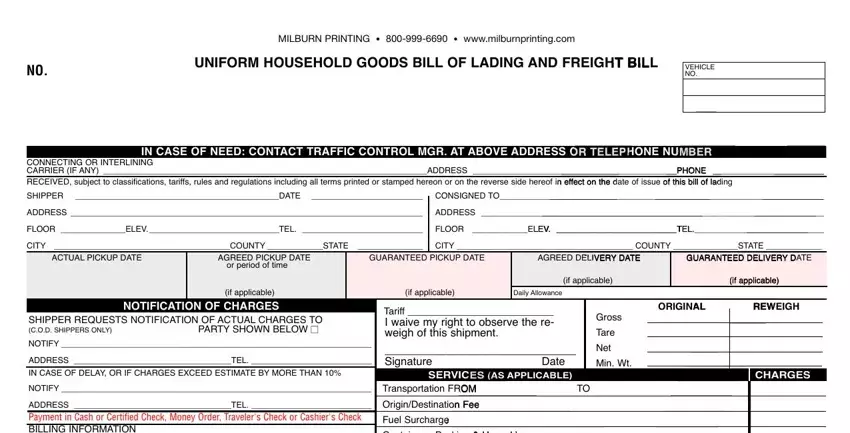 Write the necessary information in the Containers, Packing, Unpacking NAME, ADDRESS, CITY, STATE ATTENTION, OF n, EXPEDITED, SERVICE, ORDERED, BY SPECIAL, SERVICES SHIPPER, DELIVERED, ON, OR, BEFORE Storage, In, Transit, at, Location Date, In, Date, Out S, IT, Pickup, and, Delivery Extra, Pickups, or, Deliveries, No, at Bulky, Articles Additional, Weight, Additives and Advanced, Charges area.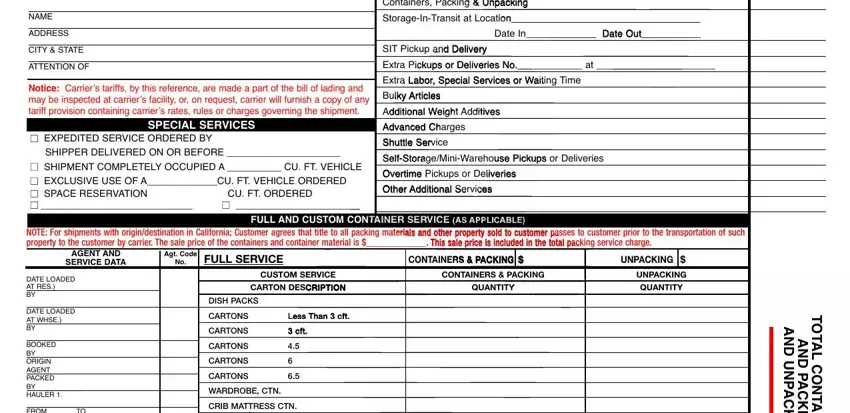 The software will require you to present particular important data to effortlessly fill out the section MATTRESS, C, TNT, WIN, TWIN, LONG MATTRESS, CT, N, DOUBLE, NOT, EXCEEDING, X MATTRESS, CT, N, KING, QU, EXCEEDING, X HEAVY, DUTY OTHER, AND, UNPACK, NG AND, PACK, NG TOTAL, CON, TANER, S FROM, HAULER, FROM, UNPACKING, BY, DATE, DELIVERED, DRIVER TOTAL, CONTAINERS, PACKING TOTAL, UNPACKING and Charges, n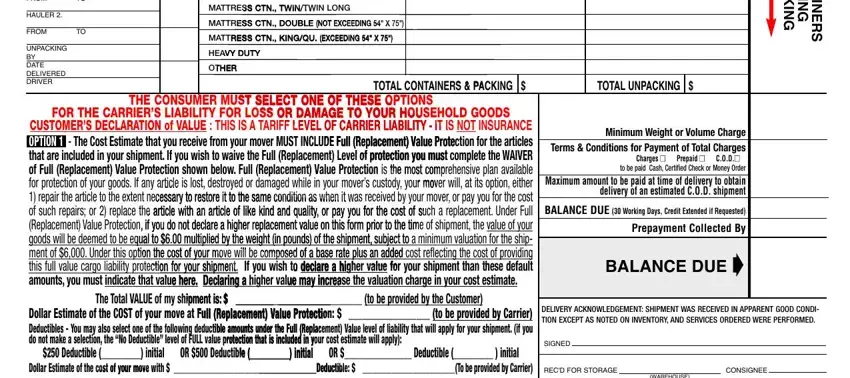 The Declaration, of, Articles of, Extraordinary, Unusual, Value CUSTOMERS, SIGNATURE, DATE and FOR, MR, Rev field will be your place to insert the rights and obligations of either side.

Step 3: Choose the Done button to save the file. So now it is ready for export to your gadget.
Step 4: To stay away from probable forthcoming concerns, be sure to possess as much as several copies of any document.