It is simple to complete documents working with our PDF editor. Updating the minnesota vehicle crash report form is effortless as soon as you check out the next actions:
Step 1: Choose the button "Get Form Here" on the site and hit it.
Step 2: You can now alter the minnesota vehicle crash report. This multifunctional toolbar can help you include, eliminate, transform, and highlight content material or conduct other sorts of commands.
In order to create the document, type in the content the platform will require you to for each of the following sections: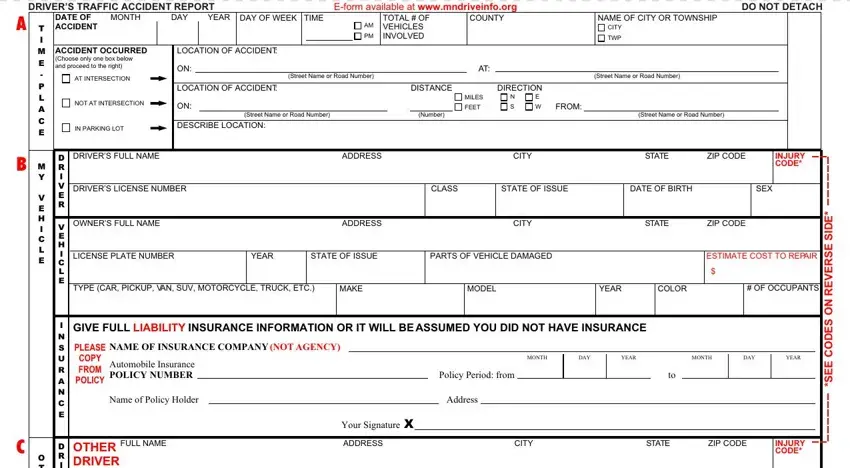 Within the area OTHER DRIVER DRIVERS LICENSE NUMBER, FULL NAME, OTHER OWNER LICENSE PLATE NUMBER, CLASS, STATE OF ISSUE, DATE OF BIRTH, SEX, ADDRESS, CITY, STATE, ZIP CODE, TYPE CAR PICKUP VAN SUV MOTORCYCLE, MAKE, MODEL, and YEAR write down the particulars which the software demands you to do.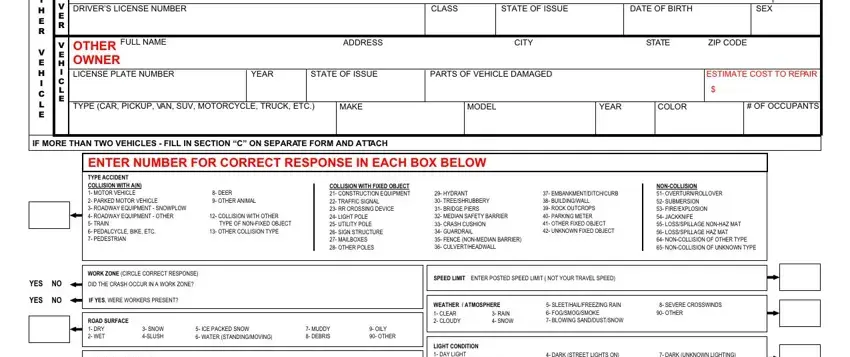 The application will require for additional info to be able to instantly fill out the segment TRAFFIC CONTROL DEVICE TRAFFIC, SCHOOL BUS STOP ARM SCHOOL ZONE, RR OVERHEAD FLASHERS RR OVERHEAD, OTHER NOT APPLICABLE, LIGHT CONDITION DAY LIGHT BEFORE, DARK STREET LIGHTS ON DARK, DARK UNKNOWN LIGHTING OTHER, MANNER OF COLLISION REAR END, RAN OFF ROAD LEFT SIDE RIGHT, HEAD ON SIDE SWIPE OPPOSING, Y M, E L C H E V, R E H T O, E L C H E V, and PARKED VEHICLES PARKED LEGALLY.

The MY VEHICLE DRIVER AND PASSENGERS, DATE OF BIRTH OR AGE SEX, SEAT, TYPE, USE, AIR BAG, EJECT, INJURY, PASSENGER NAME, PASSENGER NAME, PASSENGER NAME, CITY, CITY, CITY, and STATE field is the place where each party can insert their rights and responsibilities.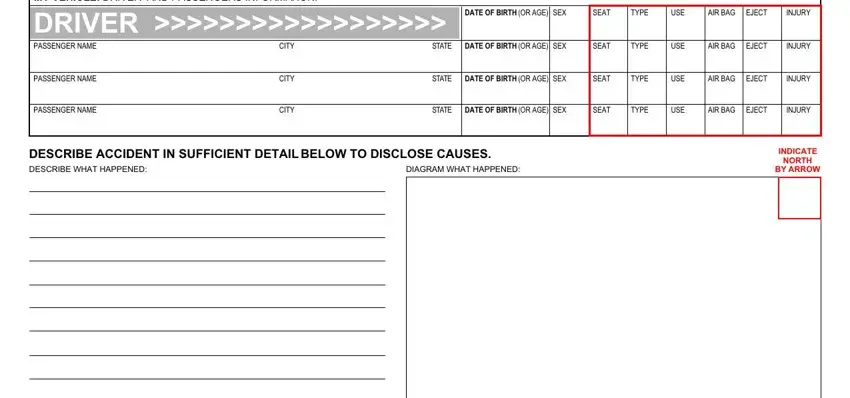 Complete the form by analyzing all of these fields: DAMAGE TO PROPERTY OTHER THAN, NAME OF PROPERTY OWNER, SIGN HERE X, ADDRESS, SIGNATURE OF PERSON SUBMITTING, DATE OF REPORT, ESTIMATE COST OF REPAIR, MAIL THIS REPORT TO, and DVS ACCIDENT RECORDS MINNESOTA.

Step 3: Once you click the Done button, the completed file is simply exportable to any of your gadgets. Alternatively, you may send it via email.
Step 4: Generate a minimum of several copies of your form to keep away from any upcoming difficulties.