If you desire to fill out moneygram receipt pdf, you won't need to download any kind of software - just use our online tool. The editor is constantly upgraded by our staff, getting powerful functions and becoming more versatile. By taking a couple of easy steps, you may begin your PDF journey:
Step 1: Just press the "Get Form Button" at the top of this page to access our pdf file editing tool. This way, you'll find all that is needed to work with your document.
Step 2: The editor allows you to work with PDF documents in many different ways. Modify it by writing any text, adjust what's originally in the document, and add a signature - all when you need it!
To be able to fill out this form, be certain to type in the necessary information in each blank:
1. When filling out the moneygram receipt pdf, make certain to incorporate all of the important fields in their relevant part. It will help to facilitate the work, which allows your information to be processed promptly and accurately.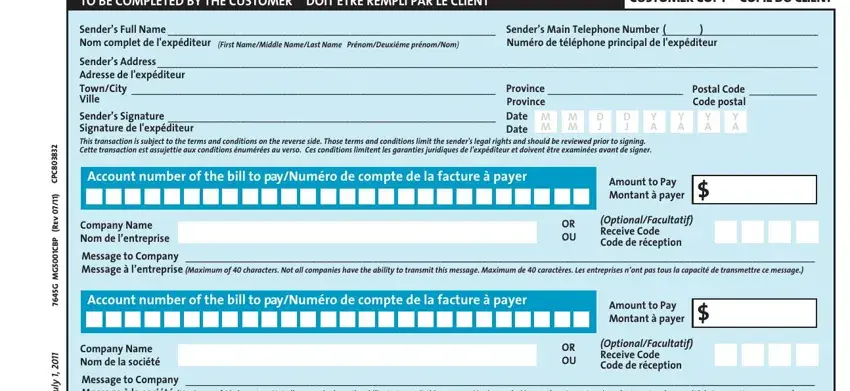 2. The next part is usually to complete the next few fields: OptOut Renonciation, Check this box if you do not want, and d e s i v e R t s a L.

3. Throughout this stage, look at TO BE COMPLETED BY THE CUSTOMER, AGENT COPY, COPIA DE LAGENTE, Senders Full Name Nom complet de, Senders Main Telephone Number, Senders Address Adresse de, Postal Code Code postal, Province, Senders Signature Date Signature, M M D J M M, D J, Y A, Y A, Y A, and Y A. Every one of these will need to be filled out with utmost precision.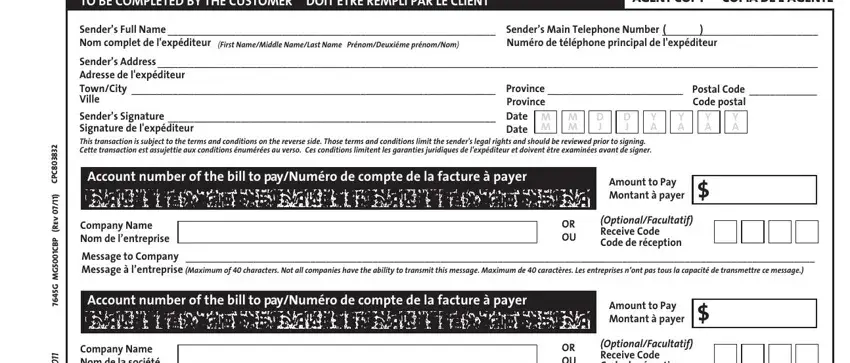 People who use this form often make errors when filling in Y A in this area. You should read again whatever you type in here.
4. To move ahead, this next step requires completing a couple of blanks. Included in these are Company Name Nom de la société, OR OU, OptionalFacultatif Receive Code, Message to Company Message à la, OptOut Renonciation, Check this box if you do not want, y l u J, and d e s i v e R t s a L, which you'll find essential to moving forward with this particular form.

Step 3: Revise the details you have entered into the blanks and then press the "Done" button. Go for a free trial option at FormsPal and get instant access to moneygram receipt pdf - downloadable, emailable, and editable inside your FormsPal account. We do not share the details that you provide when filling out forms at FormsPal.