Once you open the online PDF editor by FormsPal, you'll be able to fill in or change vehicle consignment agreement right here. The tool is constantly maintained by our staff, getting new awesome features and turning out to be a lot more versatile. All it requires is several simple steps:
Step 1: Access the PDF file in our editor by hitting the "Get Form Button" in the top area of this page.
Step 2: With this online PDF editor, you are able to do more than just fill in blank fields. Try all of the functions and make your forms appear faultless with customized textual content put in, or fine-tune the original input to perfection - all accompanied by an ability to insert almost any graphics and sign the file off.
Filling out this form will require thoroughness. Make sure that each and every blank is completed correctly.
1. When filling in the vehicle consignment agreement, be sure to include all of the essential blanks within its relevant part. It will help to expedite the work, which allows your information to be handled swiftly and accurately.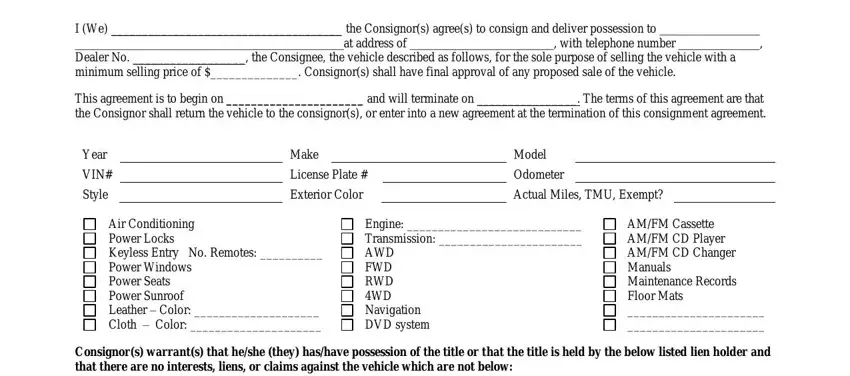 2. Right after the previous selection of blank fields is completed, go to type in the relevant details in these: Has the vehicle ever been on a, If you answered Yes to any of the, For their efforts and marketing, The Consignment Selling Fee is, As part of JFRs Consignment, Safety Inspection Professional, The above fees are paid by the, and WHEREAS The Owner owns the vehicle.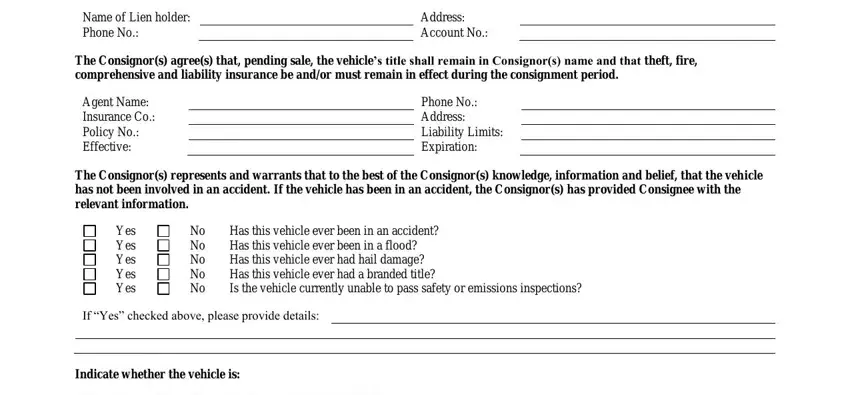 Regarding Has the vehicle ever been on a and The above fees are paid by the, be sure you take a second look in this current part. Those two are considered the most significant ones in this page.
3. Completing Initial Owner Consultant is essential for the next step, make sure to fill them out in their entirety. Don't miss any details!

4. This next section requires some additional information. Ensure you complete all the necessary fields - Initial Owner Consultant - to proceed further in your process!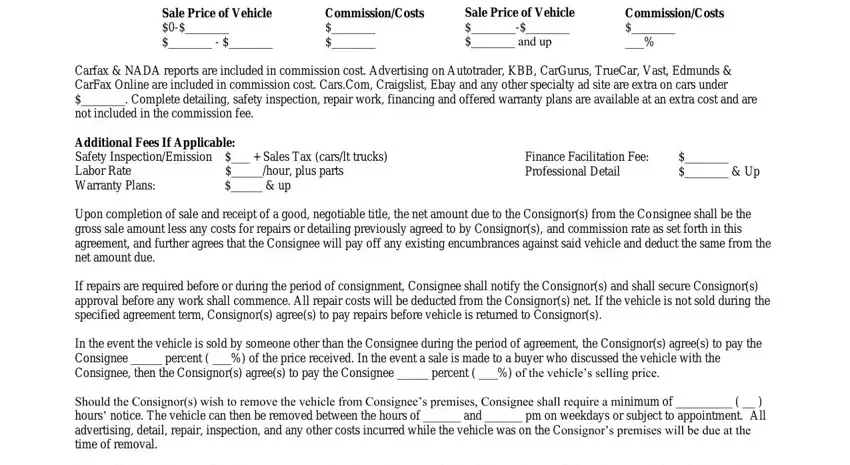 5. Because you come near to the last sections of the document, you'll notice a couple more things to do. Specifically, On todays date the Owner and JFR, Consignment Agreement as stated, Owners Printed Name Email Address, Address City State Zip, Cell Phone Business Phone Home, X Owners Signature, and X Consultants Signature on behalf must all be filled in.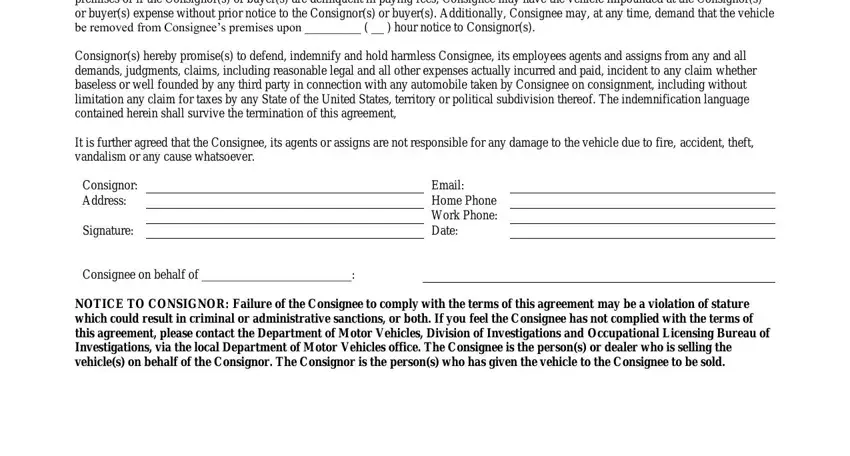 Step 3: Be certain that your details are correct and just click "Done" to progress further. Right after starting a7-day free trial account here, it will be possible to download vehicle consignment agreement or email it immediately. The document will also be readily accessible from your personal account menu with all your changes. FormsPal is focused on the privacy of our users; we make sure that all personal data processed by our system is kept confidential.