Filling in 10481 beneficiary is simple. We designed our PDF editor to really make it simple to operate and enable you to fill in any form online. Below are some steps that you need to adhere to:
Step 1: Select the button "Get Form Here" and click it.
Step 2: So, you can start editing your 10481 beneficiary. The multifunctional toolbar is available to you - insert, erase, transform, highlight, and perform various other commands with the words and phrases in the file.
Enter the requested details in every area to prepare the PDF 10481 beneficiary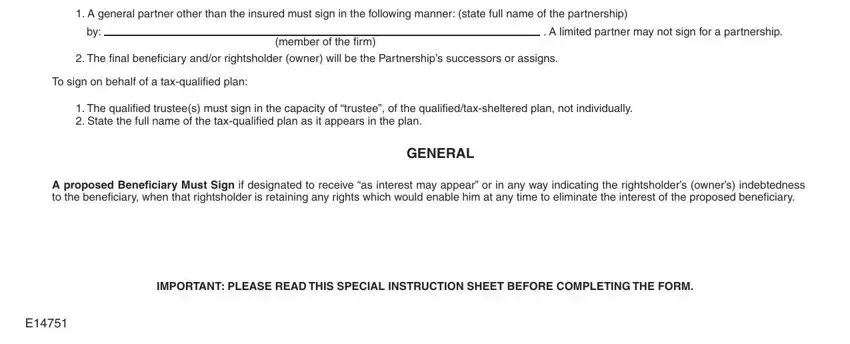 Write the required information in the If you wish to designate SINGLE, Please use this language, Spouse Jane Doe Insureds, GROUP more than one person, parents named brothers and sister, TRUST BENEFICIARY Trustee under, Provide the names of Trustees the, Testamentary Trust Trust created, The terms of trust must be fully, children John Doe Susan Doe and, Doe and Susan Doe, Father James Doe and mother, John Jones XYZ Bank as trustee or, dated May made by and between, and the trustee or successor trustee segment.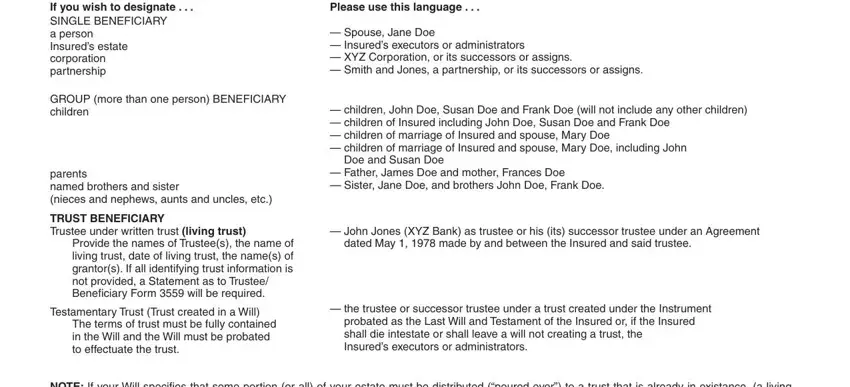 You can be requested to provide the information to help the program prepare the field Agency Code, Policy Numbers, Insureds Name as it appears on, If Insureds name has changed state, PRIMARY BENEFICIARYIES if living, Please type or print full name and, CONTINGENT BENEFICIARYIES if, FINAL BENEFICIARY, To be completed for change of, Rightsholder Contract holder Owner, Are any named beneficiaries a, Relationships, Names of First Beneficiaryies, Dates of Birth, and Phone number.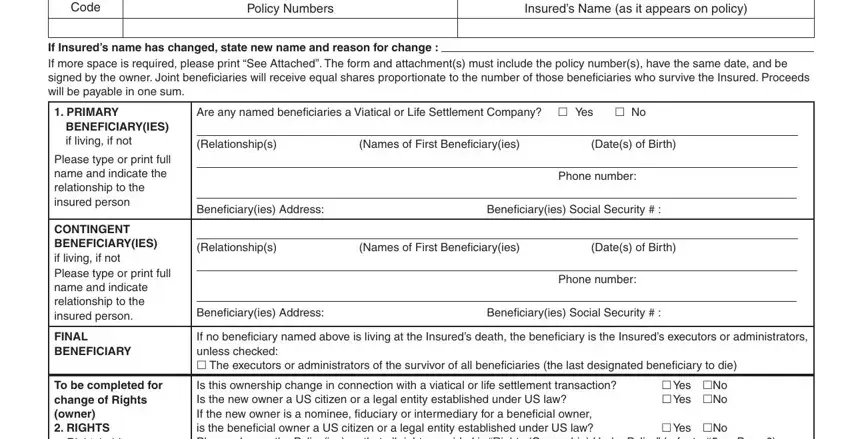 The area Rightsholder Contract holder Owner, Where two or more Rightsholders, Is this ownership change in, InsuredAnnuitant, Individual Trust Partnership, Full Name of Proposed, Date of Birth, New Rightsholder Occupation and, Soc Sec TIN IRS Form W signed by, Account Number, FINAL RIGHTSHOLDER IF ALL PERSONS, The Insured Annuitant Final, executors or administrators of the, The contractholders spouse Only, and NOTE ON ANNUITIES If the contract should be where one can add each side's rights and obligations.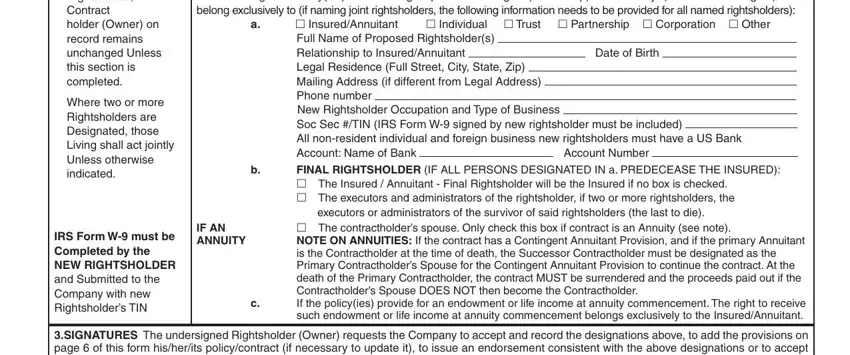 Finalize by reviewing the following fields and filling them out accordingly: SIGNATURES The undersigned, Signature of Owner FIRST NAME, INITIAL, LAST NAME, Witness, If Rightsholder Owner resides in, Date, Additional, Signature FIRST NAME, INITIAL LAST NAME Rightsholders, and a named beneficiary may not be, FOR HOME OFFICE USE Form Recorded, Pending Transaction contact, Date, and By Agency Agency.

Step 3: Press "Done". Now you can transfer the PDF form.
Step 4: Get as much as several copies of the document to keep clear of any specific possible concerns.