This PDF editor enables you to fill in documents. You won't need to perform much to enhance how to form mv 15 dmv forms. Simply keep to the next steps.
Step 1: On the web page, click the orange "Get form now" button.
Step 2: Right now, you can start editing your form mv 15 dmv. The multifunctional toolbar is available to you - add, delete, alter, highlight, and perform various other commands with the text in the document.
Get the form mv 15 dmv PDF and provide the details for every part: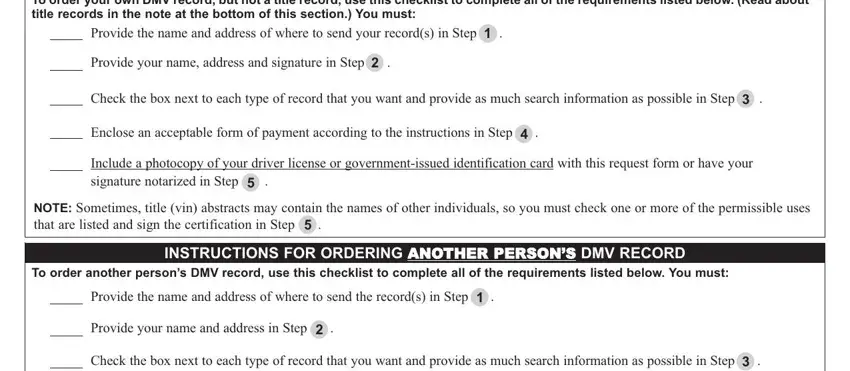 Type in the demanded details in the section Enclose an acceptable form of, Have one or more of the, Include a photocopy of your driver, Exemption from fees Government, MAIL YOUR completed MV form, DO NOT STAPLE, STEP, Your return receipt, DMV OFFICE USE ONLY, PrintType name and mailing address, No record ABS HIS TCK SUS INS, Abstracts Life Stnd Reg Ttl Ins, History ADD REG, TicketsDispositions, and SuspensionsRevocations Lic Reg.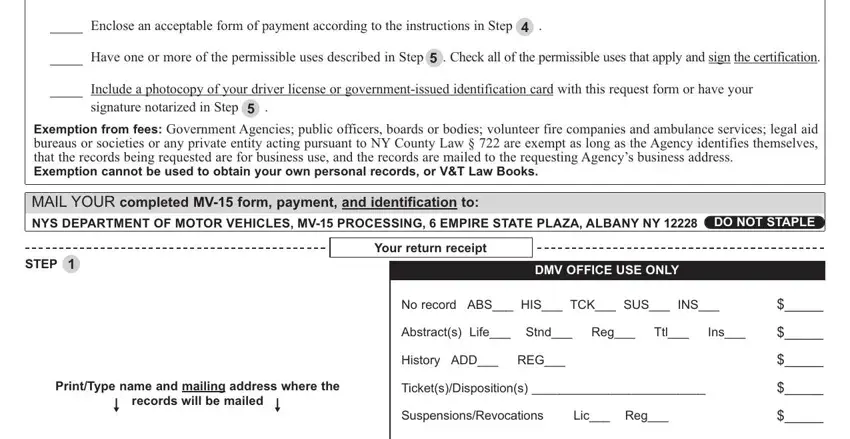 Within the segment dealing with Name, Address, Address, City State Zip, TOTAL FEE, Initials, Date, Amount Received, REFUND IF ANY, and PAGE OF, you will need to put in writing some essential data.

In the section CITY, SIGNATURE X, STEP, STEP, REQUESTORS INFORMATION, LAST NAME, FIRST, DAYTIME PHONE NUMBER REQUIRED, ADDRESS WHERE YOU GET YOUR MAIL, APT, STATE, ZIP CODE, EMAIL ADDRESS, o o, and Check here if the mailing address, identify the rights and obligations of the sides.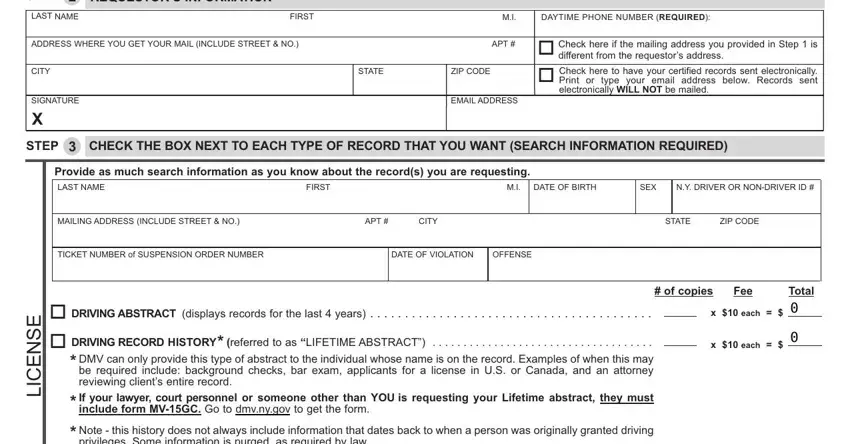 Check the areas ADDRESS HISTORY only your own, Note this history does not always, o o TICKET DISPOSITION includes, DMV does not retain parking, x each, x each, x each, IF YOU WANT MORE THAN ONE TICKET, Provide as much search information, LAST NAME, PLATE, R E N W O, FIRST, DATE OF BIRTH, and YEAR and thereafter fill them in.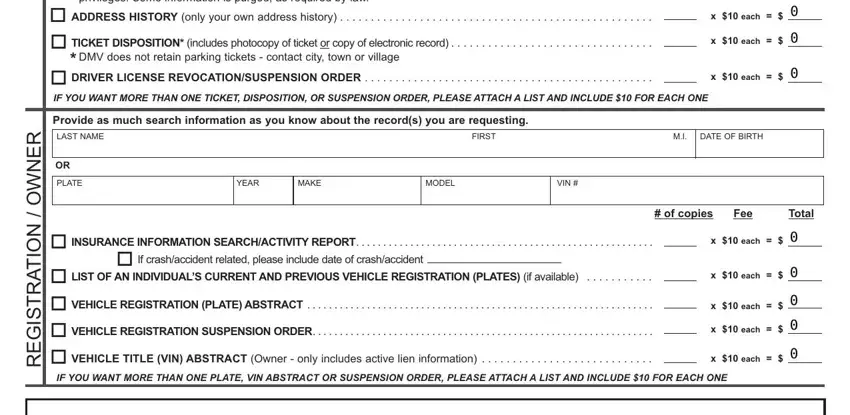 Step 3: Press "Done". Now you can transfer the PDF file.
Step 4: Produce copies of the template. This should prevent upcoming challenges. We cannot view or disclose your details, as a consequence be certain it's going to be safe.