It's straightforward to fill in the npma 33 empty blanks. Our PDF tool will make it practically effortless to edit any sort of form. Below are the basic four steps you'll want to follow:
Step 1: On the following web page, hit the orange "Get form now" button.
Step 2: You are now ready to edit npma 33. You have a wide range of options with our multifunctional toolbar - you can add, remove, or change the content, highlight the particular sections, and undertake many other commands.
Prepare the npma 33 PDF by entering the content needed for every single area.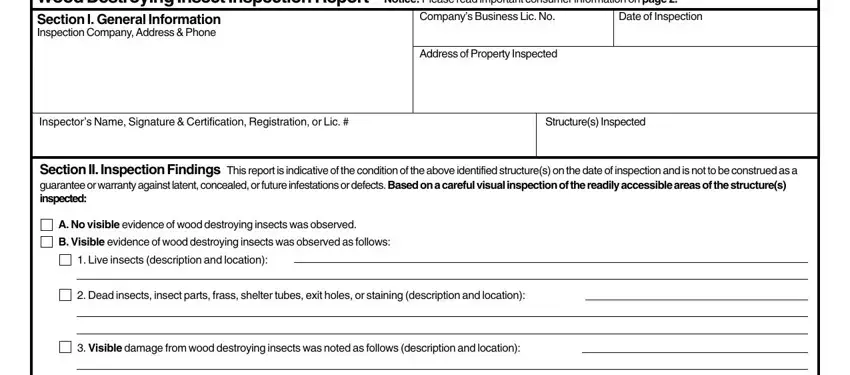 Write the required data in the NOTE This is not a structural, Yes, It appears that the structures or, The inspecting company can give no, Section III Recommendations, No treatment recommended Explain, Recommend treatment for the, Section IV Obstructions and, Basement Crawlspace Main Level, The inspector may write out, Fixed ceiling Suspended ceiling, and Only visual access Cluttered segment.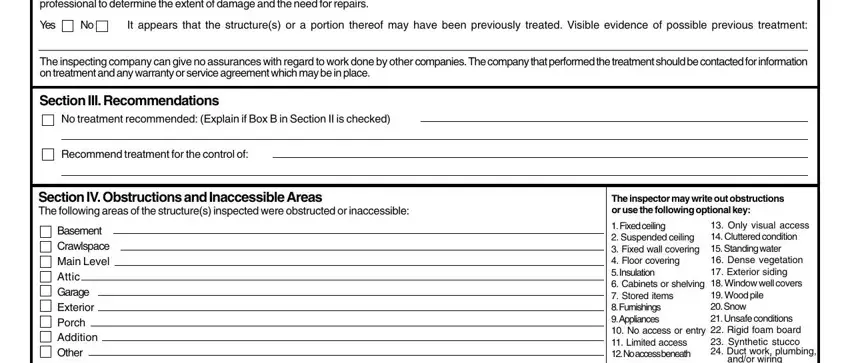 It is crucial to record certain details in the field Section V Additional Comments and, Only visual access Cluttered, Attachments, Signature of Sellers or Owners if, Signature of Buyer The undersigned, Form NPMA National Pest, and Page of.

Step 3: Choose "Done". Now you may transfer your PDF document.
Step 4: Come up with around several copies of the form to keep clear of any kind of upcoming problems.