Making use of the online PDF tool by FormsPal, it is easy to complete or modify 1610 tdy form here. To keep our editor on the cutting edge of practicality, we work to integrate user-oriented capabilities and improvements regularly. We are always pleased to receive suggestions - help us with reshaping PDF editing. Here is what you will need to do to get going:
Step 1: Press the "Get Form" button in the top part of this page to open our PDF tool.
Step 2: Once you open the tool, you will find the document all set to be completed. Other than filling out various blank fields, you may as well do other sorts of things with the form, that is adding any words, modifying the initial text, adding illustrations or photos, affixing your signature to the document, and a lot more.
This document requires some specific information; in order to ensure accuracy, be sure to heed the recommendations below:
1. It is advisable to fill out the 1610 tdy form accurately, so be mindful while filling out the areas that contain all these fields: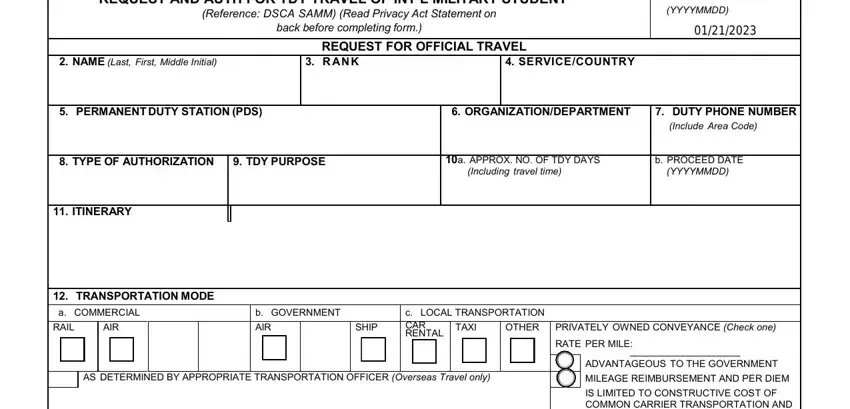 2. Now that this array of fields is completed, you're ready insert the necessary details in x ESTIMATED COST a PER DIEM, b TRAVEL, c OTHER, d TOTAL, ADVANCE, AUTHORIZED, SPONSORED PROGRAM FINANCIAL, ACCOUNTING CITATION, AUTHORIZATION, COMPTROLLER, DATE ISSUED YYYYMMDD, and TRAVEL AUTHORIZATION NUMBER allowing you to go to the third part.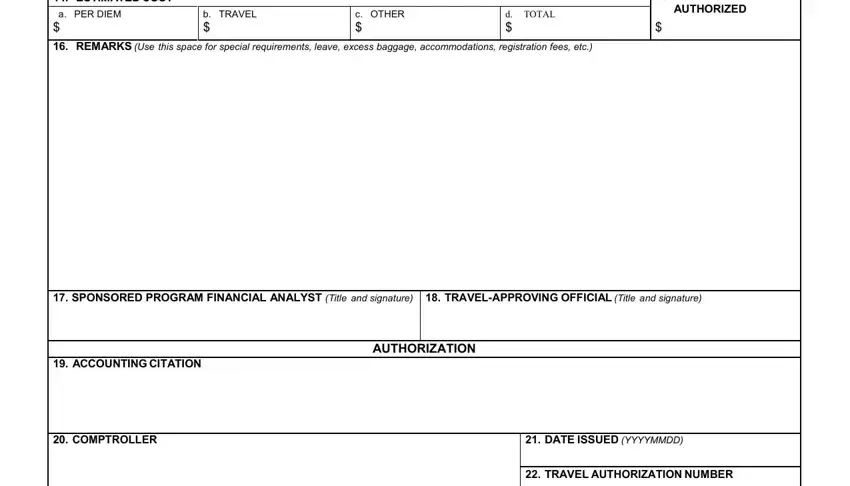 3. The next step is generally easy - fill out all the fields in REMARKS Continued Use this space to conclude this part.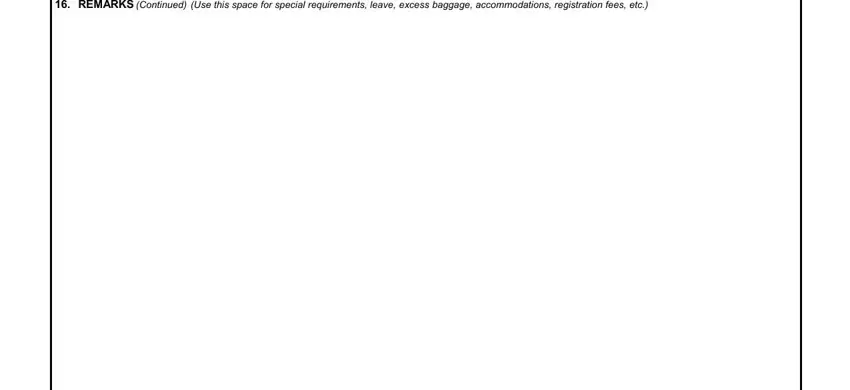 It's easy to make an error while completing the REMARKS Continued Use this space, thus be sure to reread it before you submit it.
Step 3: Proofread what you've inserted in the blanks and click on the "Done" button. Right after getting afree trial account here, you will be able to download 1610 tdy form or email it directly. The PDF document will also be available via your personal account with your every single change. With FormsPal, you can complete documents without having to worry about information leaks or records being shared. Our protected system ensures that your private information is kept safely.