The whole process of filling out the registration for water and sewer billing is pretty hassle-free. We made sure our PDF tool is not hard to utilize and can help fill out any kind of form without delay. Listed below are some of the simple steps you will have to follow:
Step 1: Select the button "Get form here" to get into it.
Step 2: At this point, you're on the document editing page. You can add text, edit current data, highlight particular words or phrases, place crosses or checks, insert images, sign the document, erase unwanted fields, etc.
These areas will make up the PDF template that you will be creating: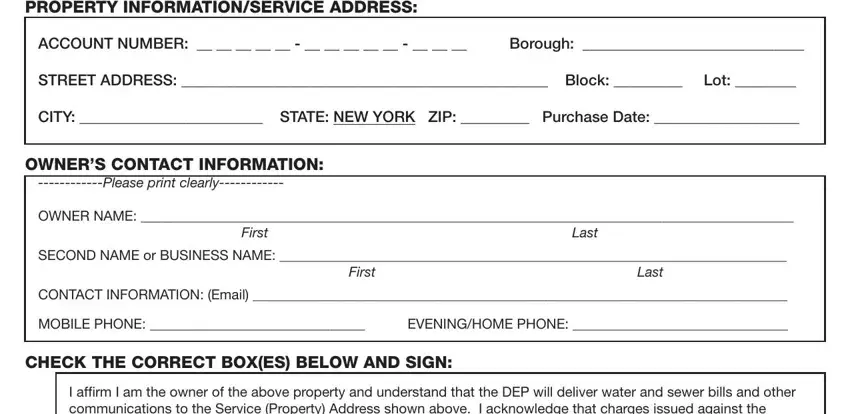 Put the required information in the Signature, of, Owner, Date Second, Signature Date, Signature, of, Owner Date, SEND, BILLS, TO, A, DIFFERENT, ADDRESS SEND, DUPLICATE, BILLS, TO Name, Name, Second, Name, Attention Second, Name, Attention Street, Address, Apt, Room Street, Address, Apt, Room City, and City section.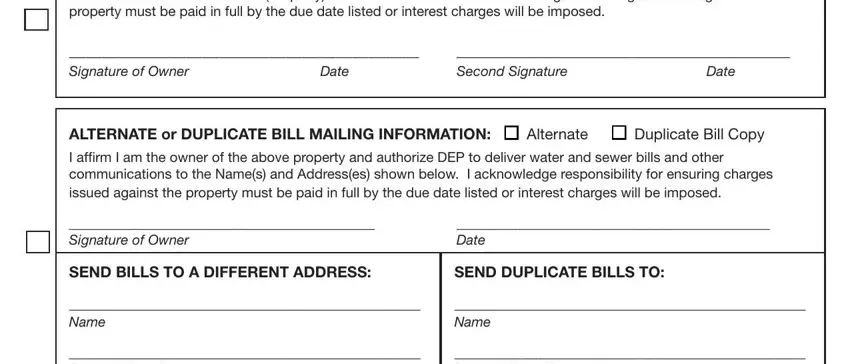 It is vital to put down certain particulars in the space National, Guard Other, write, in Other, write, in and HOW, TO, COMPLETE, YOUR, REGISTRATION, FORM

Step 3: Press the "Done" button. Now it's easy to upload your PDF document to your device. Additionally, you can deliver it by email.
Step 4: Make copies of your file - it can help you remain away from possible concerns. And fear not - we are not meant to display or watch your details.