You can easily create the form nys 45 file using this PDF editor. The following steps will allow you to immediately prepare your document.
Step 1: Press the orange button "Get Form Here" on the following website page.
Step 2: Right now, you can modify the form nys 45. Our multifunctional toolbar allows you to include, get rid of, modify, highlight, and undertake several other commands to the content and areas within the document.
The next segments will compose the PDF document that you'll be filling out: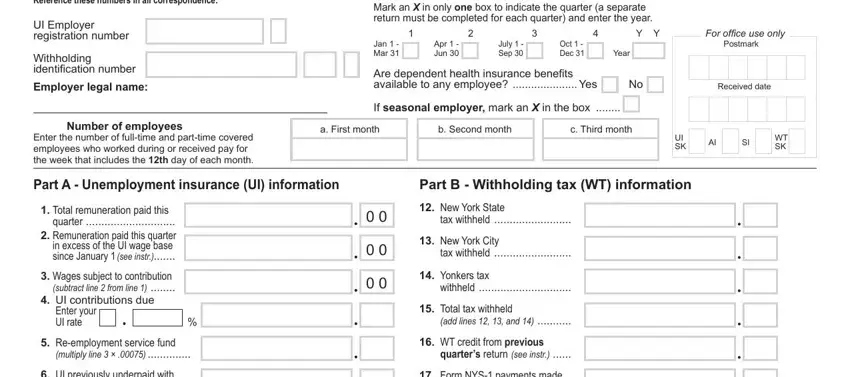 Remember to insert the data inside the part Enter, UI, previously, overpaid a, Apply, to, outstanding b, Credit, to, next, quarter, withholding, tax a, Social, Security, number Lastname, first, name, middle, initial Total, UI, remuneration paid, this, quarter and Total, NYS, NYC, and, Yonkers, tax, withheld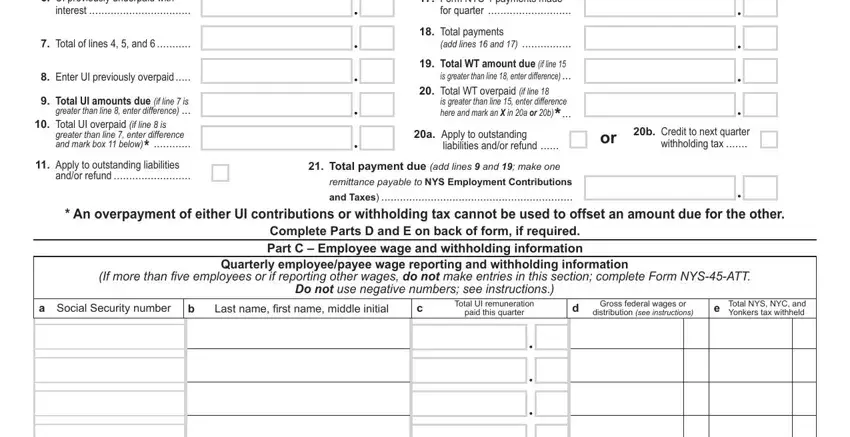 The system will ask you for data to instantly submit the section Signers, name, please, print Title, Date, and Telephone, number

It's essential to indicate the rights and obligations of both sides in space Withholding, identification, number Part, D, Form, NYS, corrections, additions Original, last, payroll, date, reported on, Form, NYS, line, A, mm, dd Original, total, withheld reported, on, Form, NYS, line last, payroll, date Correct, mm, dd Correct, total, withheld and PartE, Change, of, business, information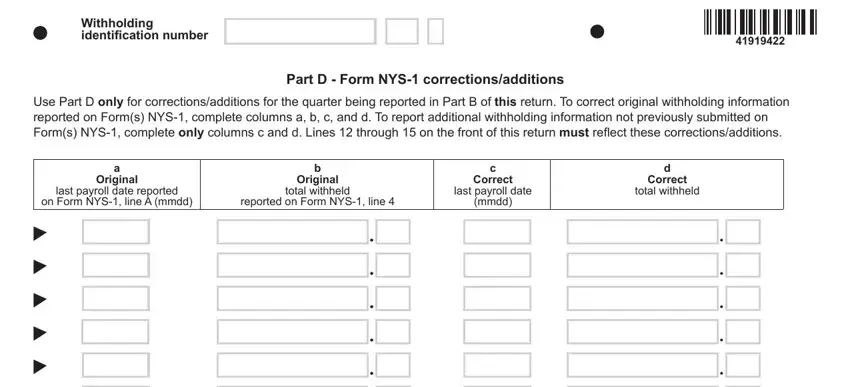 End by reading these areas and writing the required information: E, IN Address, Paid, preparer, s, use Preparer, s, signature Date, Preparer, sNY, T, PR, IN Preparer, sSS, Nor, PT, IN NY, T, PR, IN, ex, cl, code Address, FirmsE, IN Telephone, number Payroll, services, name and Payroll, services, E, IN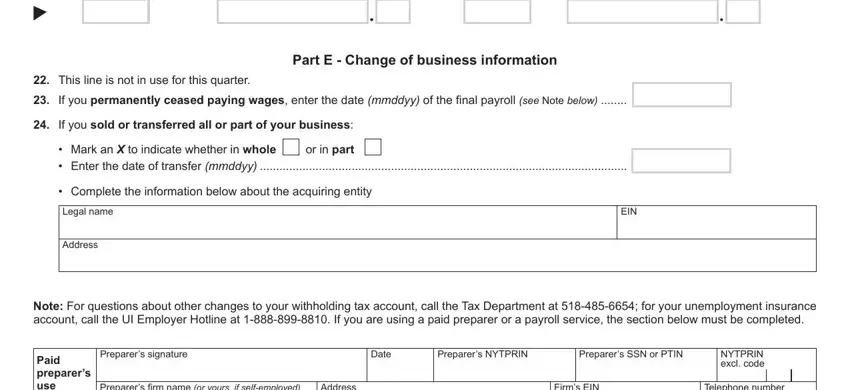 Step 3: Hit the "Done" button. You can now transfer your PDF file to your electronic device. Aside from that, you can send it by means of electronic mail.
Step 4: Make sure you keep away from forthcoming challenges by preparing as much as 2 duplicates of your document.