Dealing with PDF documents online is simple with this PDF tool. Anyone can fill in oceania cruises travel agent here without trouble. The editor is consistently upgraded by our staff, acquiring cool features and turning out to be greater. In case you are seeking to get going, here is what it's going to take:
Step 1: Hit the "Get Form" button in the top section of this webpage to get into our PDF editor.
Step 2: Once you start the online editor, you will find the form all set to be completed. Other than filling out various blanks, you may as well perform many other actions with the form, such as putting on custom textual content, editing the initial text, inserting images, affixing your signature to the document, and more.
If you want to finalize this PDF document, make sure that you type in the necessary information in every field:
1. The oceania cruises travel agent needs certain information to be entered. Ensure that the subsequent blanks are complete: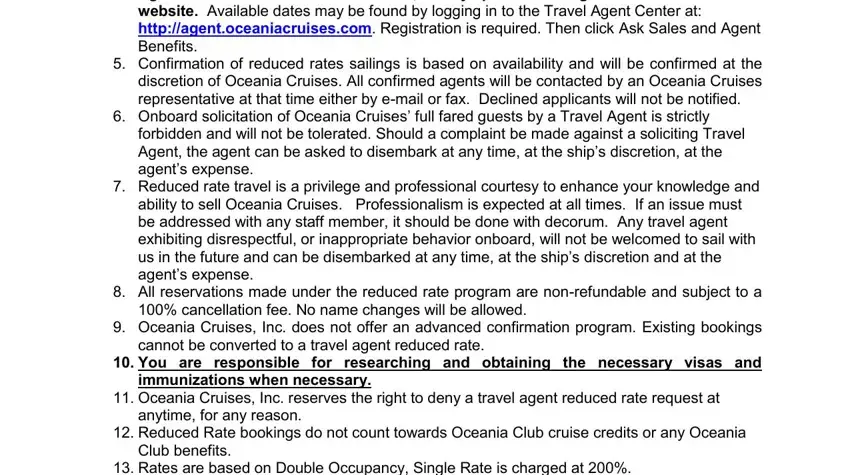 2. The subsequent stage would be to submit all of the following blanks: Reduced Rate offers can be found.

Always be really mindful while filling in Reduced Rate offers can be found and Reduced Rate offers can be found, since this is the section where many people make errors.
Step 3: Revise the details you've inserted in the blank fields and then press the "Done" button. Try a 7-day free trial option at FormsPal and acquire immediate access to oceania cruises travel agent - download, email, or change in your personal cabinet. FormsPal ensures your information confidentiality by having a secure method that never saves or distributes any type of personal information used in the form. Be confident knowing your files are kept safe every time you use our tools!