It is simple to prepare forms using our PDF editor. Revising the oklahoma form doc search file is not hard in case you check out the following steps:
Step 1: Look for the button "Get Form Here" on the following site and select it.
Step 2: Now, you are on the file editing page. You can add content, edit existing details, highlight particular words or phrases, place crosses or checks, add images, sign the file, erase unnecessary fields, etc.
These particular segments will compose the PDF template that you'll be creating: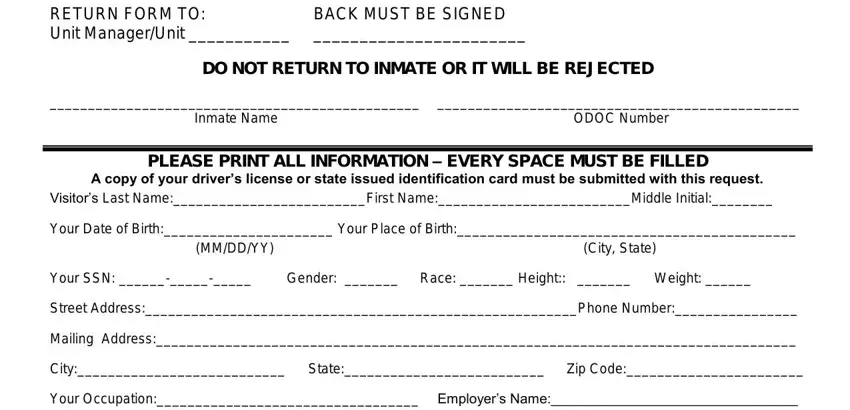 In the Employer Address Phone Number, Your Relation to Inmate, How long have you known inmate, Have you or a family member ever, No If yes when, Yes, Are you currently, Yes, No Relationship, If yes Inmates Name and ODOC Number, Where When Charge, Are You Married, Yes, No Date of Marriage State, and Spouses Name Spouses Date of Birth area, note your information.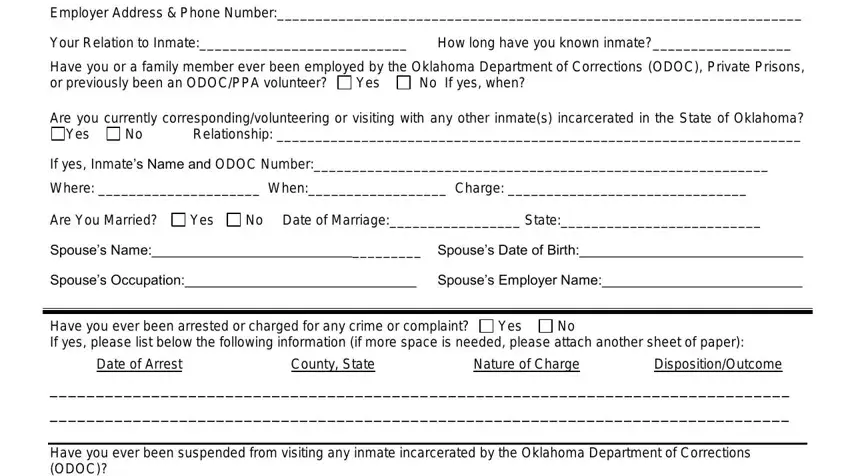 Note the essential particulars in Have you ever been suspended from, If yes give dates facility and, and DOC B field.

The If you are on Probation or Parole, Has any member of your family, Yes, MakeModel of Your Automobile Tag, A copy of your drivers license or, PLEASE READ THE RULES AND, All visitors years of age and, and Under Oklahoma Statutes Title section will be applied to list the rights or responsibilities of each party.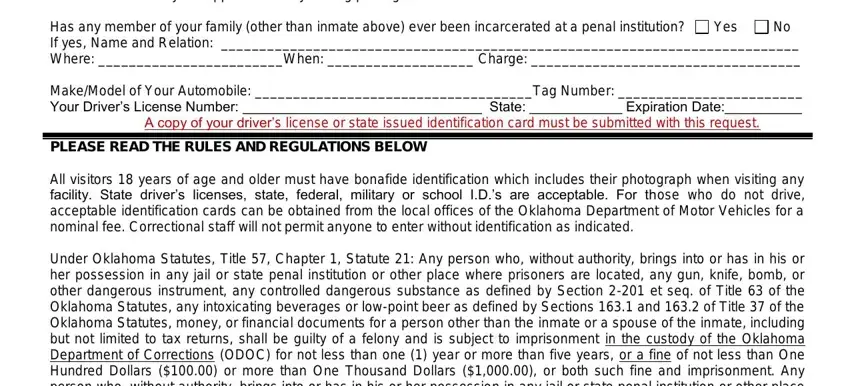 Finish by reviewing the next areas and filling them out as required: Your signature below indicates you, Name, Print or Type, Your Signature Date, IF YOU ARE UNDER EIGHTEEN YEARS, ParentGuardian Printed Name, ParentGuardian Signature Date, ANY INDIVIDUAL WHO FALSIFIES, A copy of your drivers license or, Official Use Only APPROVED DENIED, and Has the IGI Database and sections.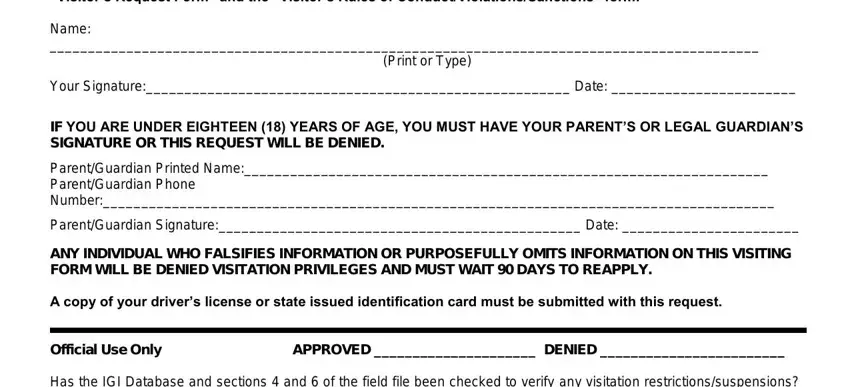 Step 3: Once you click the Done button, the finished file is easily exportable to any of your devices. Alternatively, you can deliver it using email.
Step 4: Make duplicates of the file - it will help you remain away from forthcoming worries. And fear not - we do not distribute or see the information you have.