Filling out the usps stamp order form form is easy with our PDF editor. Keep up with these particular steps to prepare the document instantly.
Step 1: Select the button "Get Form Here".
Step 2: At the moment you are on the document editing page. You can modify and add content to the file, highlight specified content, cross or check specific words, insert images, insert a signature on it, get rid of unrequired areas, or take them out completely.
The following parts are inside the PDF file you'll be filling out.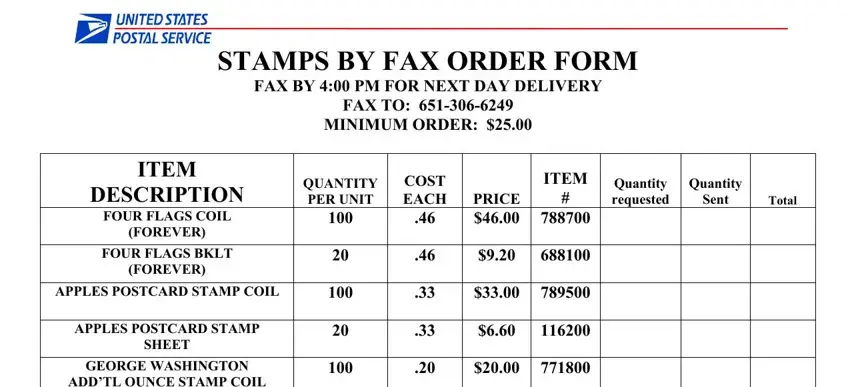 Complete the ADD, TL, OUNCE, STAMP, COIL GEORGE, WASHINGTON, ADD, TL OUNCE, STAMP, SHEET SWALLOWTAIL, BUTTERFLY WEDDING, CAKE PUFFIN, STAMP WISDOM, STAMP WAVE, STAMP WAVE, STAMP WAVE, STAMP GLOBAL, IN, T, STAMP TIFFANY, LAMP NAVAJO, JEW, E, RLY SILVER, COFFEEPOT and CHIPPENDALE, CHAIR space with all the data requested by the system.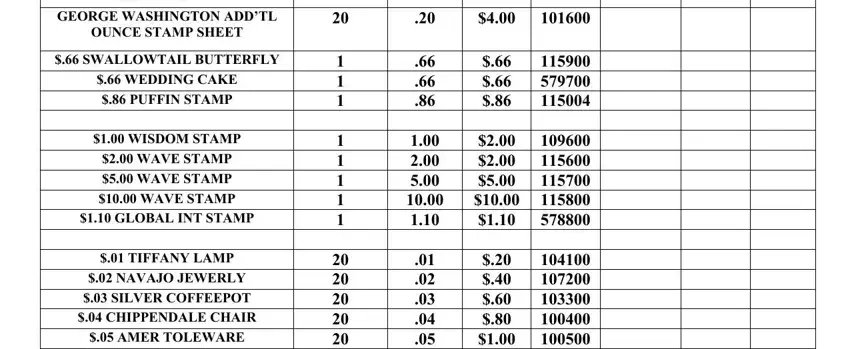 Within the section talking about TOTAL, CONTACT, PHONE, NUMBER THANKYOU, PRIORITY, FLAT, RATE ENVELOPE, STAMP EXPRESS, FLAT, RATE ENVELOPE, STAMP STAMPED, POSTCARD FOREVER, STAMPED, ENVELOPES COMPANY, NAME ADDRESS, and CITY, STATE, ZIP, CODE you have to type in some expected information.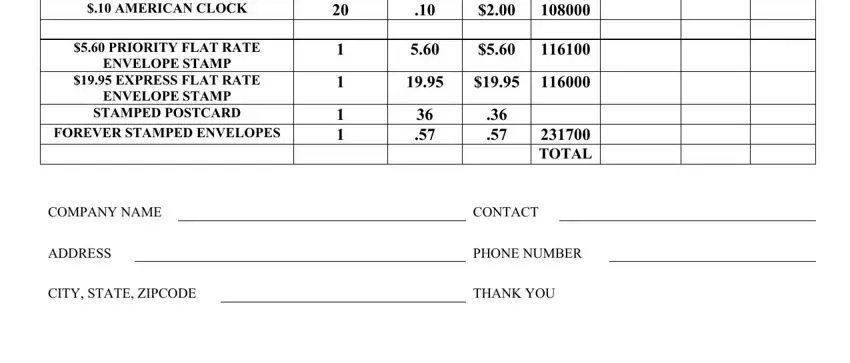 Step 3: As soon as you are done, click the "Done" button to transfer the PDF form.
Step 4: Be certain to avoid possible future complications by making at least two duplicates of the form.