Due to the goal of allowing it to be as easy to work with as possible, we built our PDF editor. The whole process of completing the unicef form can be very simple in the event you follow the following steps.
Step 1: You can hit the orange "Get Form Now" button at the top of this website page.
Step 2: When you have entered the unicef form editing page you can discover each of the options you can conduct about your template in the upper menu.
Prepare the unicef form PDF and enter the material for each part: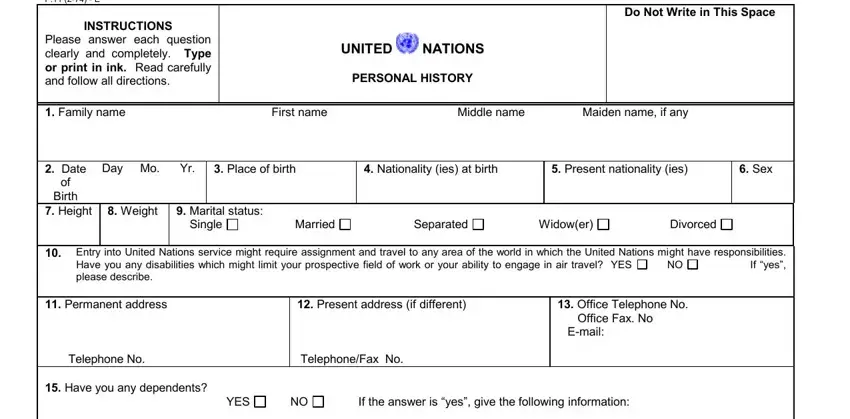 Write the information in NAME, Date of Birth, Relationship, NAME, Date of Birth, Relationship, Have you taken up legal permanent, YES, Have you taken any legal steps, YES, Are any of your relatives, YES, NAME, Relationship, and Name of International Organization.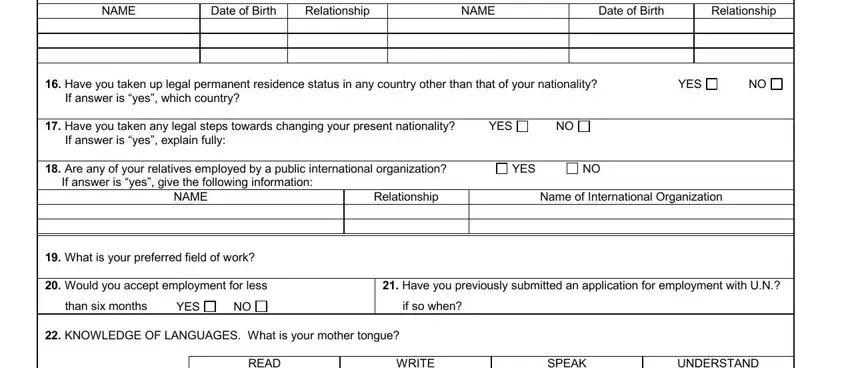 It's essential to provide the key information within the OTHER LANGUAGES, Easily, Not Easily, Easily, Not Easily, Easily, Not Easily, Easily, Not Easily, For clerical grades only Indicate, List any office machines or, E n g l i s h F r e n c h, and O t h e r l a n g u a g e s field.

It is important to describe the rights and responsibilities of both parties in space Typing Shorthand EDUCATIONAL Give, NAME PLACE AND COUNTRY, MAIN COURSE OF STUDY, ATTENDED FROMTO, DEGREES and ACADEMIC, MoYear, MoYear, DISTINCTIONS OBTAINED, B SCHOOLS OR OTHER FORMAL TRAINING, NAME PLACE AND COUNTRY, TYPE, ATTEND FROMTO, CERTIFICATES OR, MoYear MoYear, and DIPLOMAS OBTAINED.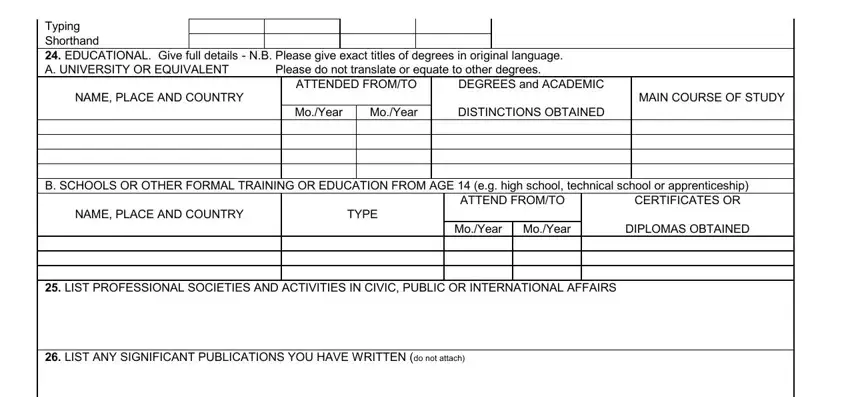 Look at the sections A PRESENT POST LAST POST IF NOT, FROM MONTHYEAR, TO MONTHYEAR, SALARIES PER ANNUM, EXACT TITLE OF YOUR POST, STARTING, FINAL, NAME OF EMPLOYER, ADDRESS OF EMPLOYER, TYPE OF BUSINESS, NAME OF SUPERVISOR, DESCRIPTION OF YOUR DUTIES, NO AND KIND OF EMPLOYEES, and REASON FOR LEAVING and thereafter fill them out.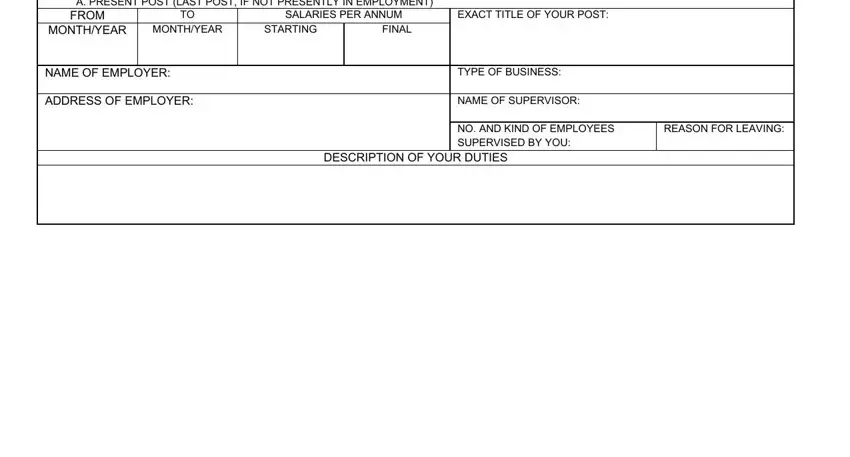 Step 3: After you've hit the Done button, your document should be accessible for upload to every device or email address you indicate.
Step 4: You could make duplicates of the document toprevent any future concerns. Don't worry, we don't reveal or watch your information.