You can work with physical intake template form easily with our online PDF tool. FormsPal professional team is always endeavoring to improve the tool and enable it to be much faster for people with its multiple features. Enjoy an ever-improving experience today! To begin your journey, take these basic steps:
Step 1: First of all, open the editor by pressing the "Get Form Button" in the top section of this webpage.
Step 2: Using this advanced PDF editing tool, you are able to do more than merely complete blank fields. Edit away and make your docs seem high-quality with custom textual content added, or adjust the file's original content to perfection - all that comes along with an ability to incorporate your personal photos and sign the document off.
This form requires particular info to be filled in, so ensure that you take whatever time to enter what's required:
1. When filling out the physical intake template form, be certain to include all necessary fields in their relevant area. This will help hasten the process, allowing for your details to be processed fast and appropriately.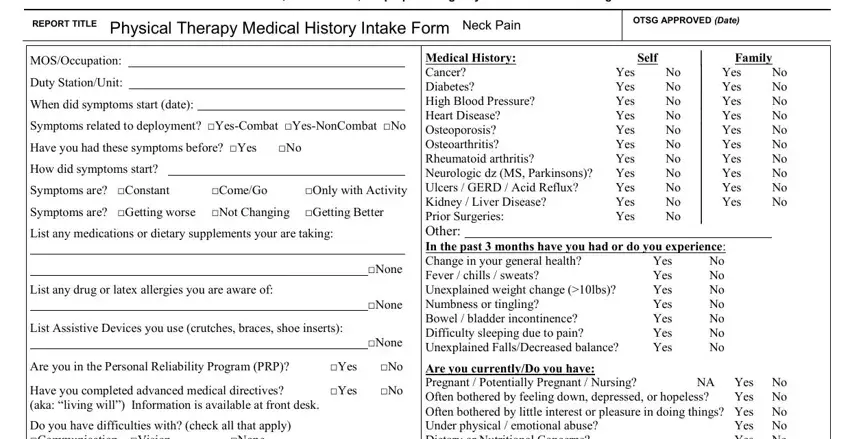 2. After this section is completed, go to type in the relevant details in these - Do you have difficulties with, None Other, Which activity causes you the, Function Rate your ability to, No restrictions, Pain at WORST Rate your highest, No pain Worst pain Imaginable, Pain at BEST Rate you lowest pain, No pain Worst pain Imaginable, Are you currentlyDo you have Yes, No No No No No No, Indicate the location and type of, Key AcheDull SharpStabbing x x, Therapist Notes, and Impact How distressing is this.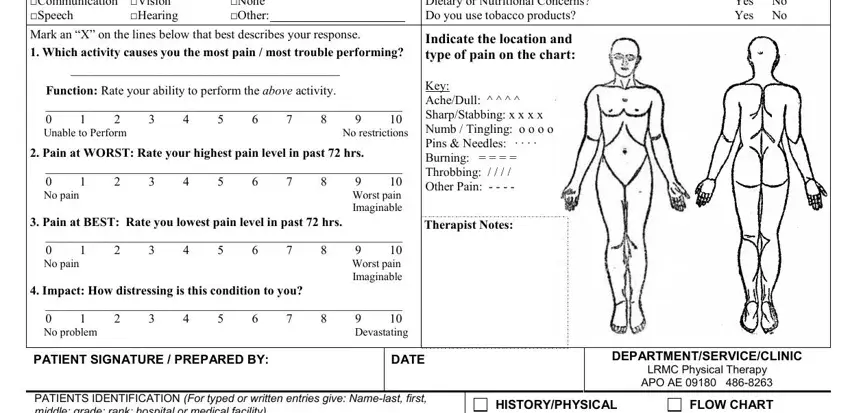 3. In this particular part, check out PATIENTS IDENTIFICATION For typed, NAME Last First MI, FMP SSN Sponsor, GRADE or RANK, DA FORM, MAY, DOB Patients ddmmmyyyy, OTHEREXAMINATION, OTHER Specify, OR EXAMINATION, DIAGNOSTIC STUDIES, TREATMENT, and MCEUH OP R APR Rev DA Master Rx. These should be filled out with utmost focus on detail.

4. Filling in NECK DISABILITY INDEX, Section To be completed by, Name Age Date, Occupation Number of days of neck, Section To be completed by patient, I have no pain at the moment The, I do not have to change the way I, and This questionnaire has been is key in the fourth form section - make sure to don't rush and be mindful with every blank!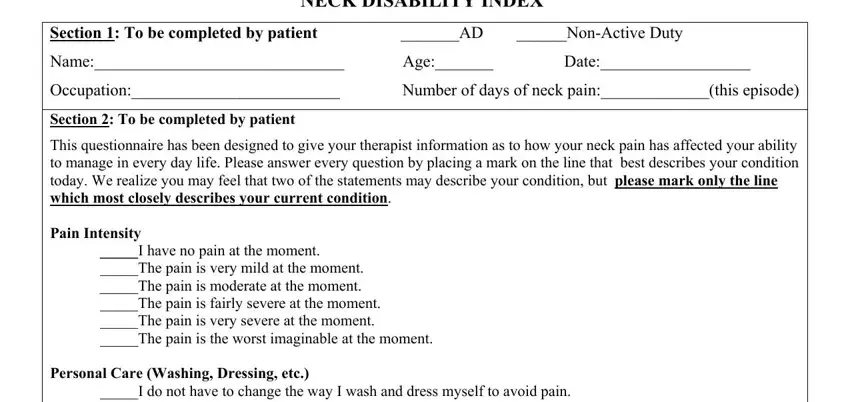 5. The final stage to finalize this form is integral. Be sure you fill out the required form fields, consisting of I do not have to change the way I, This questionnaire has been, I can lift heavy weights without, and I can read as much as I want to, before finalizing. Or else, it may give you an incomplete and possibly invalid document!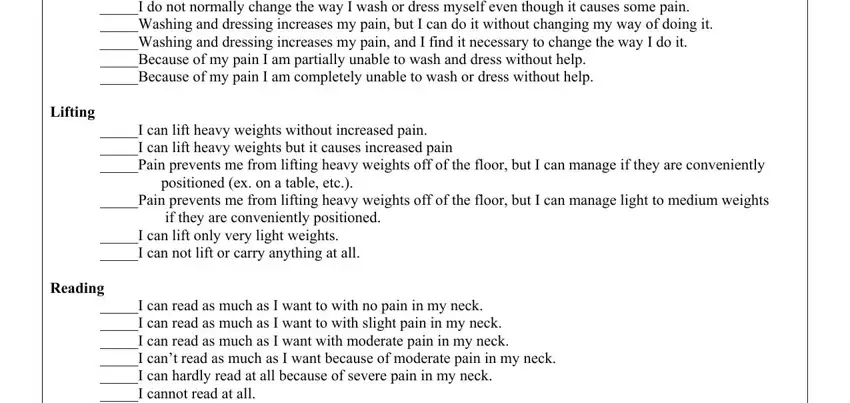 It is easy to make a mistake while filling in the This questionnaire has been, and so make sure to go through it again before you'll send it in.
Step 3: Make certain the information is correct and then click "Done" to continue further. Right after starting afree trial account with us, you will be able to download physical intake template form or send it through email directly. The PDF file will also be at your disposal in your personal account page with your every single change. FormsPal is dedicated to the personal privacy of all our users; we make certain that all information going through our editor is kept confidential.