Our top rated computer programmers worked hard to obtain the PDF editor we are now pleased to deliver to you. The application makes it possible to quickly prepare monthly supervision form and saves valuable time. You only need to follow this procedure.
Step 1: You should press the orange "Get Form Now" button at the top of the page.
Step 2: So you should be on your document edit page. You can add, adjust, highlight, check, cross, add or erase fields or text.
Prepare the monthly supervision form PDF and provide the content for every section: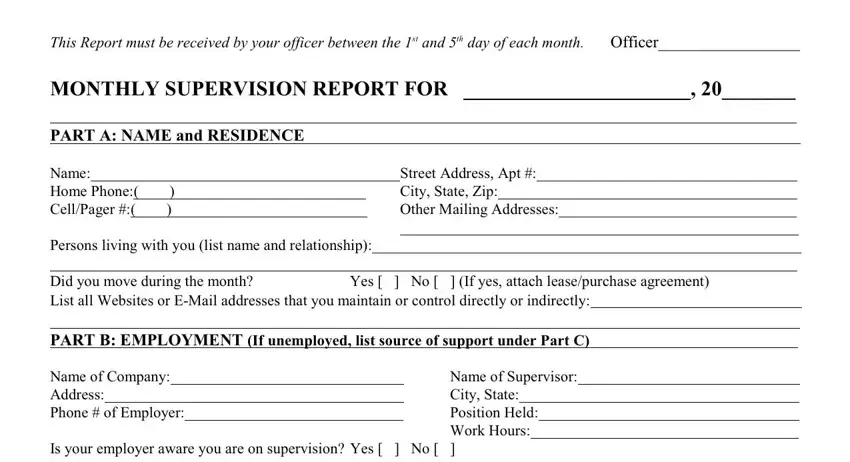 Enter the appropriate details in the area Did, you, change, jobs, during, the, month Yes, No, If, yes, when, and, why Did, you, miss, work, during, the, month MONTHLY, INCOME NECESSARY, MONTHLY, EXPENSES Spouses, Income Medical, Insurance Other, Income, source TOTALMONTHLY, INCOME and Home, Mortgage, Rent, Grocery, Utilities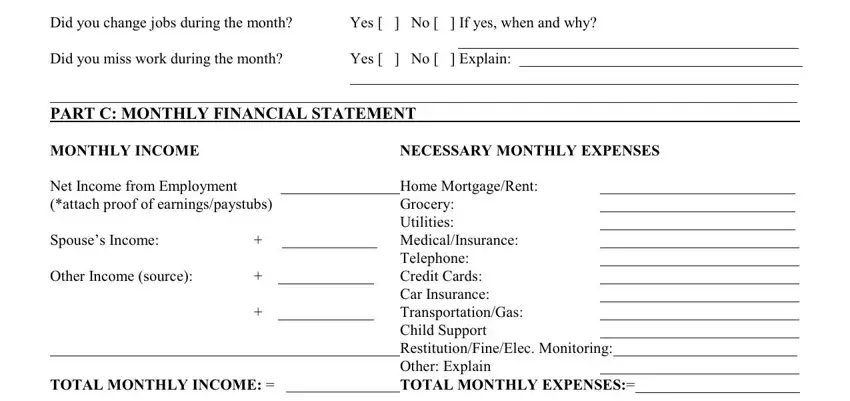 The program will require you to give specific fundamental data to easily fill in the segment Yes, No Did, you, file, bankruptcy, during, the, month and COMPLETE, OTHER, SIDE

The space Year, Make, Model, Color, Tag, Owner Year, Make, Model, Color, Tag, Owner Yes, No, If, yes, give, reason, date, and, agency Yes, No, If, yes, give, who, and, reason Did, you, possessor, have, access, to, a, firearm Yes, No, If, yes, explain Did, you, possessOR, use, any, illegal, drugs and Yes, No, If, yes, type, of, drug, and, date should be for you to indicate each side's rights and obligations.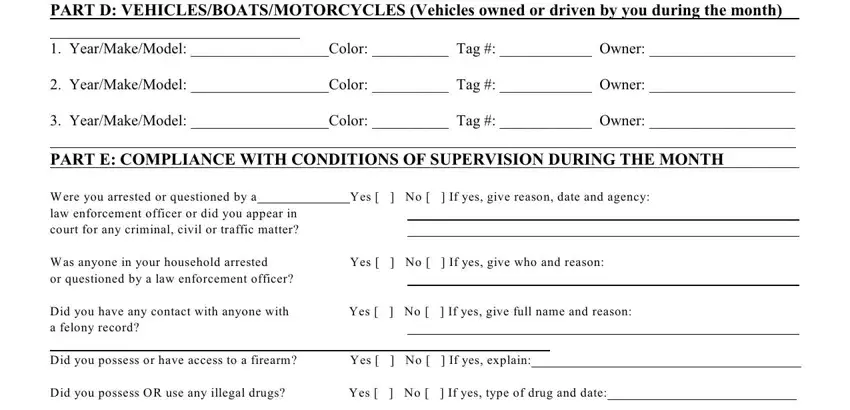 Terminate by analyzing all these sections and filling them out accordingly: Do, you, have, a, safe, deposit, box Yes, No, If, yes, location Signature, Date, REMARKS, RECEIVED, Mail, and POCO.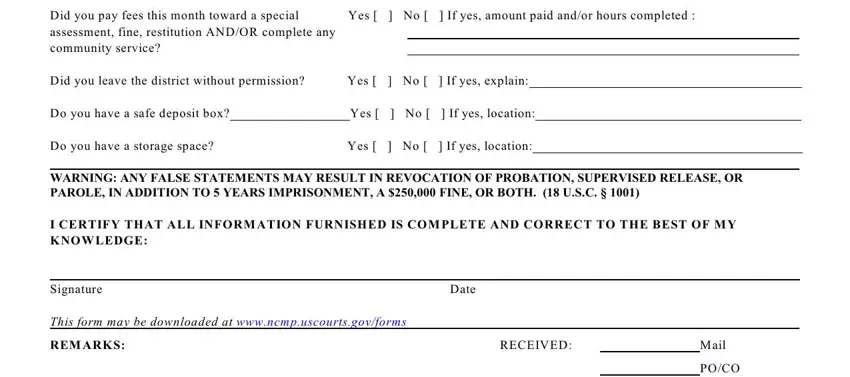 Step 3: Hit "Done". You can now export the PDF file.
Step 4: Be sure to make as many copies of the document as possible to keep away from future complications.