Managing the prudential withdrawal form document is not hard with our PDF editor. Stick to these actions to prepare the document straight away.
Step 1: Choose the "Get Form Here" button.
Step 2: So you are on the file editing page. You may edit and add text to the document, highlight specified content, cross or check selected words, include images, insert a signature on it, erase unwanted areas, or eliminate them entirely.
Fill out the prudential withdrawal form PDF and provide the details for every single part: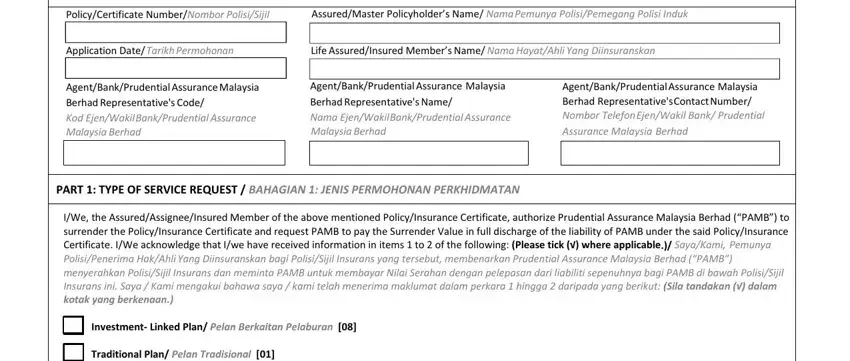 Complete the Traditional Plan Pelan Tradisional, Universal Life Plan Insurans Hayat, Credit Life Plan referring to an, Estimated surrender value and, PART BANK ACCOUNT DETAILS as, Bank Name Nama Bank, Account Holders Name Nama Pemegang, Bank Account No No Akaun Bank, NRIC No NewNRIC No Old No KP, Account Type Jenis Akaun Tick, Conventional Konvensional, and PassportPoliceArmyCompany fields with any data that can be demanded by the system.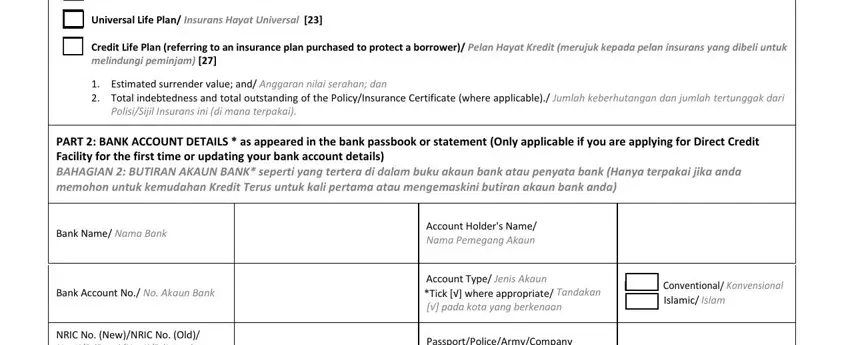 Outline the relevant data in the FORM ID, Prudential Assurance Malaysia, Version Versi, and Page Mukasurat section.

The PolicyInsurance Certificate Number, PART STATEMENT OF DECLARATION, A Surrender Serahan, IWe have read understood and, B Direct Credit Only applicable if, and In consideration of PAMB approving section is where all parties can describe their rights and responsibilities.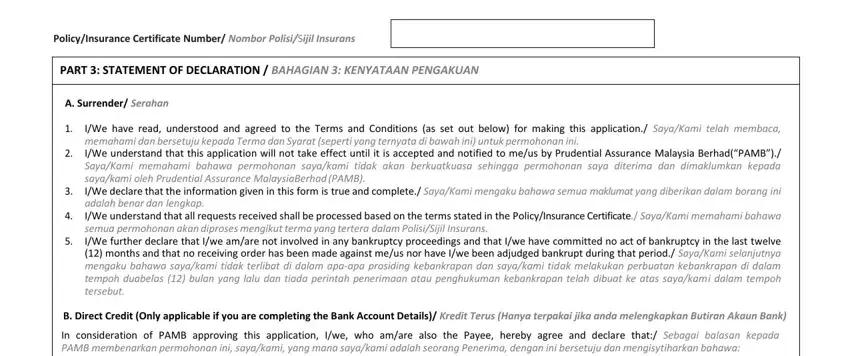 End by analyzing all of these sections and typing in the required data: PolicyInsurance Certificate Number, This Data Privacy Declaration can, IWe understand and agree that, Note In the event of any ambiguity, Signature of AssuredAssignee if, Signature of Trustees if any, and Name Nama NRICPassport No No Kad.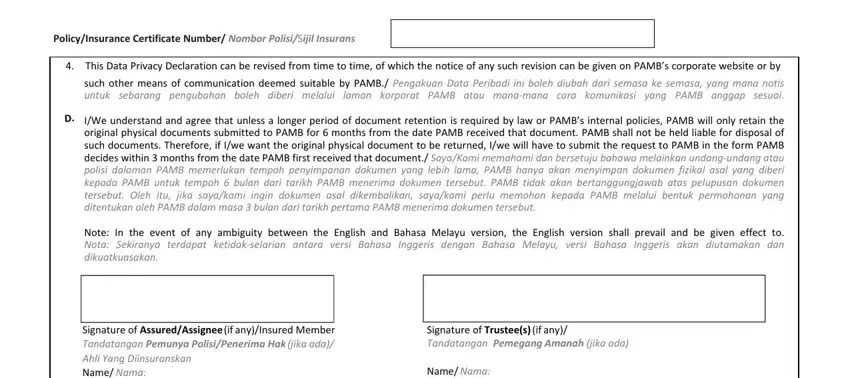 Step 3: Hit the "Done" button. So now, you can transfer the PDF document - download it to your electronic device or deliver it by means of email.
Step 4: Come up with no less than a couple of copies of the form to keep clear of any kind of potential future issues.