Any time you would like to fill out ohio 27 form, you won't need to install any sort of applications - simply use our online tool. Our team is devoted to providing you with the perfect experience with our tool by regularly adding new functions and upgrades. Our tool has become a lot more useful with the latest updates! So now, editing PDF files is a lot easier and faster than before. For anyone who is seeking to begin, here's what it takes:
Step 1: First, access the pdf editor by clicking the "Get Form Button" in the top section of this site.
Step 2: As soon as you launch the online editor, you'll see the form all set to be completed. In addition to filling in various blank fields, you might also perform other sorts of things with the file, particularly writing custom text, modifying the original textual content, adding graphics, signing the document, and more.
If you want to finalize this form, make sure you type in the information you need in each and every field:
1. You will need to fill out the ohio 27 form properly, thus be mindful when working with the sections that contain all these blank fields: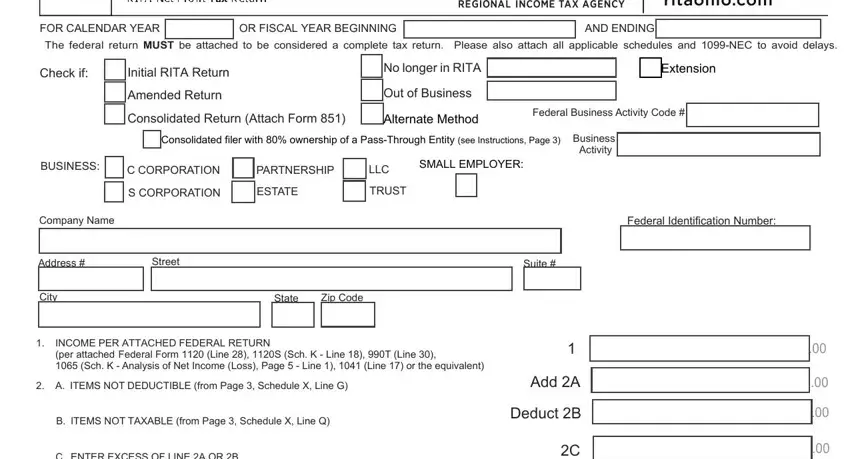 2. The third stage would be to fill in these blank fields: C ENTER EXCESS OF LINE A OR B, A ADJUSTED FEDERAL TAXABLE INCOME, B PREAPPORTIONED LOSSES FROM TAX, Check this box if utilizing a NOL, i TOTAL UNUTILIZED PREAPPORTIONED, TAX YEARS BEGINNING ON OR AFTER, ii PREAPPORTIONED LOSSES FROM TAX, in TAX YEAR, iii IncomeLoss Subject to, C AMOUNT ALLOCABLE TO RITA, If Schedule Y Page is used, of Line biii, D LESS POST APPORTIONED LOSSES FOR, Per previous Municipal Income Tax, and AMOUNT SUBJECT TO MUNICIPAL.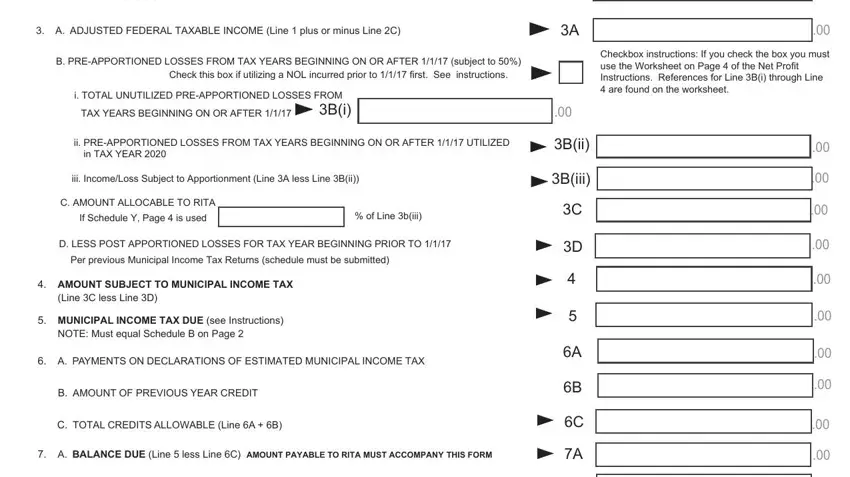 Those who use this form often get some things wrong when filling in C ENTER EXCESS OF LINE A OR B in this section. You need to read twice what you type in here.
3. The following part should also be quite easy, B OVERPAYMENT CLAIMED If Line C, box Cannot be split between refund, Refund, and Credit - every one of these fields will have to be filled out here.

4. The subsequent part arrives with the following blanks to consider: Municipality Name, Taxable Income Loss, Tax Rate, Tax Due, COMPUTATION OF ESTIMATED TAX, ESTIMATED TAX DISTRIBUTION TOTAL, if more space is needed attach, Municipality Name, Taxable Income Loss, Tax Rate, Tax Due, A ESTIMATED TAX from distribution, B CREDIT if any FROM PRIOR YEAR B, and C LINE A LESS LINE B.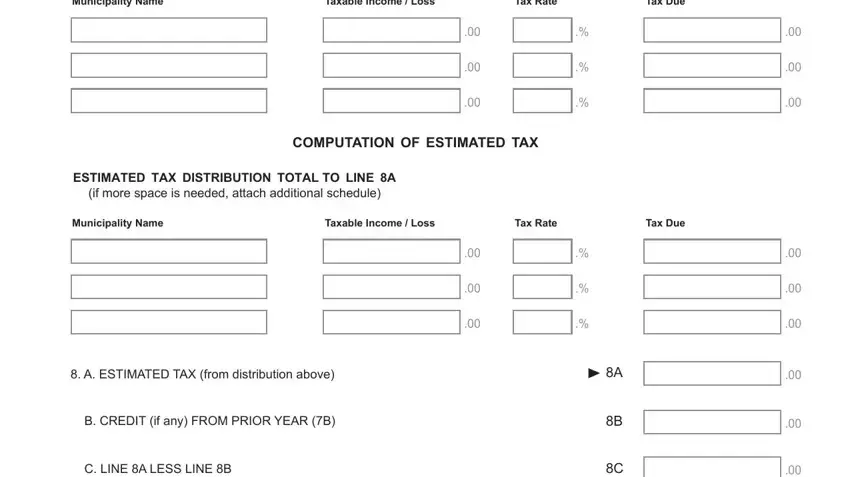 5. The very last stage to finish this PDF form is critical. Ensure that you fill out the required blank fields, which includes D AMOUNT PAID not less than of, A TOTAL OF A D MAKE CHECKS, SIGNATURE OF OFFICER OR PARTNER, PREPARERS SIGNATURE, PRINT NAME, PRINT NAME, PREPARERS ADDRESS, TITLE, PHONE, DATE, PREPARERS PHONE, FIRM NAME, May RITA discuss this return with, Yes, and Page F, prior to using the file. If you don't, it can give you an unfinished and probably invalid form!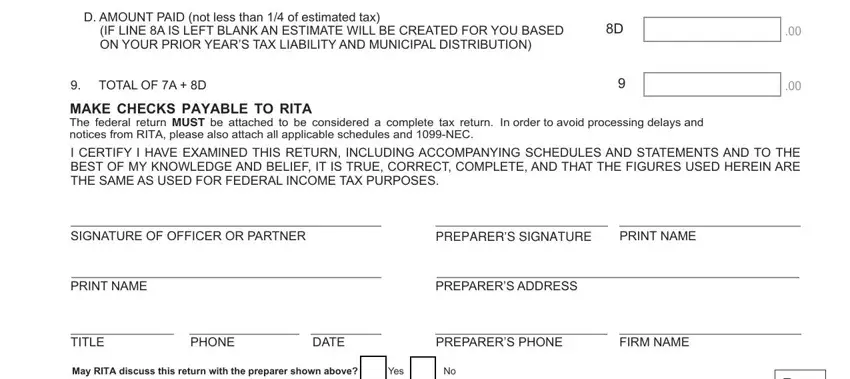 Step 3: You should make sure the information is correct and then simply click "Done" to progress further. After registering a7-day free trial account at FormsPal, it will be possible to download ohio 27 form or email it directly. The PDF form will also be readily available through your personal account menu with your each and every change. At FormsPal.com, we strive to make sure that your details are stored protected.