When you would like to fill out form 1062 irs, there's no need to install any kind of software - just try our online PDF editor. To retain our tool on the leading edge of practicality, we strive to integrate user-driven features and improvements regularly. We're at all times grateful for any suggestions - play a vital role in reshaping PDF editing. By taking a couple of simple steps, you'll be able to begin your PDF editing:
Step 1: Simply hit the "Get Form Button" in the top section of this page to access our form editor. Here you'll find everything that is necessary to fill out your file.
Step 2: Once you launch the tool, there'll be the document all set to be completed. Apart from filling in different blank fields, you can also perform various other actions with the PDF, that is adding your own text, modifying the original textual content, inserting illustrations or photos, placing your signature to the PDF, and more.
When it comes to blanks of this particular document, here is what you need to know:
1. It is crucial to fill out the form 1062 irs correctly, so be careful when filling in the areas comprising these particular fields: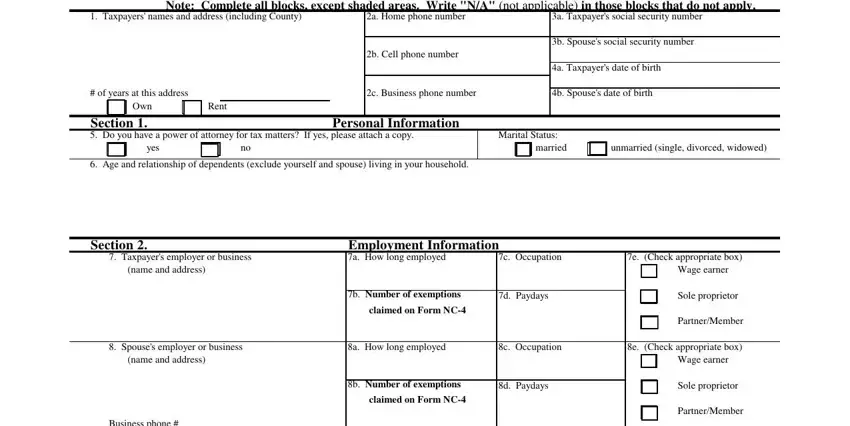 2. Soon after completing the last section, head on to the next part and fill out the essential particulars in all these fields - Latest filed income tax, return tax year, Number of exemptions, Adjusted Gross Income, claimed, Section Cash on hand Bank, Liquid Assets, Name of Institution, Address, Type of Account, Account No, month average ending balance, e Total, Investment Accounts, and Include stocks bonds mutual funds.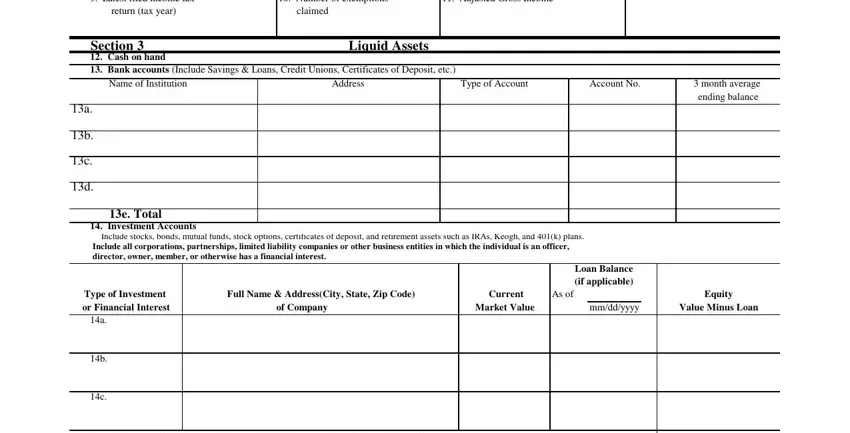 3. The next step is fairly easy, Life Insurance Name of Company, Policy Number, Type, Face Amount, Available Cash Value, c Total Section Real property, Real Property, a Primary Residence, PurchaseLease Date, mmddyy, County, Tax Value, Current Fair Market, Current Loan, and Amount of Monthly - all of these form fields has to be completed here.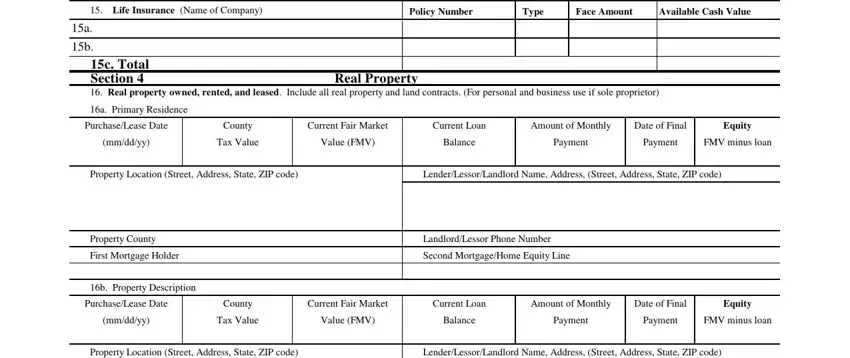 Those who work with this form generally make mistakes when completing Real Property in this section. Be certain to double-check whatever you type in here.
4. To go onward, the next part involves completing a couple of empty form fields. Included in these are Property Location Street Address, LenderLessorLandlord Name Address, Property County, LandlordLessor Phone Number, c Total Fair Market Value, d Total Current Loan Balance, e Net Equity, Section, Vehicles Purchased Include boats, Attach additional sheets as needed, Licensed AssetsVehicles, a Description, Purchase Date, Current Fair Market, and Current Loan, which are vital to moving forward with this document.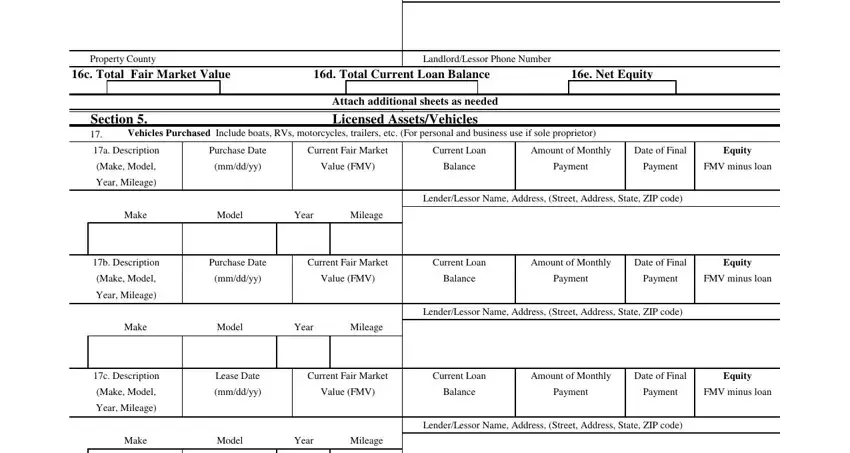 5. This final step to conclude this document is critical. You must fill out the required form fields, including d Total Current Fair Market Value, e Total Current Loan Balance, f Net Equity, and Form RO page Rev, prior to finalizing. Neglecting to do it can contribute to a flawed and possibly unacceptable document!

Step 3: Look through all the information you've typed into the blanks and then hit the "Done" button. Acquire your form 1062 irs the instant you register here for a free trial. Quickly get access to the form within your personal account, along with any edits and changes being automatically saved! FormsPal guarantees your data confidentiality with a secure system that in no way records or distributes any kind of sensitive information used in the PDF. Rest assured knowing your paperwork are kept confidential each time you work with our tools!