Dealing with PDF documents online is quite easy with our PDF tool. Anyone can fill out State Form 48737 here without trouble. We are committed to providing you the absolute best experience with our tool by constantly adding new functions and improvements. With all of these improvements, using our tool becomes easier than ever before! For anyone who is looking to get going, here is what it will require:
Step 1: First of all, access the pdf editor by clicking the "Get Form Button" at the top of this webpage.
Step 2: With this online PDF tool, it's possible to accomplish more than just fill out forms. Try all the functions and make your forms seem professional with customized text incorporated, or adjust the original input to excellence - all that comes with an ability to incorporate any type of pictures and sign the file off.
This document needs some specific information; in order to ensure accuracy and reliability, please make sure to take heed of the subsequent guidelines:
1. Complete your State Form 48737 with a selection of major fields. Collect all of the required information and make certain nothing is overlooked!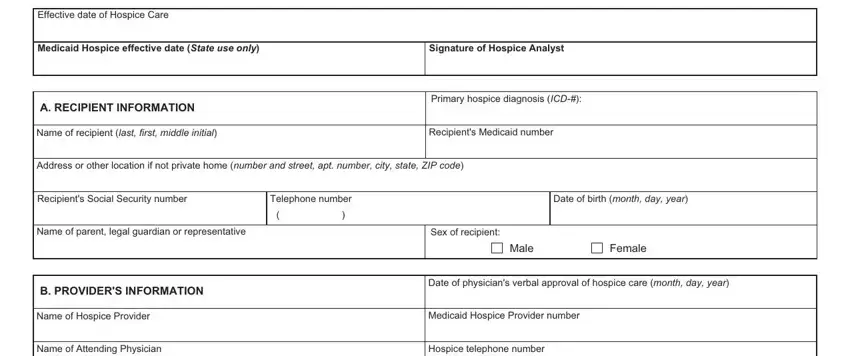 2. Just after filling out the last step, head on to the subsequent stage and fill in the necessary particulars in all these fields - Attending Physician Medicaid, If applicable Name of Nursing, Nursing Facility Medicaid Provider, C HOSPICE BENEFIT INFORMATION, st Period days, nd Period days, Indefinate number of day periods, st days, nd days, rd days, th days, D ELECTION STATEMENT, The Indiana Medicaid hospice, E SIGNATURES, and Signature of recipient or.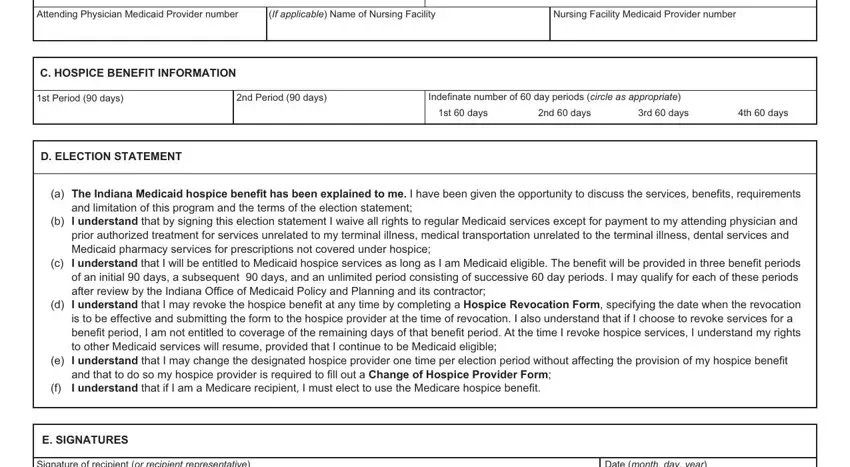 It is possible to get it wrong while filling out the Attending Physician Medicaid, thus ensure that you take another look prior to when you finalize the form.
Step 3: Just after proofreading the form fields, click "Done" and you are done and dusted! Join us now and instantly gain access to State Form 48737, available for download. All adjustments you make are preserved , so that you can edit the file at a later stage if needed. FormsPal guarantees safe document tools without personal data recording or any sort of sharing. Be assured that your information is safe with us!