Our best computer programmers have worked collectively to build the PDF editor you are going to benefit from. The following application enables you to prepare form civ 050 documentation promptly and conveniently. This is all you have to conduct.
Step 1: Hit the orange button "Get Form Here" on the web page.
Step 2: You can now manage your form civ 050. This multifunctional toolbar can help you include, remove, improve, and highlight text or perhaps conduct many other commands.
Get the form civ 050 PDF and provide the content for each part: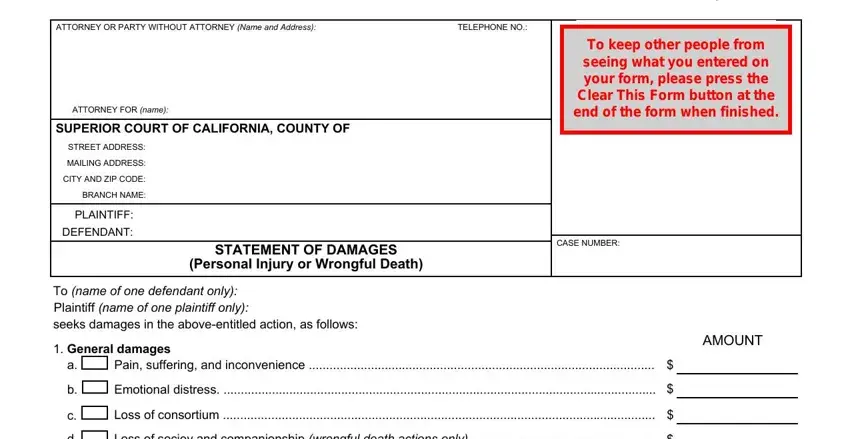 You should put down your particulars within the part Loss of sociey and companionship, Other specify, Other specify, Continued on Attachment g, Special damages, Medical expenses to date, Future medical expenses present, Loss of earnings to date, Loss of future earning capacity, Property damage, Funeral expenses wrongful death, Future contributions present value, Value of personal service advice, Other specify, and Other specify.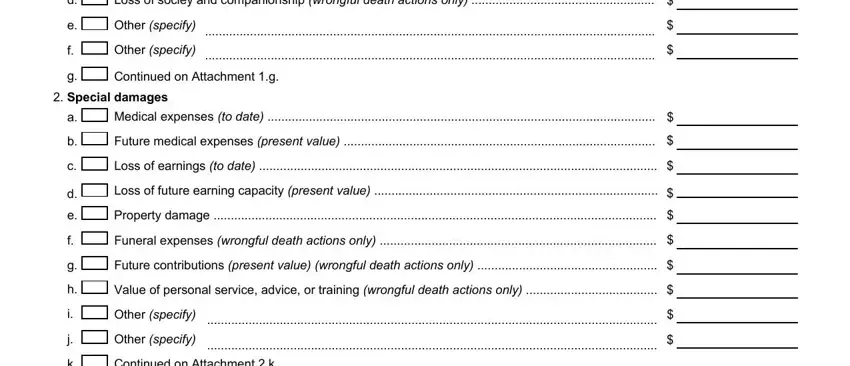 The system will ask you for particulars to automatically submit the area Continued on Attachment k, Punitive damages Plaintiff, Date, Form Adopted for Mandatory Use, TYPE OR PRINT NAME, SIGNATURE OF PLAINTIFF OR ATTORNEY, Proof of service on reverse, STATEMENT OF DAMAGES Personal, Code of Civil Procedure, and Page of.

The PLAINTIFF, DEFENDANT, CASE NUMBER, CIV, After having the other party, PROOF OF SERVICE, I served the, Statement of Damages, Other specify, b on name, c by serving, defendant, other name and title or, at home, and at business box will be the place to insert the rights and obligations of both sides.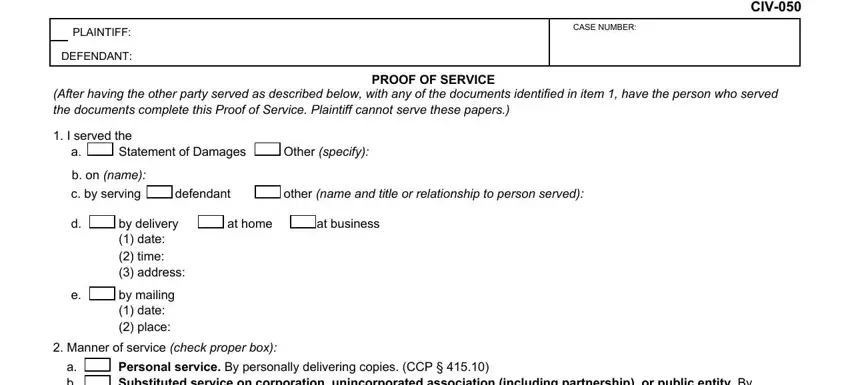 Complete the file by looking at these particular sections: Personal service By personally, Mail and acknowledgment service By, Certified or registered mail, Other specify code section, additional page is attached, At the time of service I was at, a b c, d e, California sheriff marshal or, and f Name address and telephone.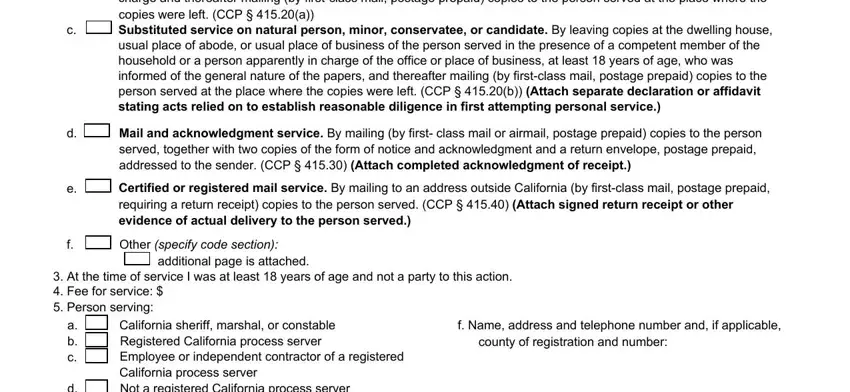 Step 3: Choose "Done". You can now upload your PDF file.
Step 4: In order to prevent all of the troubles in the future, be sure to create as a minimum two or three duplicates of your form.