It is possible to prepare the std 678 form file with our PDF editor. These actions will enable you to immediately prepare your document.
Step 1: Choose the "Get Form Here" button.
Step 2: Now, you can begin modifying the std 678 form. Our multifunctional toolbar is readily available - insert, delete, adjust, highlight, and conduct similar commands with the words and phrases in the document.
The PDF template you wish to fill in will contain the next areas: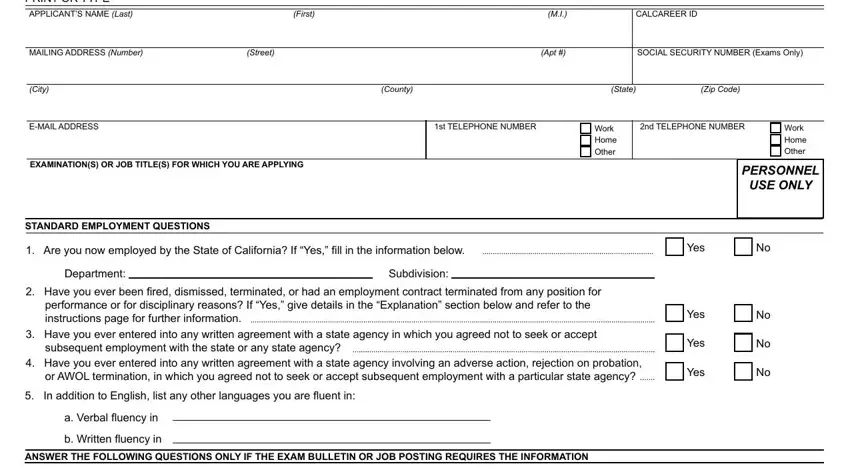 Remember to fill out the aVerbalfluencyinbWrittenfluencyin, wordsperminute, License, Class, Restrictions, Yes, Yes, Yes, APPLICANTSSIGNATURE, and DATESIGNED space with the required data.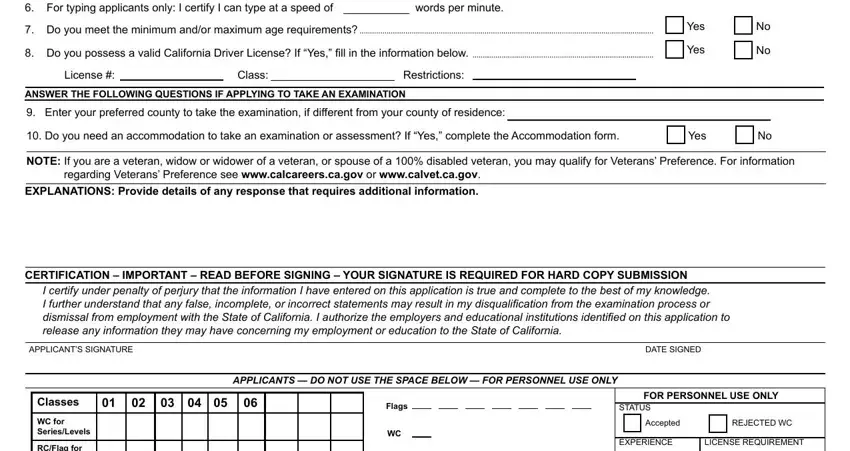 It is vital to put down some particulars inside the section Classes, WCforSeriesLevels, RCFlagforSeriesLevels, CODES, Flags, FORPERSONNELUSEONLY, STATUS, Accepted, REJECTEDWC, EXPERIENCE, LICENSEREQUIREMENT, EDUCATION, OTHER, STAFF, and DATEPROCESSED.

The APPLICANTSNAMELast, First, CALCAREERID, IFNOTDOYOUPOSSESSAGEDOREQUIVALENT, Yes, Yes, TRADEORSERVICESCHOOLNAMEANDLOCATION, COURSEOFSTUDY, UNITS, UNITS, COMPLETEDSEMESTER, COMPLETED, QUARTER, DIPLOMADEGREEORCERTIFICATEOBTAINED, and DATE field is the place to indicate the rights and obligations of each side.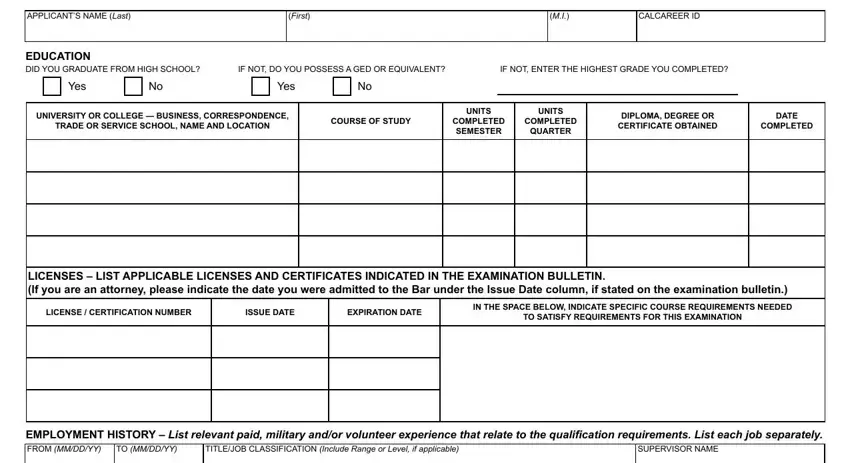 Finalize by reviewing the next fields and filling out the required data: TOMMDDYY, SUPERVISORNAME, HOURSPERWEEK, COMPANYSTATEAGENCYNAME, SUPERVISORPHONENUMBER, TOTALWORKED, ADDRESS, DUTIESPERFORMED, and REASONFORLEAVING.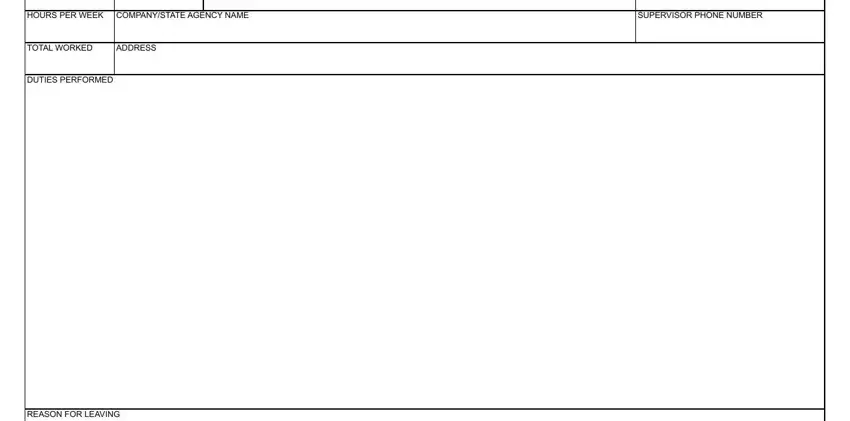 Step 3: Choose the "Done" button. Now, you may transfer the PDF document - upload it to your device or forward it via electronic mail.
Step 4: Create copies of the file. This should prevent possible misunderstandings. We do not look at or display your information, hence feel comfortable knowing it will be secure.