Handling PDF files online is always super easy with our PDF tool. Anyone can fill out printable certificate of life miscarriage here painlessly. To maintain our tool on the leading edge of practicality, we work to put into operation user-driven capabilities and enhancements regularly. We are always looking for feedback - assist us with reshaping how we work with PDF documents. All it takes is just a few basic steps:
Step 1: First, access the pdf tool by clicking the "Get Form Button" at the top of this page.
Step 2: The tool lets you customize nearly all PDF files in a variety of ways. Enhance it with customized text, correct original content, and place in a signature - all possible within a few minutes!
This document will need particular information to be filled in, thus you should take some time to type in exactly what is expected:
1. When filling in the printable certificate of life miscarriage, be sure to include all necessary blanks in their corresponding area. This will help facilitate the work, allowing for your details to be processed efficiently and correctly.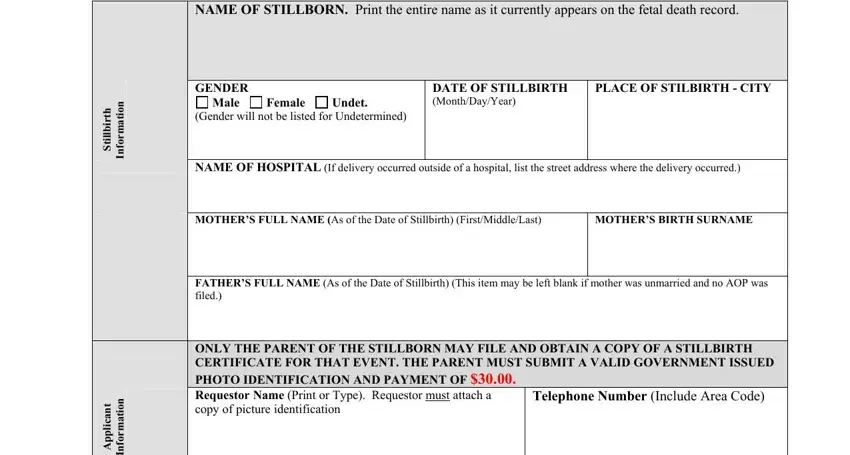 2. Once your current task is complete, take the next step – fill out all of these fields - s e i, p o C, s e e F, t n a c i l, p p A, e r u t a n g i, Requestor Complete Mailing Address, CityStateZip Code, Mail Request and identification to, SIGNATURE OF MOTHER DATE SIGNED, SIGNATURE OF FATHER DATE SIGNED, and Sefrugalestillbirthcertificatedoc with their corresponding information. Make sure to double check that everything has been entered correctly before continuing!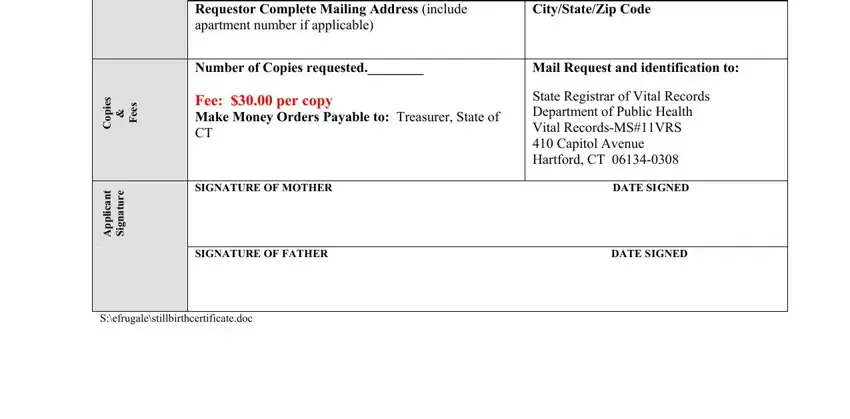 People often make some errors while filling out s e i in this part. You need to re-examine what you type in here.
Step 3: Be certain that the information is correct and click on "Done" to conclude the process. Right after registering a7-day free trial account at FormsPal, it will be possible to download printable certificate of life miscarriage or email it immediately. The PDF document will also be at your disposal in your personal account page with your changes. FormsPal ensures your information confidentiality via a protected system that never saves or distributes any private information typed in. Be confident knowing your files are kept safe any time you work with our editor!