We have applied the efforts of the best software engineers to make the PDF editor you can benefit from. The app will let you fill out the tn first report of work injury form document effortlessly and don't waste time. Everything you need to undertake is adhere to the following simple instructions.
Step 1: The initial step would be to choose the orange "Get Form Now" button.
Step 2: You can now modify the tn first report of work injury form. You need to use the multifunctional toolbar to add, delete, and change the text of the document.
Complete the tn first report of work injury form PDF by entering the content needed for every single section.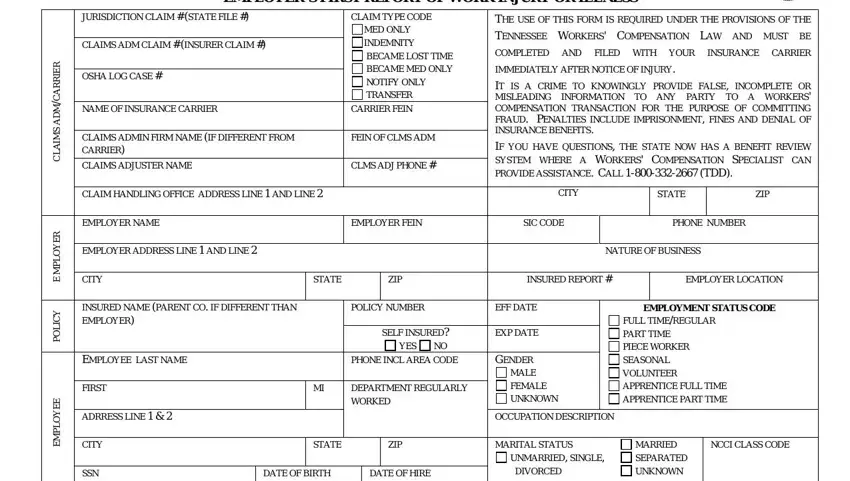 Write down the essential details in DEPARTMENT, REGULARLY, WORKED STATE, ZIP, DATEOFBIRTH, DATE, OF, HIRE OCCUPATION, DESCRIPTION MARITAL, STATUS UNMARRIED, SINGLE, DIVORCED MARRIED, SEPARATED, UNKNOWN NCC, I, CLASS, CODE PERIOD, HOURLY, DAILY WEEKLY, BIWEEKLY, MONTHLY NUMBER, OF, DAYS, WORKED, PER and WEEK area.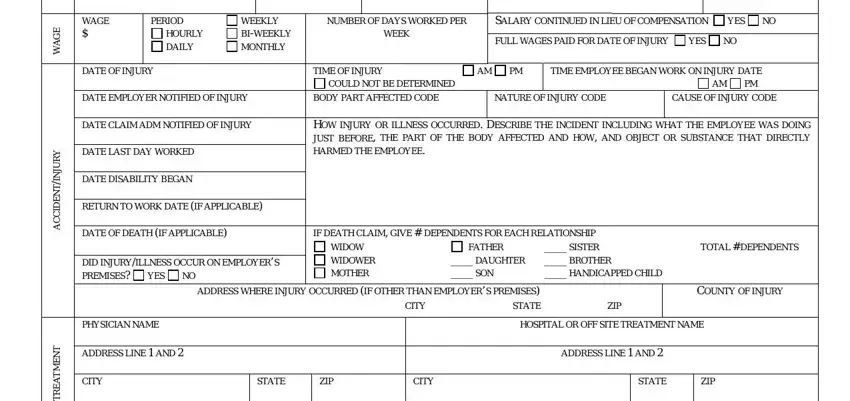 The software will request particulars to automatically prepare the section TN, EMT, A, ERT ADDRESS, LINE, AND ADDRESS, LINE, AND CITY, STATE, ZIP, CITY, STATE, ZIP, INITIAL, TREATMENT NO, MEDICAL, TREATMENT DATE, PREPARED REH, TO LB, REV and PREPARER, S, NAME, TITLE
Step 3: Choose the "Done" button. Now you may upload the PDF form to your electronic device. As well as that, you may send it through electronic mail.
Step 4: Generate copies of the file - it can help you stay away from potential future difficulties. And don't be concerned - we are not meant to disclose or check the information you have.