You are able to work with Tsp 1 Form without difficulty by using our PDF editor online. FormsPal is devoted to giving you the absolute best experience with our tool by consistently adding new functions and upgrades. Our tool has become even more useful thanks to the newest updates! Currently, working with documents is simpler and faster than ever before. Should you be seeking to get started, here's what it will require:
Step 1: Simply hit the "Get Form Button" in the top section of this site to start up our pdf file editing tool. This way, you will find everything that is needed to fill out your file.
Step 2: The tool provides you with the ability to work with PDF forms in many different ways. Transform it by adding personalized text, correct existing content, and place in a signature - all when you need it!
For you to finalize this PDF document, be sure you enter the necessary details in every single area:
1. Complete your Tsp 1 Form with a number of necessary blanks. Gather all the required information and make certain there is nothing left out!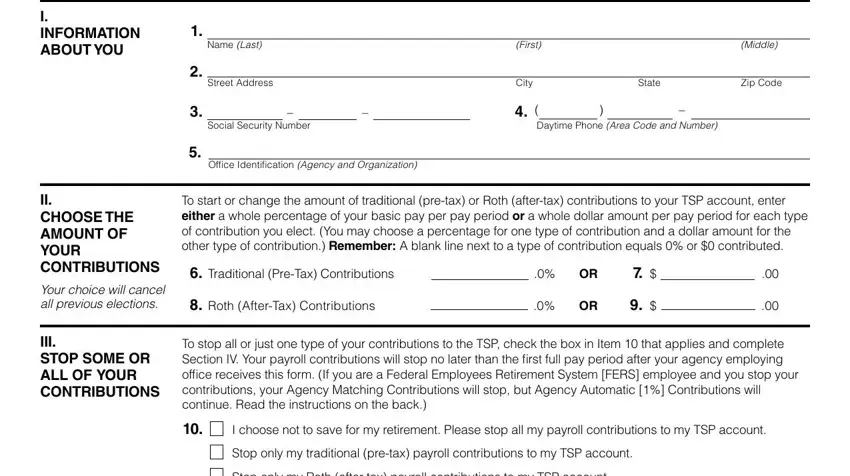 2. Once your current task is complete, take the next step – fill out all of these fields - If you are a newly hired or, IV SIGNATURE, V FOR EMPLOYING OFFICE USE ONLY, Participants Signature, Date Signed mmddyyyy, Payroll Office Number, Receipt Date mmddyyyy, Effective Date mmddyyyy, Signature of Agency Official, PRIVACY ACT NOTICE We are, It may be shared with, ORIGINAL TO PERSONNEL FOLDER, Provide a copy to the employee and, and Form TSP PREVIOUS EDITIONS with their corresponding information. Make sure to double check that everything has been entered correctly before continuing!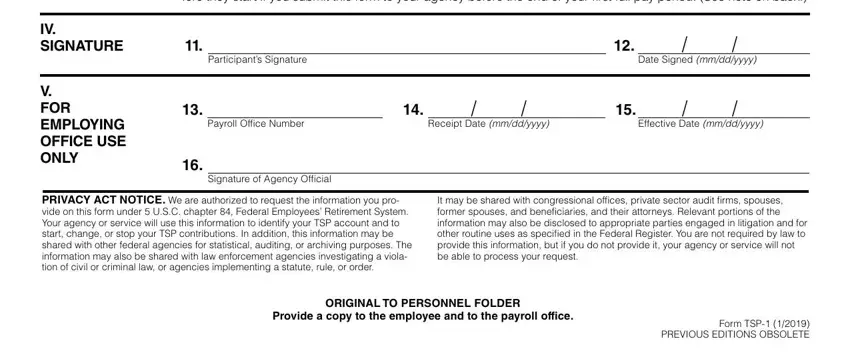 As for Date Signed mmddyyyy and Signature of Agency Official, make sure you do everything properly here. Both these could be the most significant fields in this document.
Step 3: Proofread what you've typed into the blanks and click the "Done" button. Get the Tsp 1 Form once you sign up for a free trial. Easily use the form from your FormsPal cabinet, along with any edits and adjustments being automatically kept! We do not sell or share any information that you enter while working with forms at our website.