Using PDF files online is very simple with this PDF editor. You can fill out undertaking forms here painlessly. In order to make our editor better and simpler to work with, we constantly develop new features, bearing in mind feedback from our users. This is what you'd want to do to get started:
Step 1: First, open the pdf editor by pressing the "Get Form Button" at the top of this page.
Step 2: After you launch the tool, you'll notice the form made ready to be filled in. Apart from filling in various fields, you could also perform some other actions with the form, including adding custom words, editing the initial text, inserting graphics, affixing your signature to the PDF, and much more.
This form will involve specific details; in order to guarantee accuracy and reliability, please make sure to pay attention to the next tips:
1. Start filling out the undertaking forms with a selection of essential blank fields. Collect all of the required information and ensure there's nothing missed!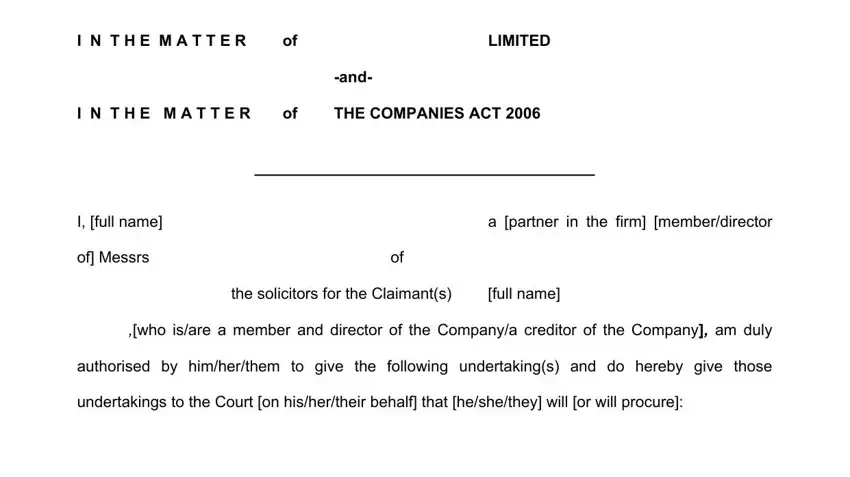 2. The third stage would be to fill in all of the following blank fields: DATED this day of, print name in full, and Crown Copyright Reproduced by.

People often make errors while filling in DATED this day of in this area. Be certain to review what you enter right here.
Step 3: Look through all the details you have typed into the blanks and press the "Done" button. Join us now and easily get undertaking forms, all set for download. All adjustments you make are preserved , which means you can edit the pdf later when required. FormsPal provides secure form tools without personal data recording or sharing. Feel safe knowing that your information is in good hands here!