When using the online PDF tool by FormsPal, you're able to fill in or modify usda rural development forms fillable right here. The editor is constantly upgraded by our team, receiving cool features and growing to be better. With some basic steps, you may begin your PDF editing:
Step 1: Simply click the "Get Form Button" at the top of this page to see our form editing tool. Here you will find everything that is needed to fill out your file.
Step 2: With our state-of-the-art PDF tool, you can do more than just fill out forms. Edit away and make your forms appear sublime with customized text put in, or modify the file's original content to excellence - all backed up by the capability to add your own photos and sign the file off.
As for the blank fields of this particular document, here is what you should know:
1. The usda rural development forms fillable usually requires certain information to be inserted. Make certain the next blanks are filled out: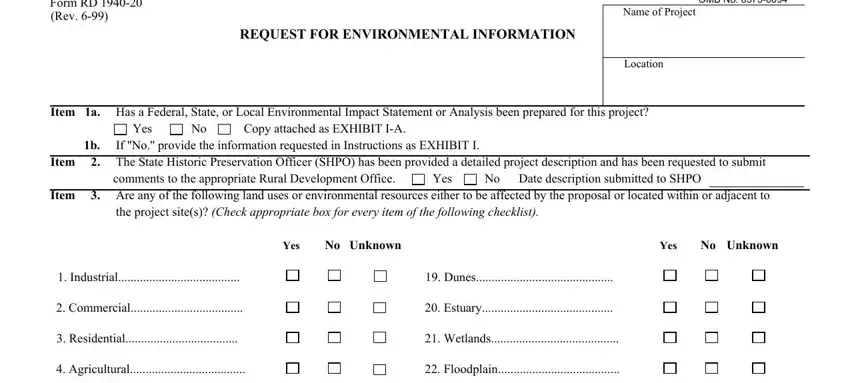 2. Once your current task is complete, take the next step – fill out all of these fields - Grazing, Mining Quarrying, Forests, Recreational, Transportation, Parks, Hospital, Schools, Open spaces, Aquifer Recharge Area, Steep Slopes, Wildlife Refuge, Shoreline, Wilderness, and designated or proposed under the with their corresponding information. Make sure to double check that everything has been entered correctly before continuing!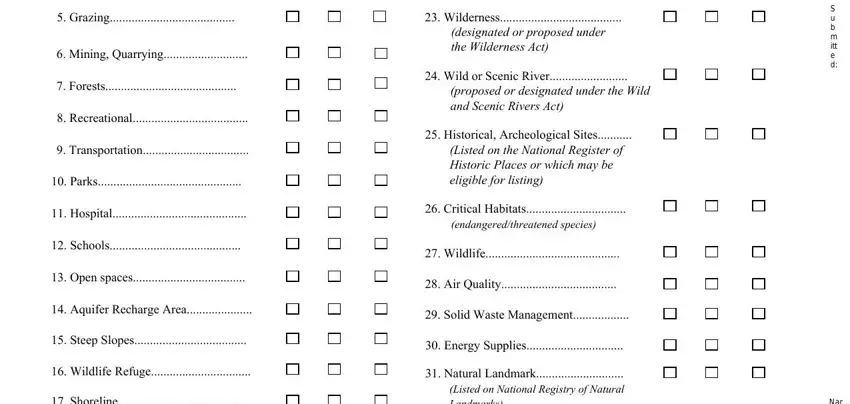 3. Completing Shoreline, Natural Landmark Listed on, Beaches, Coastal Barrier Resources System, Item Are any facilities under, consideration for listing on the, Yes, Date, Signed, Applicant, Title, and According to the Paperwork is essential for the next step, make sure to fill them out in their entirety. Don't miss any details!
People generally make mistakes when filling in Date in this part. Ensure that you go over whatever you enter here.
Step 3: Before obtaining the next stage, it's a good idea to ensure that blank fields have been filled in right. When you believe it is all good, press "Done." Make a free trial account with us and get immediate access to usda rural development forms fillable - downloadable, emailable, and editable inside your personal account. When you use FormsPal, you can easily fill out documents without stressing about personal information incidents or records getting distributed. Our secure platform helps to ensure that your personal information is maintained safely.