Any time you need to fill out change program va, there's no need to install any kind of applications - simply use our online PDF editor. To maintain our tool on the cutting edge of efficiency, we aim to put into operation user-driven features and improvements on a regular basis. We're routinely looking for suggestions - help us with revampimg the way you work with PDF forms. It just takes just a few basic steps:
Step 1: Open the form in our editor by clicking the "Get Form Button" above on this page.
Step 2: With the help of this handy PDF editing tool, you can do more than merely fill in blanks. Express yourself and make your docs look perfect with custom text added in, or adjust the original input to excellence - all that comes along with an ability to incorporate stunning images and sign it off.
It is actually an easy task to complete the document with our detailed guide! Here is what you want to do:
1. Begin filling out your change program va with a selection of major blanks. Consider all of the required information and be sure absolutely nothing is left out!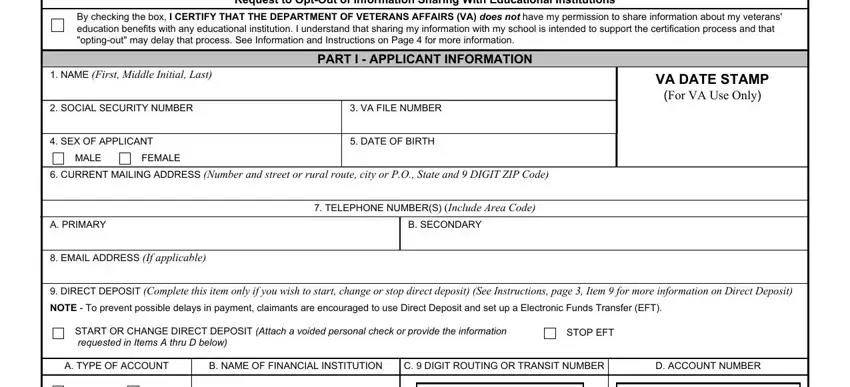 2. Once your current task is complete, take the next step – fill out all of these fields - CHECKING, SAVINGS, PLEASE PROVIDE THE NAME ADDRESS, A NAME, B ADDRESS, C TELEPHONE NUMBER, NAME OF INDIVIDUAL ON WHOSE, PART II QUALIFYING INDIVIDUAL, SOCIAL SECURITY NUMBER OR VA FILE, BRANCH OF SERVICE, DATE OF BIRTH, DATE OF DEATH OR DATE LISTED AS, IS QUALIFYING INDIVIDUAL, YES, and YOUR RELATIONSHIP TO QUALIFYING with their corresponding information. Make sure to double check that everything has been entered correctly before continuing!
Lots of people often get some things incorrect while filling in CHECKING in this part. Make sure you re-examine whatever you enter right here.
3. Completing VA FORM AUG, SUPERSEDES VA FORM FEB WHICH WILL, and Page is essential for the next step, make sure to fill them out in their entirety. Don't miss any details!

4. The subsequent section requires your attention in the subsequent areas: A TYPE OF BENEFIT, CHAPTER POST GI BILL MARINE, CHAPTER SURVIVORS AND DEPENDENTS, B TYPE OF TRAINING, COLLEGE OR OTHER SCHOOL, FARM COOPERATIVE, LICENSING OR CERTIFICATION TEST, APPRENTICESHIP OR OTHER ONTHEJOB, NATIONAL ADMISSION EXAMS OR, CORRESPONDENCE COURSE DEA Children, FLIGHT TRAINING Fry Scholarship, SPECIFY YOUR EDUCATION OR CAREER, WHAT IS THE NAME OF THE PROGRAM, IF CHANGING SCHOOLS PROVIDE NAME, and IF CHANGING SCHOOLS PROVIDE NAME. Ensure you provide all needed details to move forward.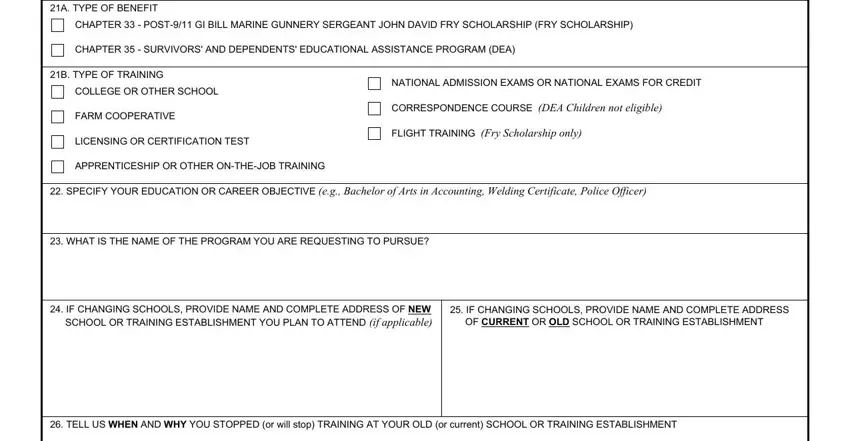 5. To finish your form, the final segment includes a number of extra blanks. Filling in REMARKS If more space is needed, I CERTIFY THAT all statements in, and PENALTY Willful false statements should conclude the process and you're going to be done in a tick!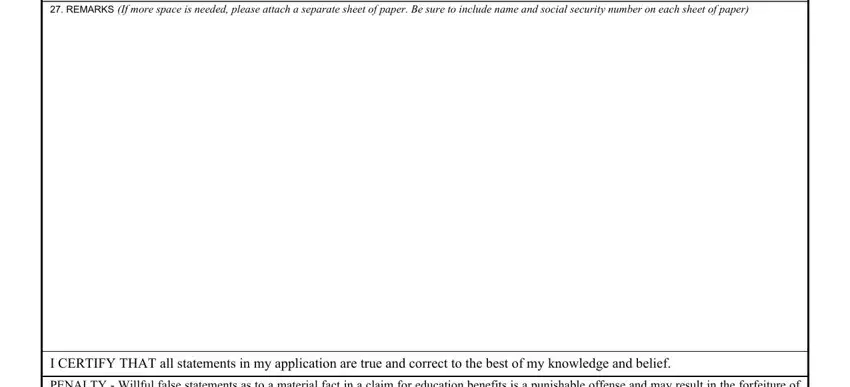 Step 3: Revise all the information you have inserted in the blank fields and hit the "Done" button. Grab the change program va as soon as you subscribe to a 7-day free trial. Easily get access to the pdf file in your FormsPal account, with any modifications and adjustments being all preserved! FormsPal offers safe document editor without personal data recording or distributing. Feel at ease knowing that your data is secure here!