It is possible to complete fedex export agent form instantly by using our PDFinity® editor. The tool is constantly maintained by our team, getting useful functions and growing to be greater. Getting underway is easy! All you should do is take the following simple steps directly below:
Step 1: Access the PDF in our editor by pressing the "Get Form Button" in the top part of this webpage.
Step 2: The tool provides the ability to change your PDF document in a variety of ways. Change it with any text, adjust what's originally in the document, and put in a signature - all within a couple of clicks!
This PDF form requires specific details; to ensure consistency, you should pay attention to the tips below:
1. It is critical to fill out the fedex export agent form properly, thus be mindful when working with the sections including all these blank fields: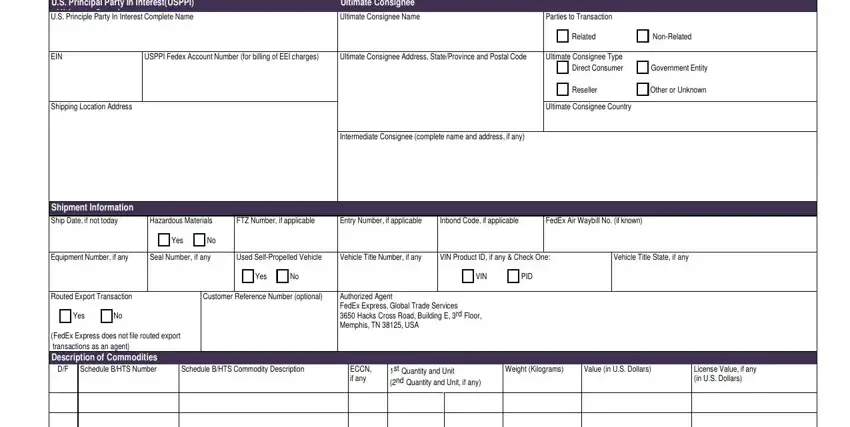 2. Just after completing the last section, go on to the subsequent step and fill in the essential particulars in these blank fields - License Exception Symbol, Export LicensePermit Number and, State Department License and type, DDTC Quantity if any, DDTC Unit of Measure if any, NLR No License Required Other, DDTC ITAR Exemption Number if any, DDTC Registration Number if any, DDTC USML Category Code if any, Preferred Method of Communication, DDTC Significant Military, DDTC Eligible Party if any, Yes No, Yes No, and Signature.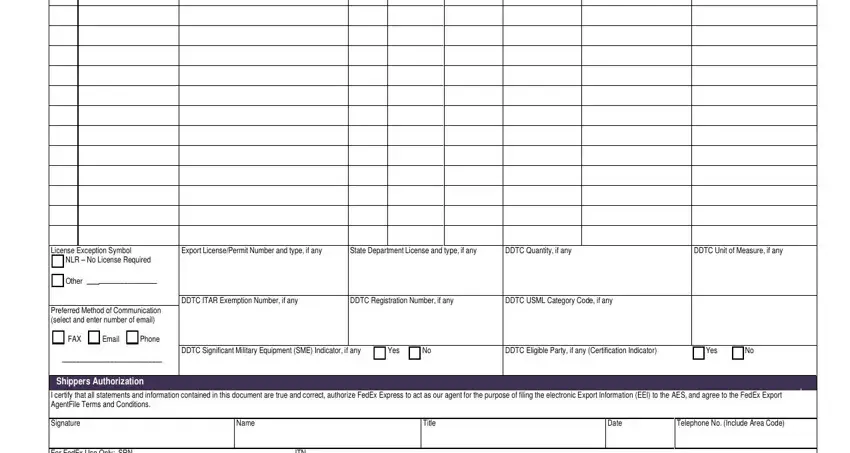 In terms of DDTC Eligible Party if any and NLR No License Required Other, make sure you review things in this section. These are the most important ones in this PDF.
3. Completing For FedEx Use Only SRN, ITN, and Please fax the completed form to is essential for the next step, make sure to fill them out in their entirety. Don't miss any details!

Step 3: Prior to moving on, make sure that all blanks are filled in the proper way. The moment you confirm that it's good, press "Done." Get the fedex export agent form once you sign up for a 7-day free trial. Conveniently get access to the pdf from your personal account, along with any edits and adjustments automatically synced! Here at FormsPal.com, we do everything we can to ensure that all of your information is maintained secure.