This PDF editor enables you to prepare documents. You don't have to perform much to enhance valic online forms documents. Simply adhere to the next actions.
Step 1: You can click the orange "Get Form Now" button at the top of the page.
Step 2: After you have accessed the editing page valic online, you'll be able to find each of the functions intended for the file within the top menu.
Enter the required details in each area to prepare the PDF valic online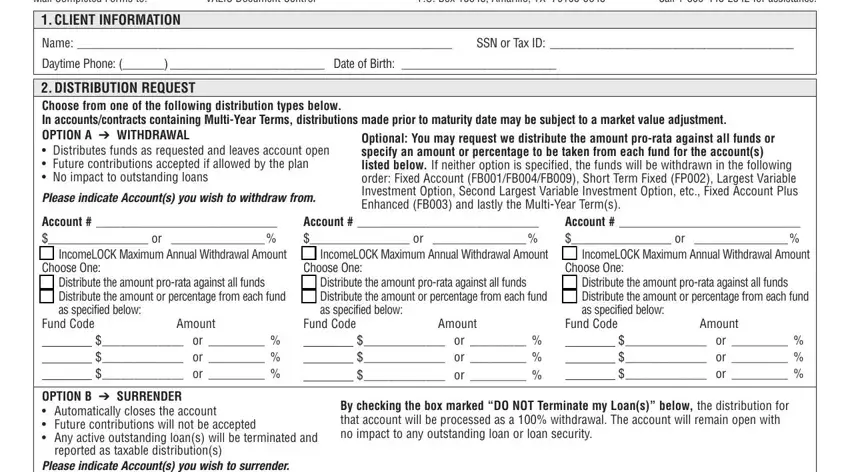 Inside the area Please indicate Accounts you wish, REASON FOR DISTRIBUTION, Account DO NOT Terminate my Loans, Account DO NOT Terminate my Loans, b k a a or b Deferred Compensation, Normal Retirement, Termination, Did you separate from service, Attach Doctors Statement or Social, Other Distributions IRA Spousal, INCOME TAX WITHHOLDING, VALIC may be required to withhold, DO withhold state taxes in the, DO withhold federal taxes in the, and cannot be less than any mandatory enter the information that the software demands you to do.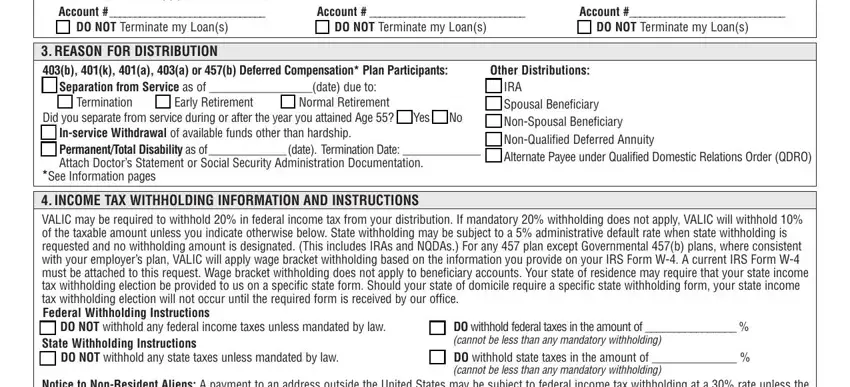 You have to emphasize the significant details within the SPECIAL INSTRUCTIONS, VL VER, and DISBURSMNT area.

The field MAILING INSTRUCTIONS, The distribution will be mailed to, Street Address, State, City, ZIP, Check if the above is your new, this service and that a street, Card Expiration, SPOUSAL CONSENT, Master Card Visa American Express, ERISAcovered and certain other, Not Married Married Legally, REQUIRED FOR SPOUSE Spousal Consent, and Under federal law for ERISA plans is where you can put all sides' rights and responsibilities.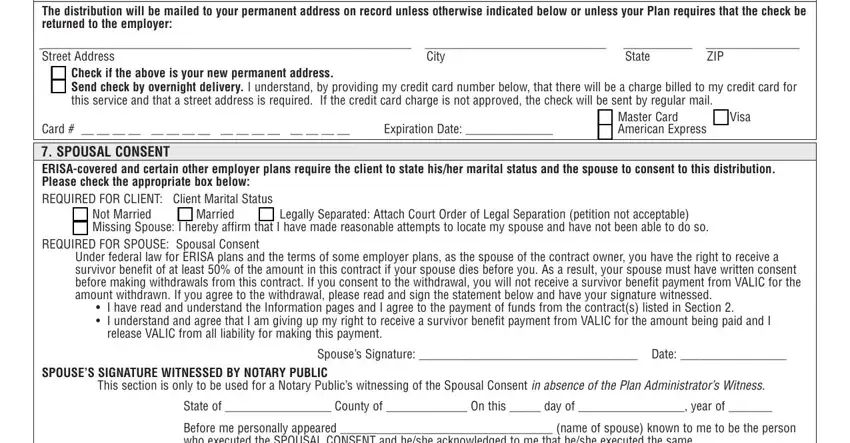 Finalize by reading these fields and typing in the suitable data: Before me personally appeared, Notary Public, VESTING DETERMINATION FOR, Vesting Information To be, Employer Basic Vested, Employer SupplementalMatching, All Employers Indicate hours, PLAN ADMINISTRATOR APPROVAL, To be completed where required, Plan Administrators Signature, CLIENT APPROVAL, I authorize the above, distributions may be subject to, I have read and understood the, and waive any benefit or right.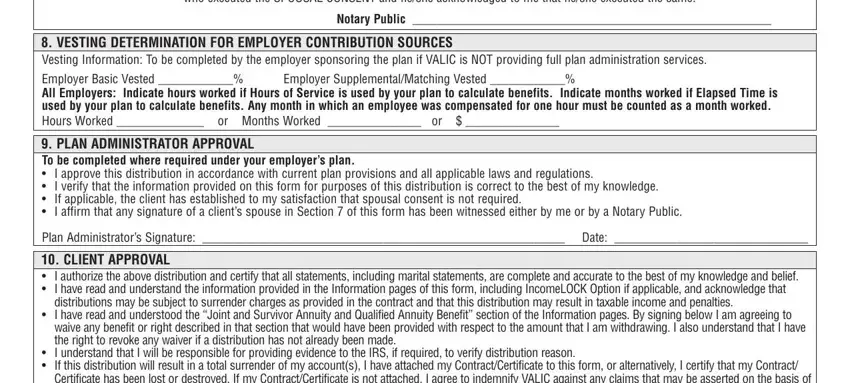 Step 3: When you are done, press the "Done" button to upload your PDF file.
Step 4: Produce at least a few copies of the form to refrain from any kind of upcoming troubles.