e-mails can be completed online with ease. Simply open FormsPal PDF editing tool to get it done promptly. To retain our tool on the forefront of practicality, we work to put into action user-oriented capabilities and enhancements regularly. We are routinely pleased to receive feedback - play a pivotal part in remolding the way you work with PDF files. For anyone who is seeking to begin, here's what it requires:
Step 1: Click the "Get Form" button in the top section of this page to open our PDF editor.
Step 2: This tool lets you change PDF files in many different ways. Improve it by adding customized text, adjust existing content, and add a signature - all possible in no time!
When it comes to fields of this precise PDF, this is what you should consider:
1. To get started, once filling in the e-mails, start with the page with the next fields: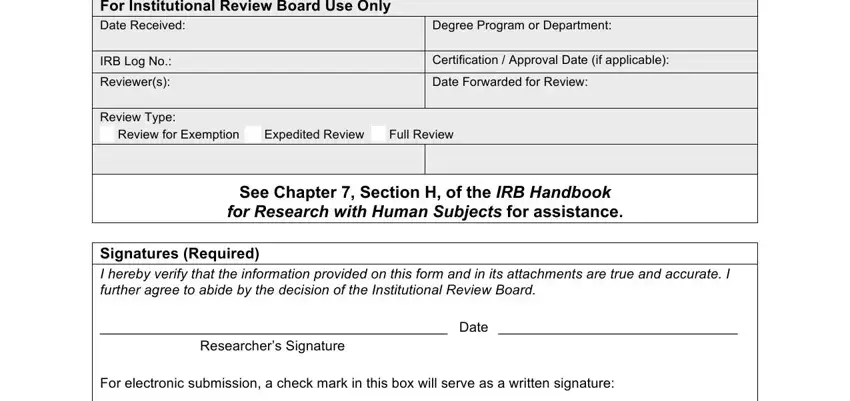 2. The third part would be to complete the next few fields: I hereby verify that I have, Approval submitted separately by, Approval attached, separate signed form, Use the following page numbering, name and study title should be, Email the application and, MSWord attachments at IRByosanedu, No part of the research study, approved Conditional approval is, and YSU IRB Application Form.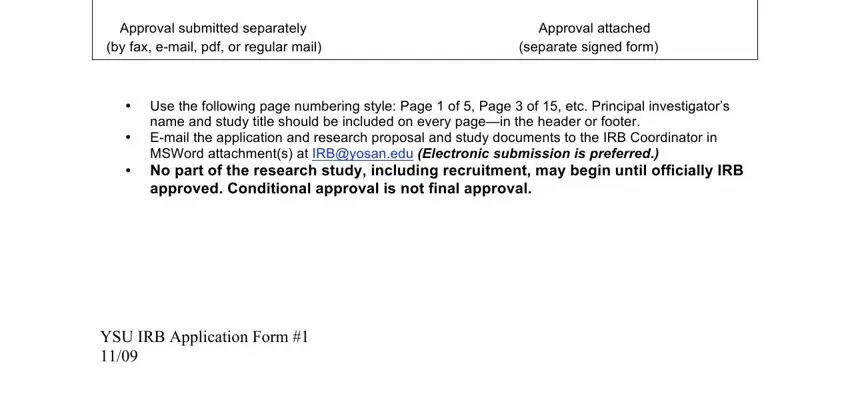 3. This step is usually easy - fill in every one of the fields in Principal investigators PI name, Type of review requested, Researchers connection to Yo San, DAOM, Student, MATCM, Staff, Faculty, Name of faculty advisor program, and Title of research study project to finish the current step.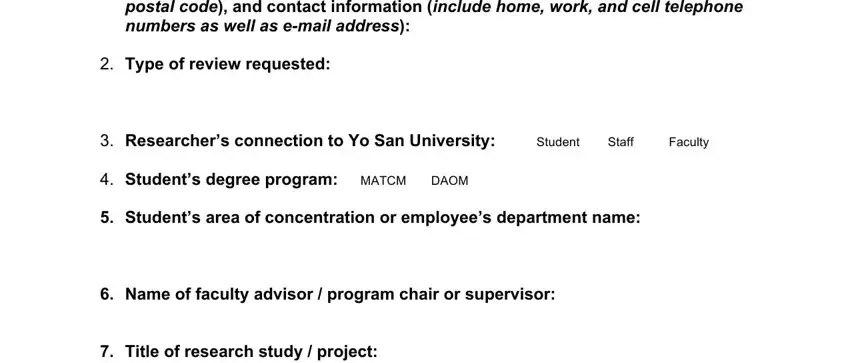 People frequently make some errors while completing DAOM in this area. Be certain to read again what you enter right here.
4. The following subsection requires your input in the subsequent places: Title of research study project, dissertation capstone learning, thesis, culminating study, seminar, methods course other, internship, Possible future uses of the study, degree program document only trade, public presentations, other, future professional journal, Media use, audio recordings, and video recordings. Just remember to enter all requested info to move onward.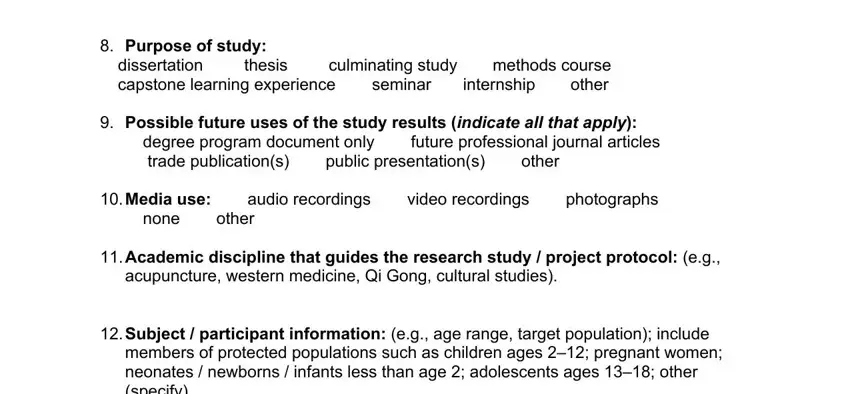 5. This pdf should be concluded with this particular segment. Further there's an extensive list of blanks that have to be filled out with specific information for your document submission to be complete: Number of participants, and YSU IRB Application Form.

Step 3: Before finalizing your form, check that all blanks are filled in properly. Once you establish that it is fine, press "Done." Go for a 7-day free trial subscription at FormsPal and obtain instant access to e-mails - which you'll be able to then begin to use as you wish from your personal account page. We don't share any information you provide whenever dealing with documents at our site.