The PDF editor you will benefit from was developed by our top level software engineers. One could fill in the 4 point inspection citizens document promptly and effortlessly with this application. Merely stick to this procedure to start out.
Step 1: Locate the button "Get Form Here" and press it.
Step 2: At the moment, it is possible to update the 4 point inspection citizens. Our multifunctional toolbar makes it possible to include, delete, transform, highlight, and conduct many other commands to the content and areas inside the document.
All of the following sections are what you are going to complete to get your ready PDF form.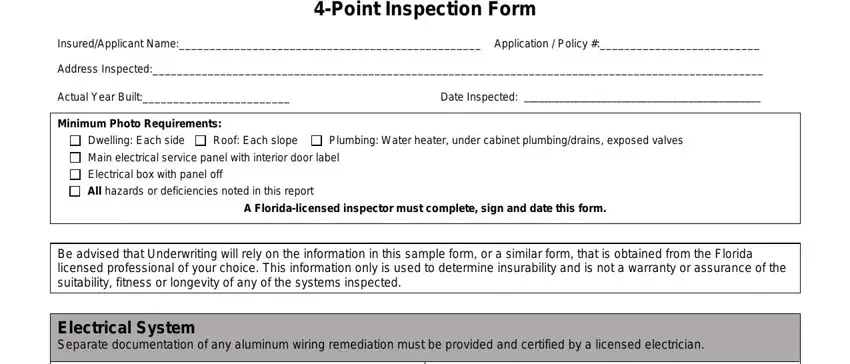 Complete the Improper Grounding, Is the electrical system in good, Yes, No (explain), Use the Additional, HEATING SYSTEM Age of System:, Are the heating, Yes, No (explain), Year Last Updated:, Hazards Present, Wood Burning Stove or central gas, Space heater used as primary heat, Central HVAC If not central, and Yes fields with any details that may be demanded by the platform.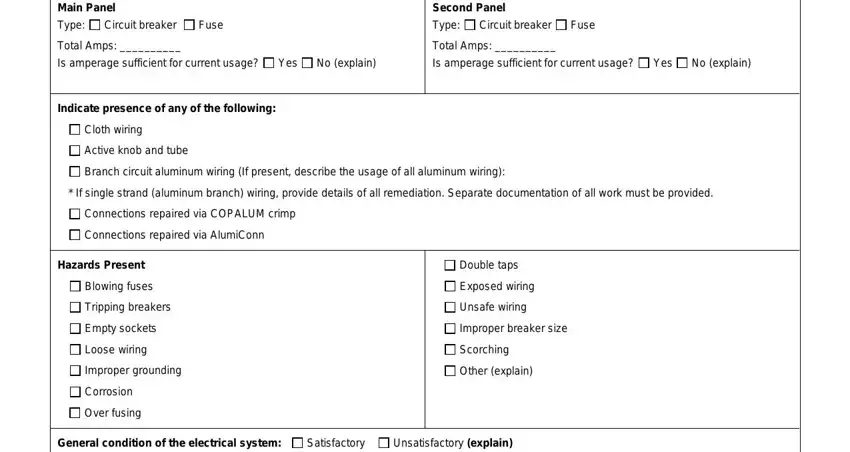 Within the area dealing with PLUMBING SYSTEM Age of System:, Type of Pipes, Copper:, PVC:, Galvanized:, Polybutylene:, Other (specify):, Year Last Updated:, Is the plumbing system in good, Yes, Deficiencies (check all that, Active leak, Indication of prior leak(s), Connections/Hoses leaking or, and Water Heater (explain), you have got to type in some appropriate details.

The Partial Replacement, % of Replacement, damage/deterioration, Any signs of visible leaks, Yes, Fair, Poor (explain), Use the Additional, ADDITIONAL COMMENTS OR, and I CERTIFY THAT I PERSONALLY section will be the place to place the rights and responsibilities of all parties.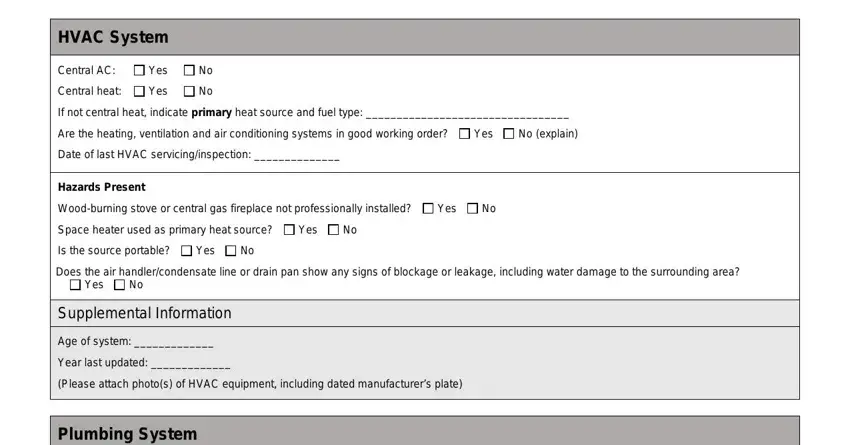 Fill in the file by reading the following fields: INSPECTOR SIGNATURE, TITLE, LICENSE NUMBER, DATE, Citizens – Insp4pt 09 12, Page 2 of 3, This form has been made available, If another inspection form is, and eligibility/acceptability with.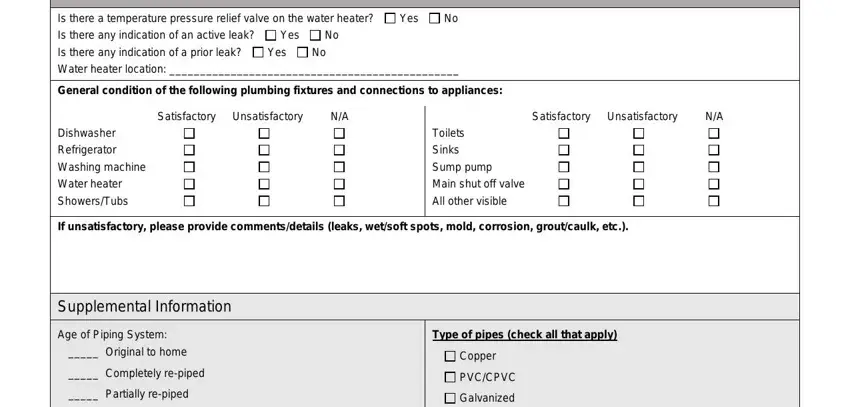 Step 3: When you press the Done button, your finalized file can be easily transferred to any of your gadgets or to email provided by you.
Step 4: You could make duplicates of your file tokeep away from different future problems. You need not worry, we don't disclose or check your information.