The PDF editor was made to be as straightforward as possible. If you keep up with the following actions, the process of completing the saia printable bill of lading document is going to be effortless.
Step 1: Choose the button "Get Form Here" and press it.
Step 2: Now you are able to change saia printable bill of lading. You possess a wide range of options with our multifunctional toolbar - you can include, erase, or modify the text, highlight its certain sections, and undertake many other commands.
Provide the information requested by the program to fill in the file.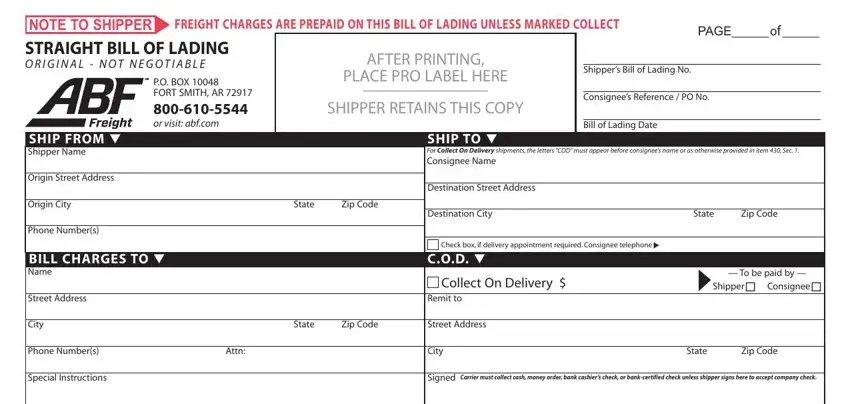 The software will need you to submit the Freight charges are PREPAID unless, CHECK BOX IF COLLECT, HDLG UNITS NOTYPE, PACKAGES NOTYPE, FOR FREIGHT COLLECT SHIPMENTS If, The carrier may decline to make, Kind of Package Description or, WEIGHTLBS Subj to Correction, CLASSRATE REF For Info Only, and CUBE FT Optional field.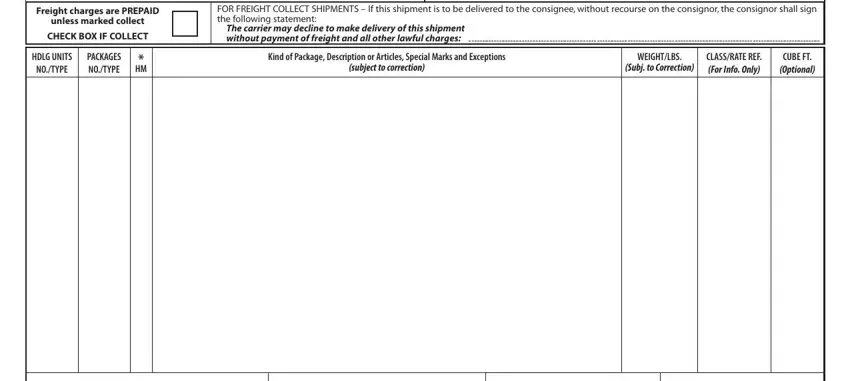 It is necessary to note some data inside the field TOTAL HANDLING PIECES INDIVIDUAL, Mark X to designate Hazardous, Name, Tel No Fax No, NOTE Where the rate is dependent, The agreed or declared value of, not exceeding per, NOTE Liability Limitation for, SHIPPER, AUTHORIZED SIGNATURE REQUIRED, ADDITIONAL SERVICES REQUESTED, SECURED SHIPMENT DIVIDERS CURBSIDE, RECEIVED subject to individually, This is to certify that the, and SHIPPER LOAD COUNT SLC.

Step 3: Choose the "Done" button. It's now possible to export the PDF file to your device. Additionally, it is possible to forward it through email.
Step 4: You will need to generate as many copies of the document as you can to stay away from potential misunderstandings.