You can fill in luzerne county pa absentee ballot application effectively with our online tool for PDF editing. Our editor is continually evolving to grant the very best user experience attainable, and that's due to our commitment to continuous improvement and listening closely to customer opinions. With just a few basic steps, you'll be able to start your PDF editing:
Step 1: Open the PDF file inside our tool by pressing the "Get Form Button" at the top of this webpage.
Step 2: With our state-of-the-art PDF editor, it is easy to do more than simply complete blank form fields. Try all of the functions and make your documents look great with customized text added in, or adjust the original input to excellence - all that comes with the capability to incorporate your personal graphics and sign the PDF off.
This form needs some specific information; in order to guarantee correctness, make sure you take note of the next steps:
1. Begin filling out your luzerne county pa absentee ballot application with a number of essential blanks. Get all of the necessary information and ensure there's nothing left out!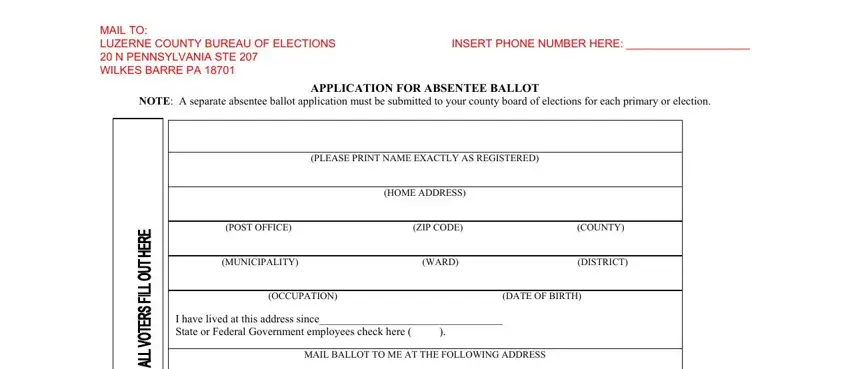 2. Your next step would be to fill in these blank fields: STREET ADDRESS, POST OFFICE STATE ZIP CODE, I HEREBY APPLY FOR AN ABSENTEE, ABSENCE FROM THE MUNICIPALITY , COMPLETE SECTION A COMPLETE, INSERT REASON FOR ABSENCE HERE, DATE SIGNATURE OF ELECTOR, SECTION B ILLNESS OR PHYSICAL, and INSERT PHYSICAL ILLNESS OR.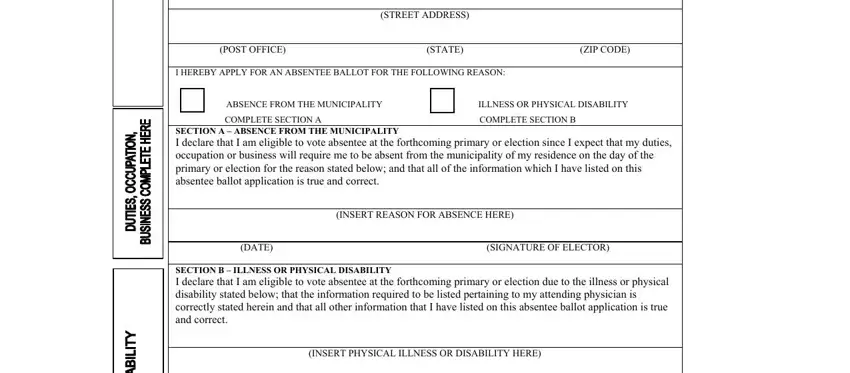 Be really attentive when filling in INSERT PHYSICAL ILLNESS OR and SECTION B ILLNESS OR PHYSICAL, because this is where a lot of people make errors.
3. This third part will be hassle-free - complete all the empty fields in NAME OF PHYSICIAN PHONE NO, OFFICE ADDRESS, DATE SIGNATURE OF ELECTOR, IF UNABLE TO SIGN COMPLETE SECTION, SECTION C The following to be, DATE MARK, COMPLETE ADDRESS OF WITNESS, and NOTE Electors requiring assistance to conclude this process.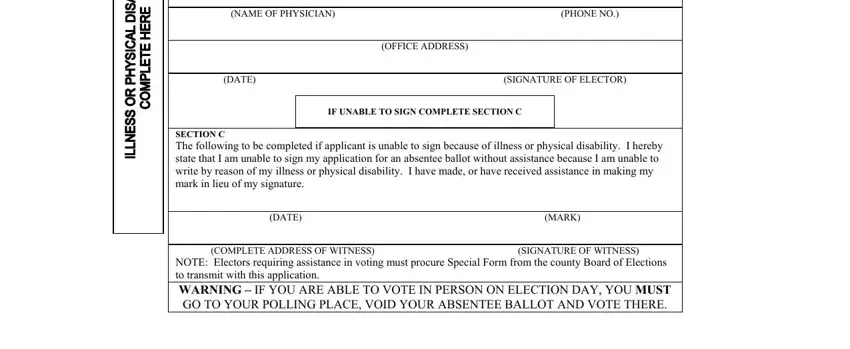 Step 3: As soon as you've looked over the details in the blanks, press "Done" to conclude your form. Sign up with us now and immediately get luzerne county pa absentee ballot application, all set for download. All adjustments you make are kept , letting you change the form later if required. FormsPal ensures your information privacy with a secure system that in no way records or shares any private data typed in. Be confident knowing your files are kept protected any time you use our editor!