You can fill out afscme form effortlessly using our PDFinity® online PDF tool. The editor is continually updated by us, acquiring useful features and becoming better. To get the ball rolling, consider these basic steps:
Step 1: Press the "Get Form" button in the top section of this page to access our editor.
Step 2: Once you start the online editor, you'll see the document prepared to be completed. In addition to filling in various fields, you may also do several other things with the form, that is adding your own textual content, editing the initial textual content, adding graphics, putting your signature on the form, and more.
Pay attention when completing this document. Make certain all mandatory fields are done properly.
1. Complete the afscme form with a number of major fields. Collect all of the required information and make certain absolutely nothing is omitted!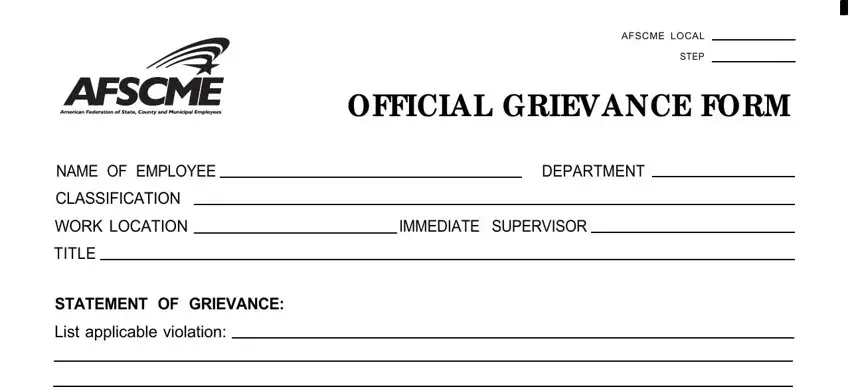 2. Given that the previous segment is complete, you have to include the necessary particulars in Adjustment required, I authorize the AFSCME Local tion, as my representative to act for me, Date, Signature of Employee, Signature of Union Representative, Date Presented to Management, Signature, Disposition of Grievance, Title, Title, and THIS STATEMENT OF GRIEVANCE IS TO so you can move forward further.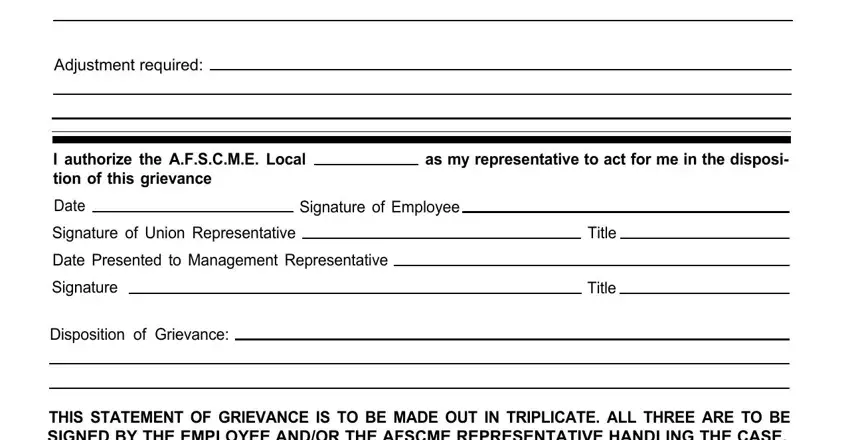 3. Completing THIS STATEMENT OF GRIEVANCE IS TO, ORIGINAL TO, COPY, COPY LOCAL UNION GRIEVANCE FILE, NOTE ONE COPY OF THIS GRIEVANCE, FILE OF LOCAL UNION, and THE AMERICAN FEDERATION OF STATE is essential for the next step, make sure to fill them out in their entirety. Don't miss any details!

4. Completing This form is to be used by the, CLASSIFICATIONDATE OF HIRE, DATE OF CLASSIFICATIONWORK LOCATION, What Happened Also describe, Who was involved Give names and, When did it occur Give day time, Where did it occur Specific, and Why is this a grievance What is is vital in this fourth form section - make sure to spend some time and fill out each and every empty field!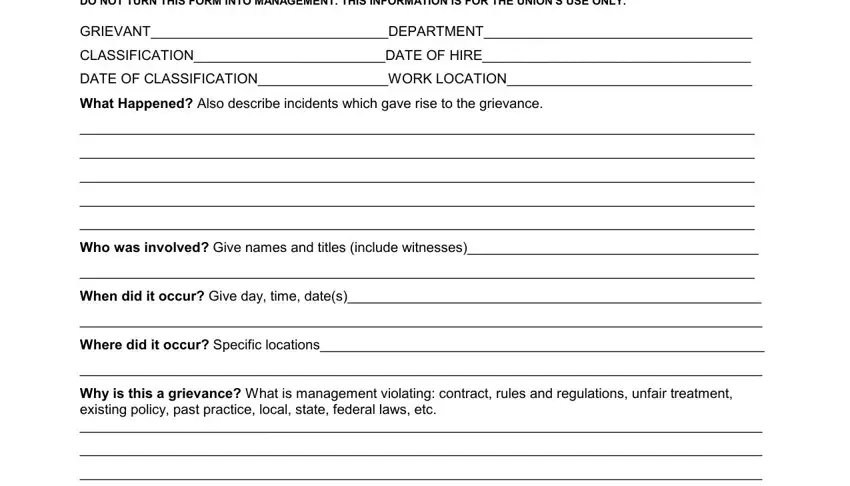 Regarding What Happened Also describe and Why is this a grievance What is, ensure you double-check them in this current part. Both these are surely the most important ones in the document.
5. This very last step to finish this form is crucial. You need to fill in the appropriate form fields, which includes What adjustment is required What, Additional comments Use reverse, GRIEVANTS SIGNATURE DATE, STEWARDDATE, GRIEVANTS HOME ADDRESS, NOTE A COPY OF THIS FORM TO BE, THE AMERICAN FEDERATION OF STATE, and F A, before submitting. If not, it could result in an incomplete and possibly unacceptable document!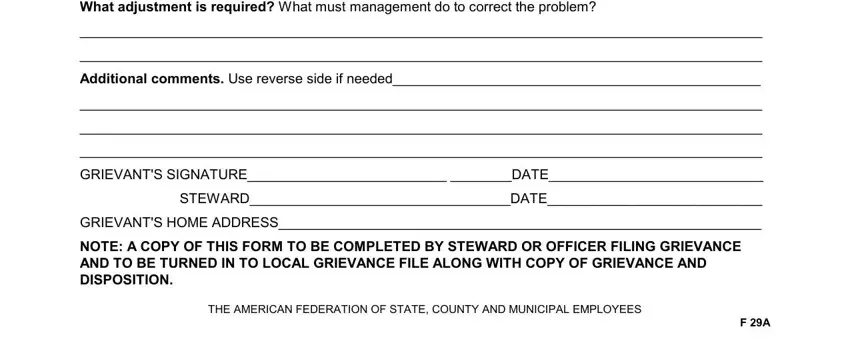 Step 3: Prior to getting to the next stage, make certain that all blank fields have been filled in the correct way. When you confirm that it's correct, click on "Done." Sign up with us today and instantly get access to afscme form, prepared for download. All adjustments you make are saved , helping you to customize the form at a later stage if necessary. FormsPal is invested in the confidentiality of our users; we always make sure that all information used in our system continues to be confidential.