You'll be able to fill out how to il property transfer instantly with our online PDF tool. To maintain our tool on the leading edge of convenience, we work to put into practice user-driven capabilities and enhancements regularly. We're at all times grateful for any feedback - help us with revolutionizing PDF editing. It just takes a few simple steps:
Step 1: Just press the "Get Form Button" at the top of this page to get into our pdf file editing tool. There you'll find everything that is required to work with your document.
Step 2: Once you open the file editor, there'll be the form prepared to be filled out. Aside from filling in various blanks, you might also perform various other actions with the Document, namely writing your own text, changing the original textual content, inserting graphics, signing the PDF, and more.
It will be straightforward to finish the document following our detailed tutorial! This is what you need to do:
1. While filling in the how to il property transfer, be certain to complete all of the important blank fields within its associated area. This will help facilitate the process, allowing for your information to be handled without delay and correctly.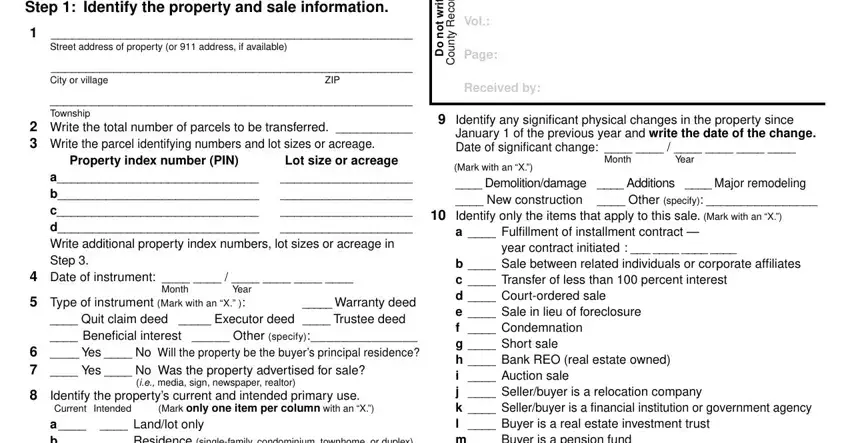 2. Your next part is usually to fill in the next few blank fields: Current Intended a Landlot only, i Industrial building j Farm, f Offi ce, Identify any signifi cant physical, a Fulfi llment of installment, r Other specify s Homestead, GeneralAlternative Senior, Step Calculate the amount of, b k m, a b, If this transfer is exempt use an, as part of the full actual, and Yes No.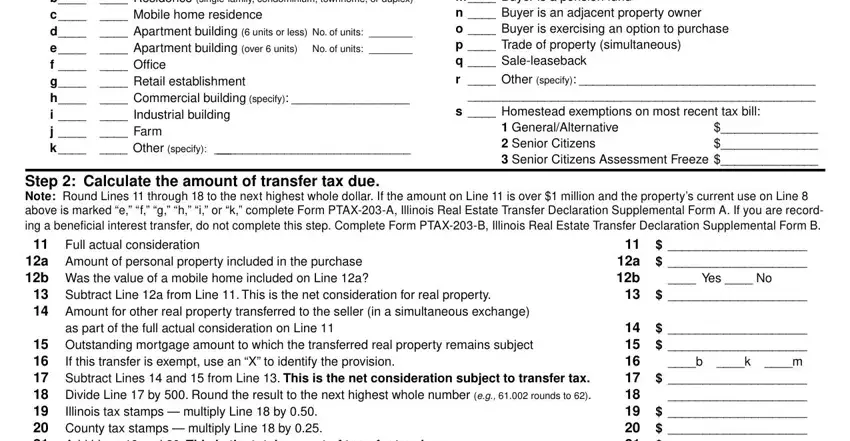 3. This third part is rather uncomplicated, Step Write the legal description, Step Complete the requested, Sellers or trustees name, Sellers trust number if applicable, Street address after sale, City, State, and ZIP - each one of these fields must be completed here.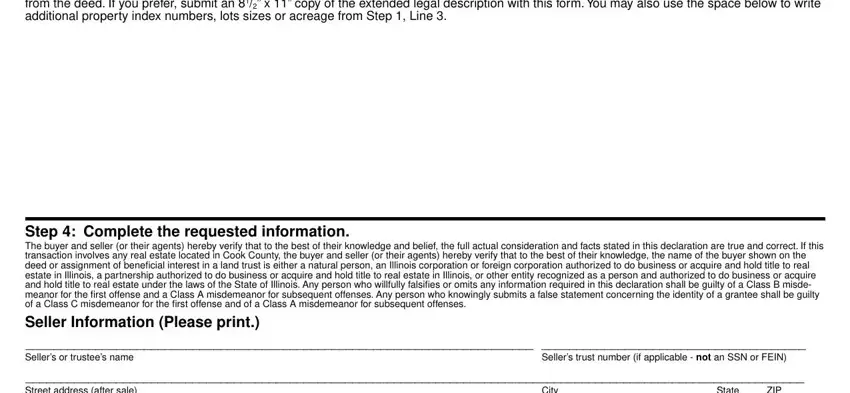 4. The next part comes with these particular fields to consider: Street address after sale, City, State, ZIP, Sellers or agents signature, Sellers daytime phone, Buyer Information Please print, Buyers or trustees name, Buyers trust number if applicable, Street address after sale, City, State, ZIP, Buyers or agents signature, and Buyers daytime phone.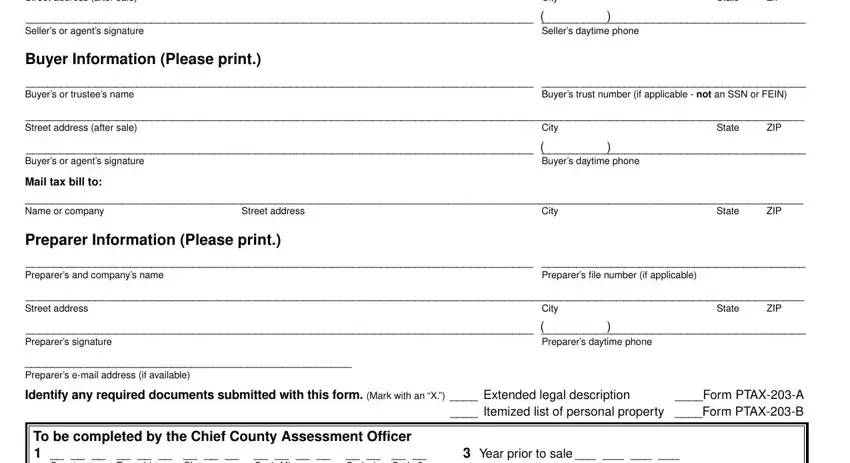 People frequently get some points wrong when filling out ZIP in this part. You should review whatever you enter here.
5. To conclude your form, the last subsection incorporates some extra fields. Filling out To be completed by the Chief, County, CookMinor, Township, Class, prior to the year of sale, Board of Reviews fi nal assessed, Land Buildings Total, Illinois Department of Revenue Use, Tab number, Year prior to sale Does the, real estate, Yes No, Comments, and Page of is going to conclude the process and you're going to be done in a blink!

Step 3: Immediately after double-checking your completed blanks, hit "Done" and you are done and dusted! Sign up with us now and easily obtain how to il property transfer, available for downloading. Every single edit you make is handily kept , enabling you to edit the form later anytime. When you work with FormsPal, you can certainly fill out forms without being concerned about database breaches or entries being distributed. Our secure system makes sure that your private data is kept safely.