The entire process of filling out the autopsy blank is actually straightforward. Our team made sure our PDF editor is not difficult to understand and can help prepare virtually any PDF without delay. Listed below are the four simple steps you need to follow:
Step 1: This webpage has an orange button saying "Get Form Now". Hit it.
Step 2: You will find each of the functions that you can use on the file once you've accessed the autopsy blank editing page.
In order to complete the autopsy blank PDF, provide the details for all of the segments: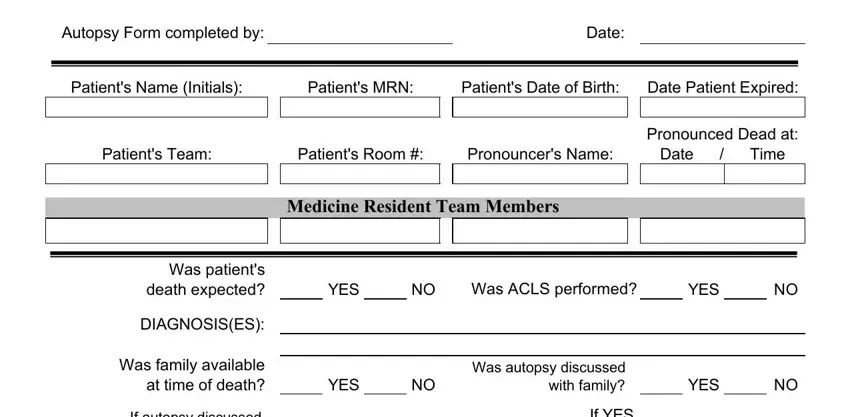 Write the essential data in the Was patient's death expected, DIAGNOSIS, ES YES, Was A, CLS performed, YES, Was family available at time of, YES, Was autopsy discussed with family, YES, If autopsy discussed, YES, If YES, If autopsy not discussed or not, Was death discussed with FACULTY, and YES field.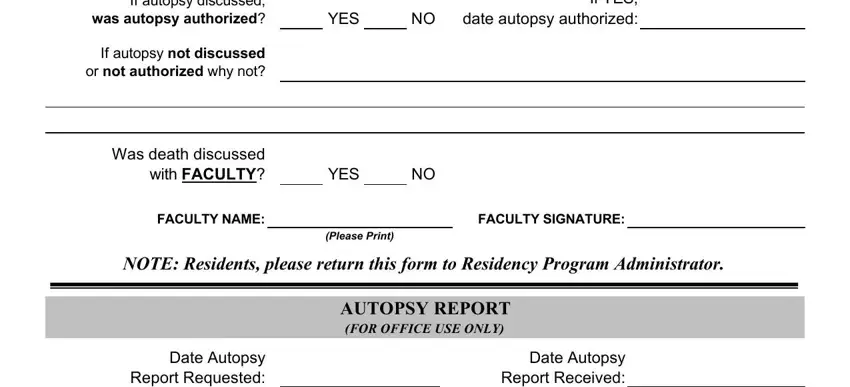 You may be asked for specific key details so you can complete the FACULTY NAME:, FACULTY SIGNATURE:, (Please Print), NOTE: Residents, Date Autopsy Report Requested:, Findings of Autopsy Report, Findings of Autopsy Report, AUTOPSY REPORT, (FOR OFFICE USE ONLY), Date Autopsy Report Received:, Please Print, Please Print, Please Print, Print Attending Name, Attending Signature, Date:, and PLEASE RETURN THIS FORM COMPLETED section.

Step 3: Select the button "Done". The PDF form may be transferred. You may save it to your computer or send it by email.
Step 4: To prevent yourself from potential forthcoming difficulties, make certain you have around a few duplicates of every single form.