Handling PDF files online can be quite easy with this PDF tool. You can fill out cf2r plb 01 e dynamic form here with no trouble. To have our editor on the forefront of practicality, we strive to integrate user-oriented features and enhancements regularly. We are routinely happy to get suggestions - play a pivotal role in reshaping PDF editing. For anyone who is looking to begin, here's what it's going to take:
Step 1: Simply hit the "Get Form Button" in the top section of this site to see our pdf file editor. There you'll find everything that is needed to fill out your file.
Step 2: After you access the PDF editor, you'll see the form ready to be completed. Apart from filling in different fields, it's also possible to perform other actions with the form, namely adding any textual content, editing the original textual content, adding images, putting your signature on the PDF, and more.
This document will need particular info to be entered, therefore be certain to take your time to fill in exactly what is asked:
1. It is critical to complete the cf2r plb 01 e dynamic form accurately, hence take care when working with the parts containing these blanks: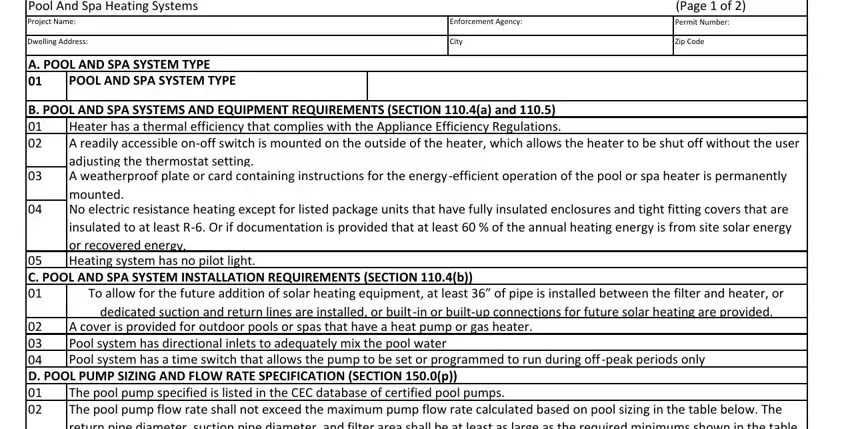 2. Just after the last part is done, proceed to enter the applicable information in these: The pool pump specified is listed, E POOL SYSTEM PIPING Section p, The suction side pipe is straight, F POOL FILTERS AND VALVES Section, and If a filter is used in a pool.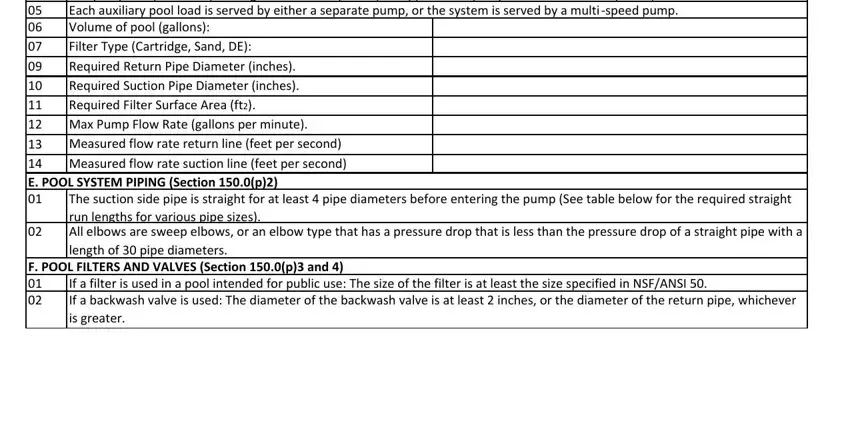 3. This next part focuses on The responsible persons signature, Responsible BuilderInstaller, Company Name Installing, Position With Company Title, Address, CityStateZip, CSLB License, Phone, Date Signed, Pool sizing Values are based on a, than hp The maximum Pump Flow is, Table C, Max Pool Volume, Min Pipe D or Greater inches, and gallons - complete all of these fields.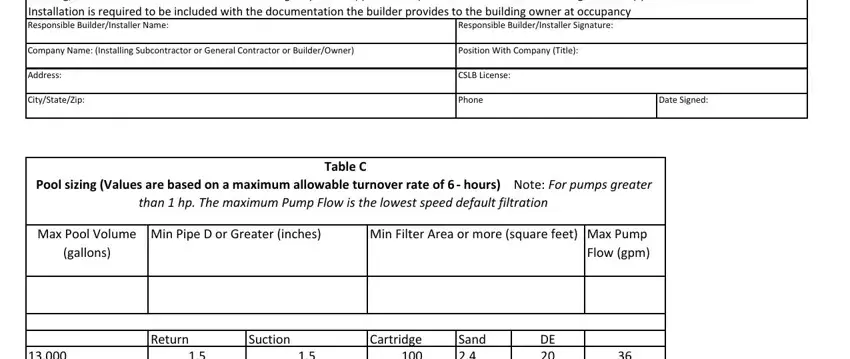 It is easy to make a mistake when filling out your Phone, therefore make sure that you go through it again before you submit it.
Step 3: As soon as you've reread the information in the blanks, simply click "Done" to finalize your FormsPal process. Join us right now and immediately obtain cf2r plb 01 e dynamic form, set for downloading. Each modification made is conveniently kept , making it possible to modify the pdf at a later time if required. FormsPal offers protected form tools with no personal data recording or any type of sharing. Feel at ease knowing that your information is in good hands here!