You may fill out usfk form 195 ek e effectively with our online tool for PDF editing. The editor is continually maintained by our staff, receiving new functions and turning out to be better. It just takes a few simple steps:
Step 1: Hit the "Get Form" button above on this page to open our tool.
Step 2: When you open the file editor, you will find the form all set to be completed. Apart from filling in different blank fields, you may as well do many other things with the form, particularly writing your own words, changing the initial textual content, adding images, putting your signature on the form, and a lot more.
It will be simple to complete the form with this practical guide! This is what you must do:
1. Fill out your usfk form 195 ek e with a group of necessary blank fields. Note all the important information and make certain not a single thing forgotten!
2. Once your current task is complete, take the next step – fill out all of these fields - f PASS TYPE, g STATUS, PERMANENT, TEMPORARY, INITIAL, RENEWAL, UPDATE, SPONSOR INFORMATION, a SPONSOR FULL NAMERANK or GRADE b, c SPONSOR ORG PHONE NO, and JUSTIFICATION FOR PASS OR VISIT with their corresponding information. Make sure to double check that everything has been entered correctly before continuing!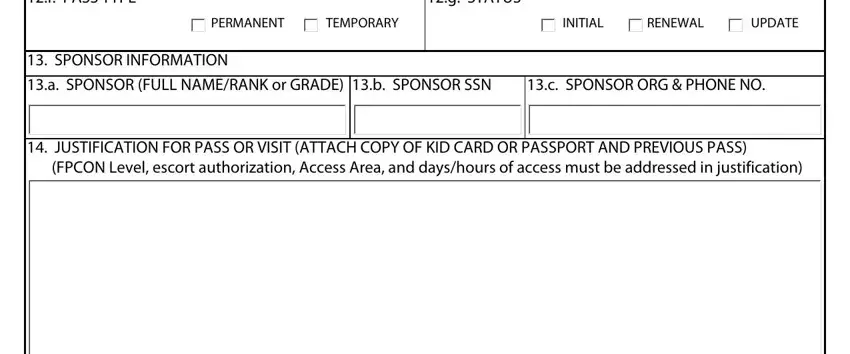 3. Completing I fully understand My, SPONSOR SIGNATURE, SignaturDe Field, DATE, and USFK FORM E MAY is essential for the next step, make sure to fill them out in their entirety. Don't miss any details!

4. The following subsection will require your attention in the following places: SECTION II TO BE FILLED OUT BY, NAME LAST FIRST MIDDLE FROM BLOCK, JOB TITLE, DATE OF EMPLOYMENT, KIDSSN OR PASSPORT FROM BLOCK, UNITAGENCYCOMPANY ADDRESS PHONE NO, CONTRACTING OFFICERPHONE NO, CONTRACT NO, CONTRACT PERIOD YYYYMMDDYYYYMMDD, SECTION III REQUESTING AUTHORITY, I HAVE REVIEWED THIS APPLICATION, Disapproval, Approval, SIGNATURE TYPED NAME GRADE DUTY, and Signature Field. Just remember to enter all needed details to go onward.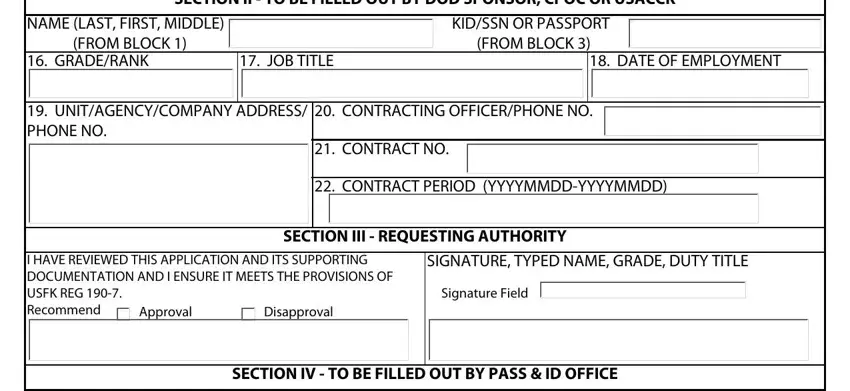 5. To finish your document, the particular subsection involves a number of extra fields. Completing BACKGROUND CHECK WITHIN LAST, YES, DEROGATORY INFORMATION, a Local Law Enforcement, b KNP, c US Embassy if applicable, DATE REQUESTED DATE COMPLETED, YES, If Yes Date Provided Approval, IS APPLICANT A DESIGNATED COUNTRY, IS THIS PASS APPLICATION IAW USFK, YES, YES, DATE PASS ISSUED, and PASS EXPIRATION DATE is going to conclude everything and you'll certainly be done in a snap!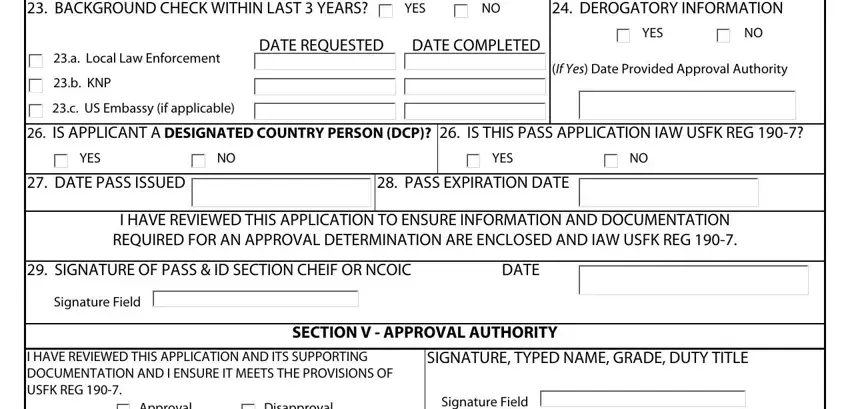 It's simple to get it wrong when filling in your BACKGROUND CHECK WITHIN LAST, therefore you'll want to go through it again before you finalize the form.
Step 3: Right after you have looked once more at the details provided, click "Done" to conclude your document creation. Create a free trial option at FormsPal and get instant access to usfk form 195 ek e - download, email, or edit from your FormsPal account. With FormsPal, it is simple to fill out documents without being concerned about personal data incidents or records being shared. Our protected platform helps to ensure that your personal data is kept safely.