When using the online editor for PDFs by FormsPal, you can complete or alter usfk weapons register here. The editor is continually maintained by our team, receiving useful functions and turning out to be better. To get the process started, go through these basic steps:
Step 1: Simply click the "Get Form Button" at the top of this site to access our pdf file editing tool. There you'll find everything that is required to fill out your document.
Step 2: With the help of our handy PDF editing tool, you could do more than simply complete blank form fields. Express yourself and make your documents seem sublime with custom text added in, or tweak the original input to perfection - all supported by the capability to incorporate your own images and sign it off.
This PDF form requires specific information; to ensure consistency, please make sure to take heed of the following recommendations:
1. Firstly, while filling out the usfk weapons register, start out with the section that features the next blanks: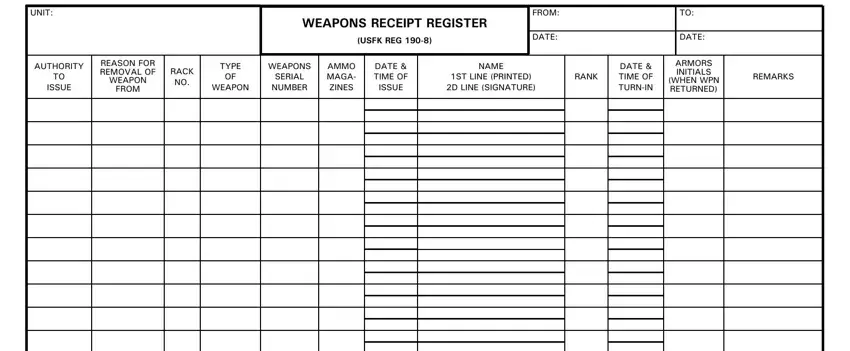 2. The next stage is usually to fill in the following blanks: USFK FORM E NOV REPLACES EA FORM.

3. The following portion is all about ISSUE, WEAPON, FROM, RACK NO, WEAPON, SERIAL NUMBER, AMMO MAGA ZINES, DATE TIME OF, ISSUE, ST LINE PRINTED D LINE SIGNATURE, RANK, DATE TIME OF TURNIN, WHEN WPN RETURNED, and REMARKS - fill out each of these blank fields.

4. Your next subsection needs your input in the subsequent areas: REVERSE OF USFK FORM E NOV. Always type in all of the required info to move forward.

Be very attentive when filling out REVERSE OF USFK FORM E NOV and REVERSE OF USFK FORM E NOV, because this is where most users make errors.
Step 3: Proofread what you've inserted in the blanks and then press the "Done" button. Create a free trial account with us and acquire direct access to usfk weapons register - download, email, or change in your FormsPal account page. Here at FormsPal, we aim to make certain that all of your details are maintained secure.