In case you desire to fill out unisa form e, it's not necessary to download and install any kind of applications - just give a try to our PDF tool. The editor is constantly upgraded by us, receiving powerful functions and becoming even more versatile. All it requires is a few simple steps:
Step 1: Click on the "Get Form" button in the top part of this page to access our editor.
Step 2: As you open the tool, you will get the document all set to be completed. Other than filling in different blanks, you might also do several other actions with the file, particularly putting on any words, modifying the original textual content, adding illustrations or photos, affixing your signature to the PDF, and more.
Completing this document will require focus on details. Make sure every blank is done properly.
1. To get started, while filling out the unisa form e, start in the part that has the subsequent blank fields: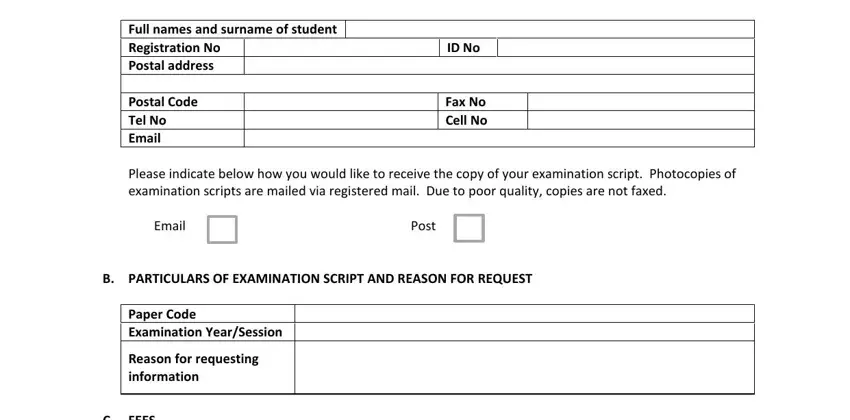 2. Now that the last array of fields is completed, you need to include the needed specifics in If you are prevented by a, E DECLARATION, I hereby declare that I am the, and RELATIONSHIP TO STUDENT so you're able to proceed further.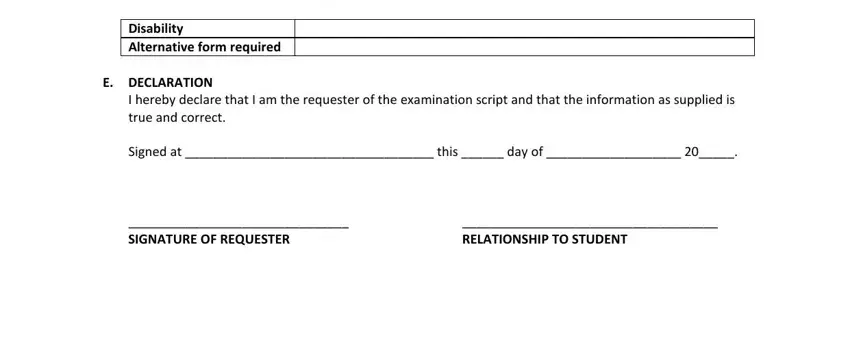 You can certainly make errors while filling out your If you are prevented by a, thus ensure that you go through it again before you'll submit it.
Step 3: Just after proofreading the entries, press "Done" and you're done and dusted! Right after registering afree trial account with us, you will be able to download unisa form e or email it right off. The file will also be readily available via your personal account menu with all your adjustments. We do not share or sell the details you provide when completing forms at FormsPal.