Dealing with PDF documents online is actually super easy using our PDF tool. Anyone can fill out MPO here within minutes. The tool is consistently improved by us, getting new functions and turning out to be greater. Here's what you'd want to do to start:
Step 1: Just press the "Get Form Button" in the top section of this site to start up our pdf file editor. Here you will find everything that is required to fill out your document.
Step 2: As soon as you open the online editor, you'll see the form ready to be filled in. Besides filling out various blanks, you might also do several other things with the Document, such as writing your own text, changing the initial textual content, inserting images, affixing your signature to the form, and more.
This PDF doc will need some specific information; in order to ensure correctness, remember to adhere to the recommendations below:
1. The MPO needs specific information to be entered. Be sure that the subsequent blank fields are completed: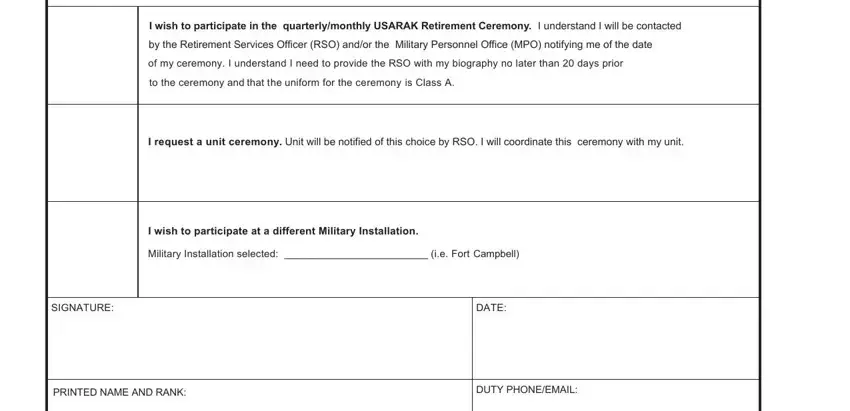 2. Soon after completing this step, head on to the next step and fill out all required particulars in all these fields - UNIT, START DATE OF PTDYTRANSITION LEAVE, UNIT COMMANDER OR FIRST SERGEANT, DATE, UNIT COMMANDER OR FIRST SERGEANT, USARAK FORM E MAY, and PREVIOUS EDITION IS OBSOLETE.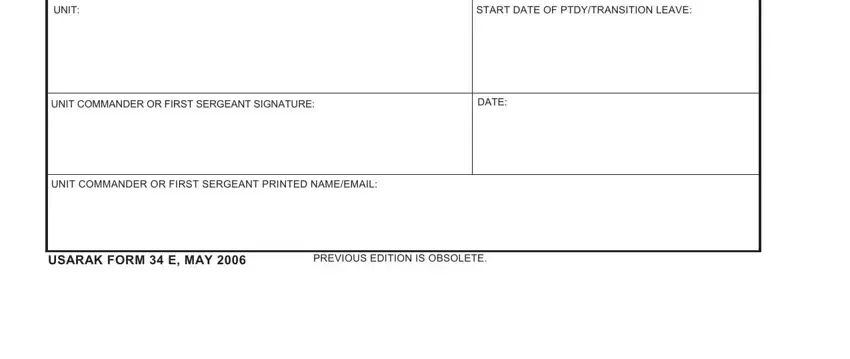 A lot of people frequently get some points incorrect while filling out PREVIOUS EDITION IS OBSOLETE in this part. Be sure you read again everything you enter here.
Step 3: Glance through the details you have inserted in the blank fields and then hit the "Done" button. Download your MPO once you subscribe to a 7-day free trial. Instantly get access to the pdf in your personal account page, along with any edits and changes being all kept! FormsPal is dedicated to the personal privacy of our users; we ensure that all personal information put into our editor is confidential.