This PDF editor makes it easy to prepare the ACCOMODATIONS document. You will be able to build the file efficiently by using these easy steps.
Step 1: Choose the button "Get Form Here".
Step 2: At the moment, you can update your ACCOMODATIONS. Our multifunctional toolbar makes it possible to include, erase, adapt, highlight, as well as do many other commands to the words and phrases and areas inside the document.
You need to type in the following details to fill in the file: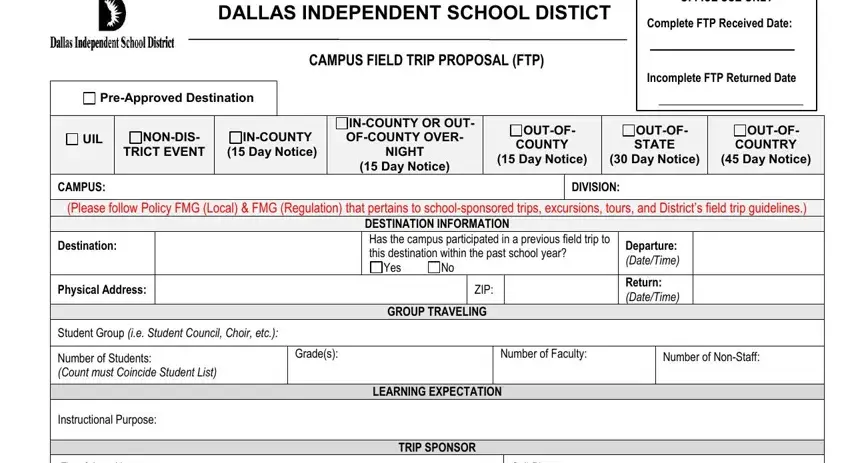 You should fill up the TRIP SPONSOR, First & Last Name:, Cell Phone:, Hotel Name:, OVERNIGHT AC, COMO, DAT, IONS Physical Address:, FUNDING SOURCE, ZIP:, Phone Number:, Activity Fund, Arts Partners, Grant, General Operating, Other:, and TRIP TOTAL box with the required particulars.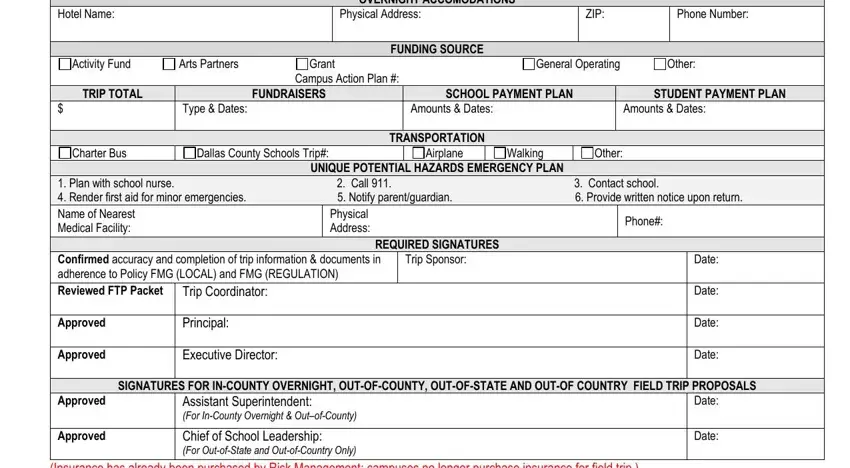 The application will require data to effortlessly fill out the field Confirmed accuracy and completion, Trip Coordinator: Principal:, Executive Director:, Date:, Date:, SIGNATURES FOR IN, COUNTY Approved, Approved, Assistant Superintendent: (For, (Insurance has already been, Date:, Date:, and September 2013 FORM F, 4, B

Step 3: Select the "Done" button. Now, it is possible to transfer your PDF file - upload it to your electronic device or forward it via electronic mail.
Step 4: You can also make copies of the document toprevent all possible future issues. You need not worry, we cannot share or record your data.