We have applied the endeavours of the best developers to build the PDF editor you intend to benefit from. The app will help you fill in the probate form de 120 document effortlessly and don't waste valuable time. Everything you need to do is comply with the following easy directions.
Step 1: To get started, select the orange button "Get Form Now".
Step 2: After you have accessed your probate form de 120 edit page, you'll see all options you can undertake with regards to your file at the upper menu.
The PDF form you are going to fill out will cover the next areas: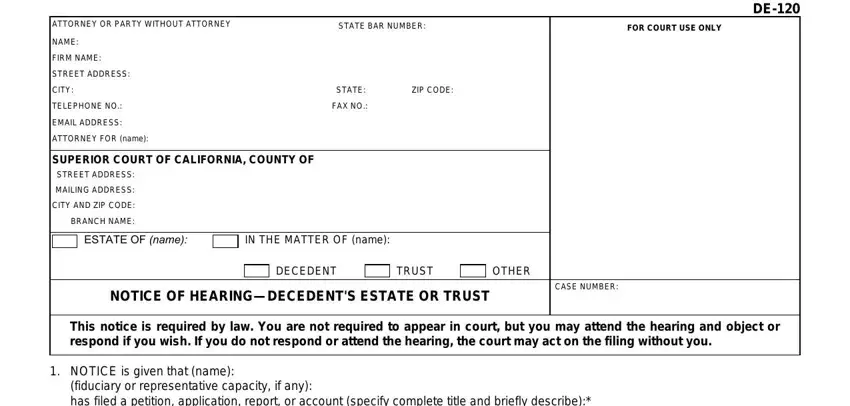 Fill in the This notice does not require you, NOTICE is given that (name):, has filed (specify):*, You may refer to the filed, and A HEARING on the matter will be areas with any content that are demanded by the platform.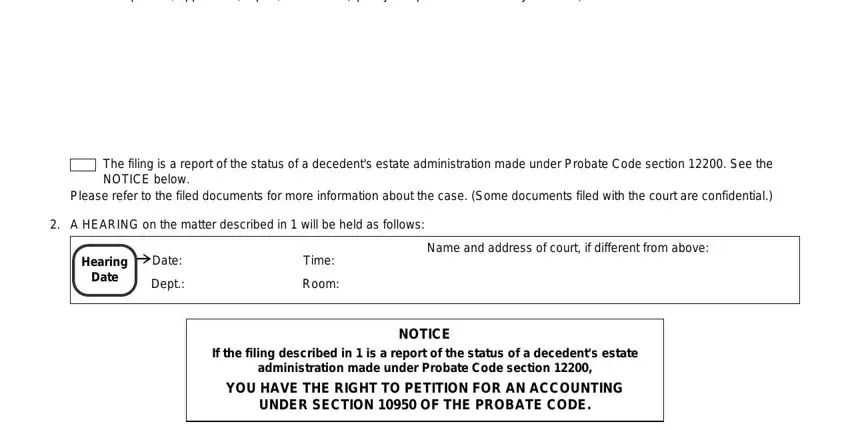 It is vital to note some information within the box Date:, Time:, Dept, Room:, Address of court, shown above, is (specify):, Assistive listening systems, * Do not use this form to give, Form Adopted for Mandatory Use, Judicial Council of California, NOTICE OF HEARING—DECEDENT'S, (Probate—Decedents' Estates), Page 1 of 2, and Probate Code §§ 851.

You need to identify the rights and responsibilities of every party in box I certify that I am not a party to, was posted at (address):, was posted on (date):, Date:, Clerk, I am over the age of 18 and not a, PROOF OF SERVICE BY MAIL *, I served the foregoing Notice of, depositing the sealed envelope on, and placing the envelope for.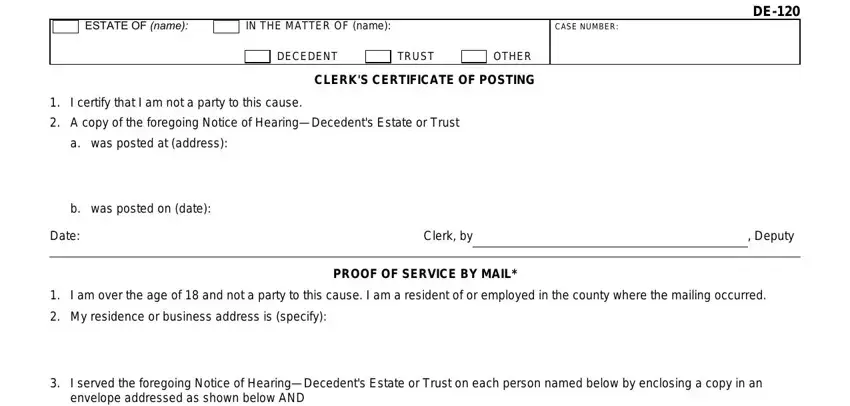 End by looking at the next fields and typing in the proper information: placing the envelope for, Date mailed:, Place mailed (city, I served with the Notice of, I declare under penalty of perjury, Date:, (TYPE OR PRINT NAME OF PERSON, (SIGNATURE OF PERSON COMPLETING, NAME AND ADDRESS OF EACH PERSON TO, Name of person served, and Address (number.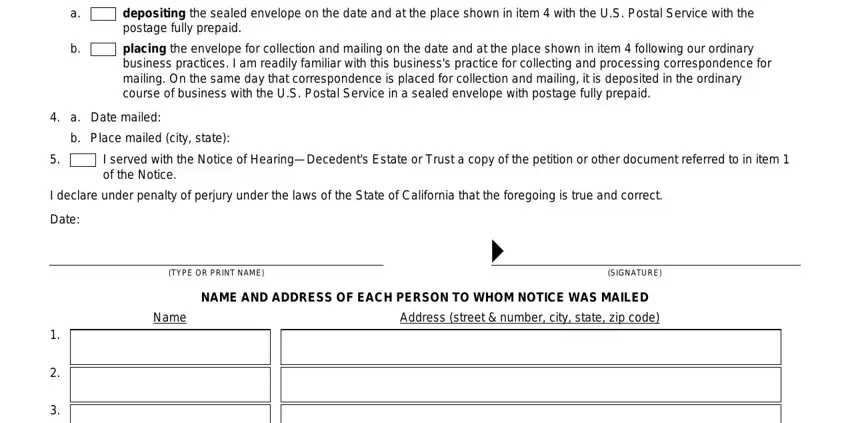 Step 3: Press the button "Done". Your PDF file is available to be transferred. You may download it to your computer or send it by email.
Step 4: Be sure to stay away from possible future worries by generating minimally two copies of your document.